Creative Process: Bias Tape & Me
April 28, 2011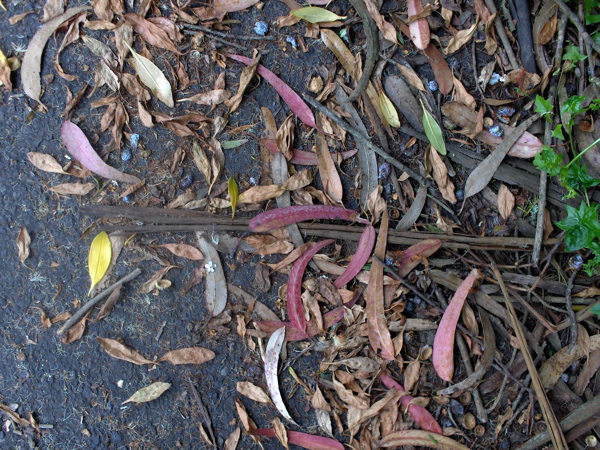 I can't stand to work from a pattern.
I like to sew in order to find out what I am sewing.
That's how I got started on a quilt about the place where I live, the Presidio National Park in San Francisco.
Everywhere I go I carry my camera to shoot pictures of anything interesting I might happen to run across. One day in the eucalyptus forest around my house I noticed I was composing a picture of eucalyptus leaves around my feet, much like the other five dozen pictures of eucalyptus leaves I had already taken. There was something about the simplified paisley shape of the leaves and their range of beautiful colors that attracted me so much that I kept photographing them over and over.
"Hey," I thought, "You don't really even have to compose these pictures; you could just point your camera down and press the shutter!"
That's what gave me the idea to make a eucalyptus leaf quilt. I figured I could just pick up a couple of leaves each day on my way to the studio, applique them onto a background and, when the whole background was covered, I would know I was done!
That was my idea. I started cutting leaves and appliqueing them to a honey-colored background fabric from Ghana, a batik with nothing but wax crackles on it. In a while I ran out of places for leaves – which told me I was done with that part.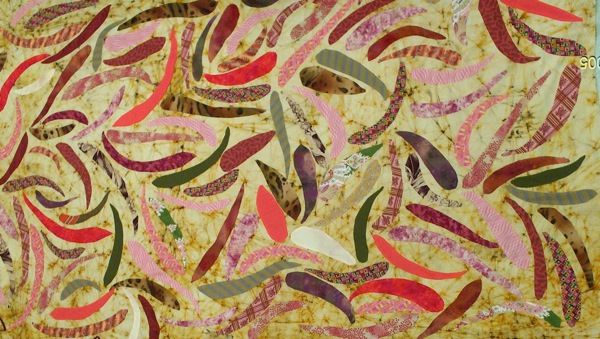 I needed another section to make it a full-size quilt, however. I had recently picked up a brown and white, block-printed cotton fabric from India, and I thought it would be just the thing to sew to the bottom of the leaf section and fill it out. Then I could put the whole thing in the frame and start quilting – my favorite part of the process.
Well, I added the brown and white striped fabric and hung it up on the wall. Boring. It needed something else.
I decided to keep my eyes open for some way to enhance the design, and a few days later I found just the thing. On a trip to Britex, the great fabric store in downtown San Francisco, I happened to notice an obscure shelf with a small display of bias tape on large spools, 30 cents a yard. In a flash I realized I could use the bias to create an image of the crazy roads around here,  roads that were made by the military for the express purpose of confusing any invaders.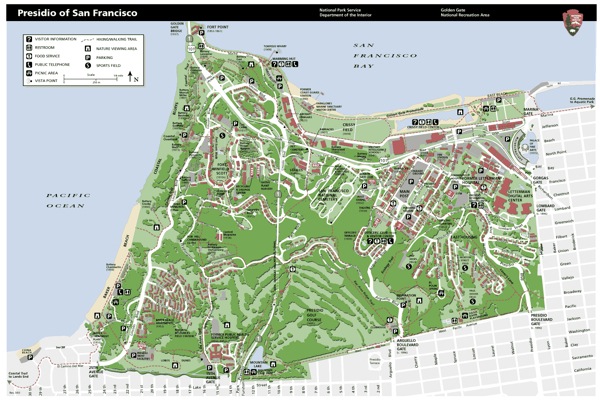 The bias also made me reconsider my thinking about the quilt in another way. While I am influenced by all kinds of images and experiences when I make a quilt, my chief influences come from quilts themselves – especially old quilts. And when I think of bias tape, I naturally think of the stems and vines on appliqué patterns. I saw that I was using the same kind of leaf shapes and vines as many antique appliqués, but separating them into two sections.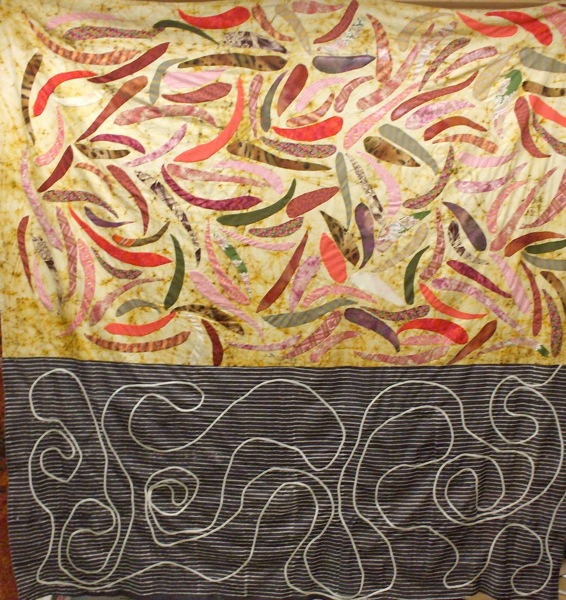 As I appliqued the bias in freely winding curves using monofilament thread on my machine, I also realized that I was more relaxed that I had been in a long time. I found this kind of sewing to be uniquely suited to my particular preferences and abilities. The freedom and spontaneity of it was exactly what I had long sought.
When I finished the top and put it in my hand quilting frame, I altered my usual quilting regime and  just quilted free-form echo lines.  Similarly, when I took it out of the frame, I realized that a binding would alter the design in ways I did not want, so I just folded the edges inward and whip stitched them together.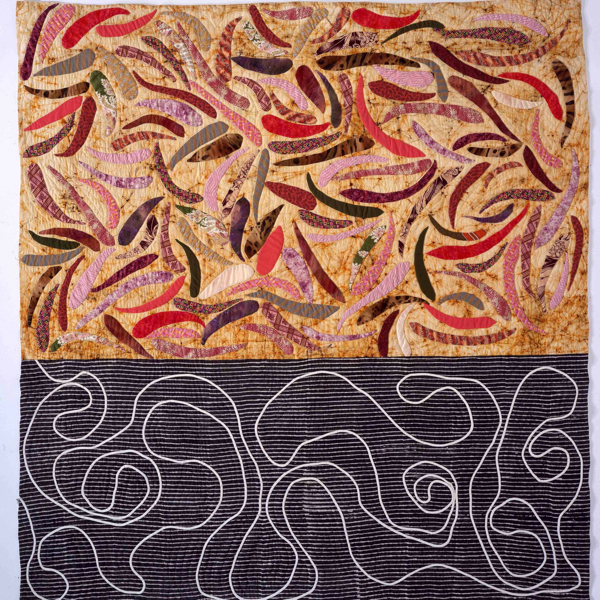 The Way Home marked a turning point for me.
When I started this quilt about 6 years ago I had been making quilts for 26 years.  Since then I have made many quilts using bias tape, experimenting with all kinds of free-form sewing, trying new techniques in virtually every quilt. Making this quilt seemed to unlock something in my psyche – something that allowed me to make the kind of quilt I always thought I could make.
_________________________

Joe Cunningham began making quilts professionally in 1979, after a 10-year career as a musician in Michigan. His early mentors were steeped in the history and traditions of quilts, leading Cunningham to a life of study in quilt history and a love of traditional technique. Over the years his quilts have evolved into a unique, personal style. His quilts are in the permanent collections of museums as well as in numerous private collections. Cunningham's 11 books on quilts include the 2010 book Men and the Art of Quiltmaking, (the first book on the subject) and his essay for the de Young Museum show "Amish Abstractions: Quilts from the Collection of Faith and Stephen Brown." His column for the national magazine The Quilt Life is called "Biased and Edgy." He has been seen on the HGTV series Simply Quilts with Alex Anderson, the PBS series Sewing with Nancy and on The Quilt Show with Alex Anderson and Ricky Tims.  He performs his musical quilt show, "Joe the Quilter" for guilds and theaters nationwide and teaches regularly at conferences across the country. This summer he will lead a tour of quilt exhibitions in England.
For more information, visit www.joethequilter.com