FiberFaves from FiberPhiladelphia 2012
August 21, 2012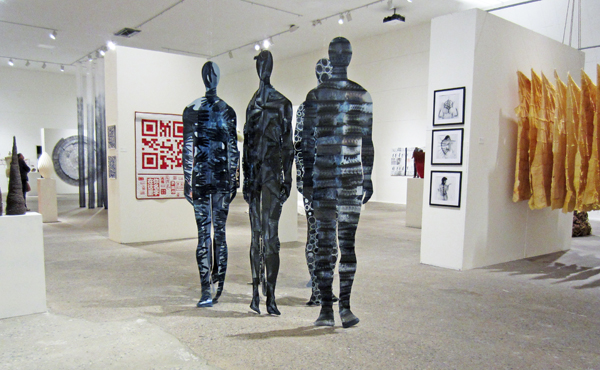 I rarely use this American slang terminology, but if you have a "bucket list" (of things you really want to do before you "kick the bucket" and exit the planet), I wholeheartedly suggest adding a trip to see the next incarnation of FiberPhiladelphia in 2014.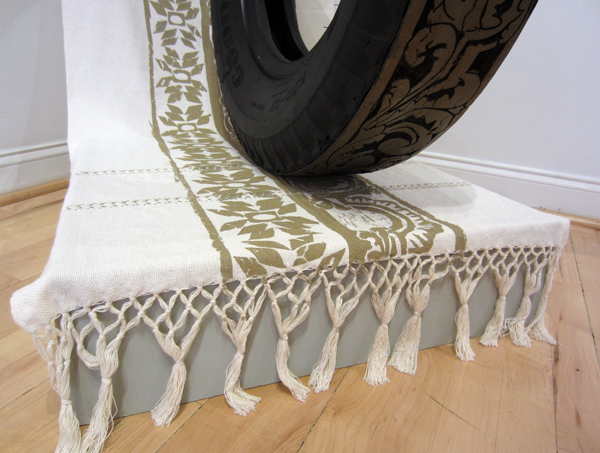 This springtime city-wide biennial is an awe-inspiring celebration of all things fiber. It features works by hundreds of artists from around the world and lectures by renowned artists, curators and authors. The line-up this year included a staggering 41 shows on display in March and April 2012 — all made easier to find with a new mobile phone app!
I hit town a day before the start of SAQA/SDA Identity: Context and Reflection conference in Conshohocken, PA (March 30-April 1, 2012) and rented a car to cruise the expansive art scene. A tank of gas and a parking ticket later, I'd made it to 30 exhibits during my 4 day visit, ogling a slew of fantastic pieces by emerging and established talent.
Here are just a few of my favorites – out of the many high points I experienced along the way.
(All photos are mine except as noted).

Jennifer Steinkamp's The Death of the Moth at the Fabric Workshop and Museum was one of the first and still, months later, best shows I've ever seen at the Fabric Workshop and Museum, a venue famous for inviting conceptually driven inter-disciplinary collaborations with artists and designers. Stirred by a cocktail party conversation about fabric-noshing moths and a posthumously published Virginia Woolf essay by the same title, Steinkamp created several mesmerizing digital video animations of tattered sheets swaying in a ghostly breeze. The installation of four wall projections from her Moth series  silently held sway over viewers (like me) who were enchanted by this futuristic yet nostalgia-laced textile-sans-textile art form. (The link will take you to a Quicktime animation that may take a few seconds to load). Bonus: this FWM show is still on display through "Late Summer" 2012.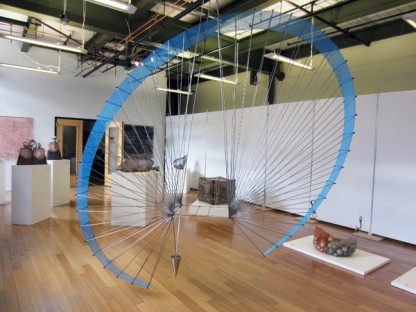 On the outskirts of town I (eventually) found Wire Transference at Philadelphia University's Research Center in Manayunk, PA.  The modest brick and hardwood gallery space, located in a restored 1864 textile mill, was empty during my visit save for the sound of students working in nearby classrooms. Warren Seelig's Blue Oval from 1994 offered an alluring architectural counterpoint in a diverse selection of otherwise recent but equally stunning wire-based works. The late afternoon sun streaming in seemed to make all the shimmering intricacies of each metallic composition sing in formal harmony. The roster of seasoned art stars and revered educators included: Lanny Bergner, John Garrett, Lindsay Ketterer Gates, Nancy Koenigsberg, and Leslie Pontz.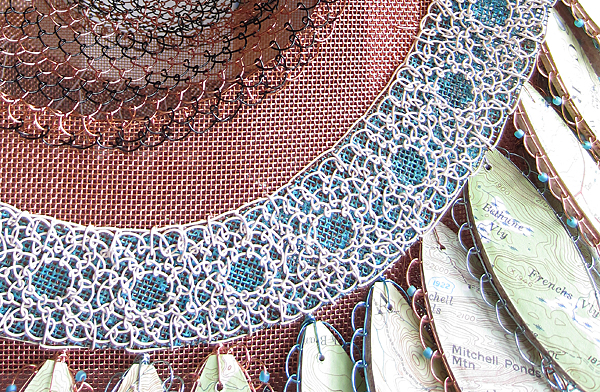 Back in Philly's Chinatown, I wandered into a late-night viewing of Optical Fiber at Space 1026, an artist-run exhibition space with a reputation for ultra-hip shows and casual open hours. The cavernous upstairs gallery, with its ample wall space and worn velvet couch, was ideal for this show of super-fresh work by emerging artists. Through a riot of color, texture, and technique (impeccably curated by Space 1026 members Anni Altshuler and Matt Leines) each piece engaged viewers in a charged assessment of today's youth culture. From tapestry and embroidery to knitwear and soft sculpture, the collective pop sensibility and dedication to craft was undeniable.[8] Featured artists included Takashi Iwasaki, Erin M. Riley, New Friends, Annie Larson ALL Knitwear, Allison Watkins and Megan Whitmarsh.
No trip to FiberPhiladelphia would be complete without a visit to Snyderman-Works Galleries, a regal old-school venue presenting top-notch contemporary craft of all kinds for over 4 decades.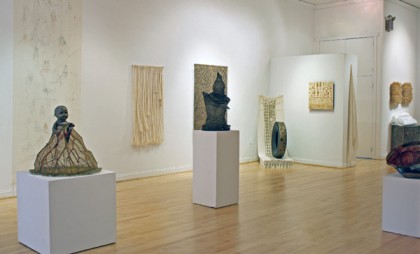 Their 8th International Fiber Biennial did not disappoint. The jaw-dropping list of nearly 60 featured artists included Lia Cook, John McQueen, Dorie Millerson, Jon Eric Riis, and Norma Minkowitz – to name just a few. My favorite piece by Betsabee Romero offered an unexpected blend of feminine and masculine energy in the form of a Mexican shawl printed with a carved reclaimed car tire (detail shown above near top of this blog post).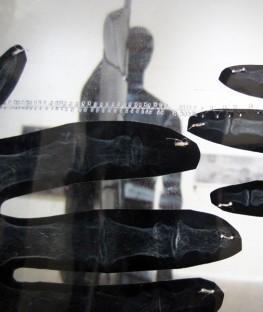 A second not-to-be missed global extravaganza was Outside/Inside the Box (also shown at top), one of several exhibits on display at Crane Arts Building. Among the impressive variety of fiber-based works by over 60 artists, juried by Elisabeth R. Argo, Bruce D. Hoffman, and Judith Weisman, I was thrilled to see pieces in person by some of the artists featured in the Summer 2012 issue of Surface Design Journal including: Erin Endicott, Kathy Halper, Joetta Maue, Rowland Ricketts, and Mary Ruth Smith. Beyond the dazzle of so much by so many, I was particularly struck by the life-size works of Jenine Shereos and Brigitte Amarger. On the diminutive side, I nearly tripped over Shereos's display of leaves made from human hair, while Amarger's floating regimen of full-size figures formed from stitched medical scans took center stage as one of the exhibit's most commanding installations.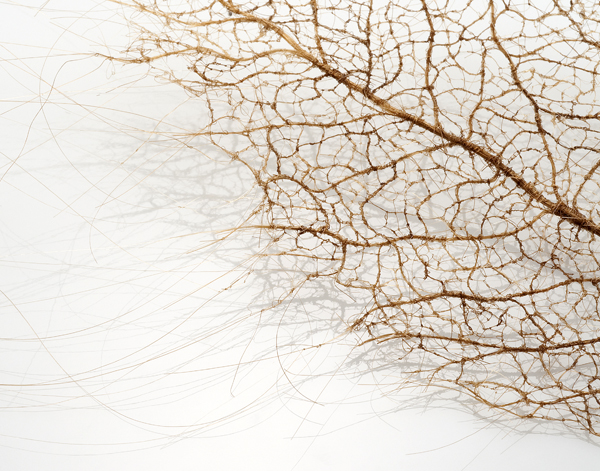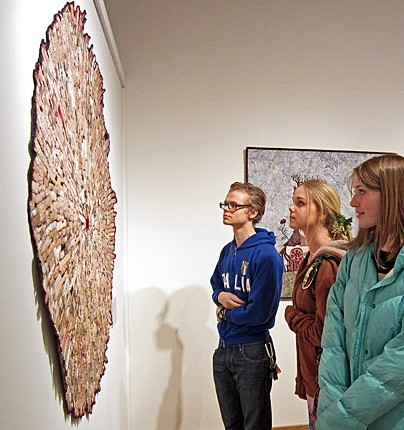 The 3rd world-wide survey of textiles I attended was Art Quilt Elements (AQE) at Wayne Art Center in Wayne, PA. Juried by Elizabeth Barton, David Revere McFadden, and Sandra Sider, this year's biennial AQE selection included over 50 artists. (A revealing Identity conference panel made up of these 3 jurors explored the criteria they used and challenges they encountered in choosing work for the show. -Ed.)
Work by Kevan Lunney won SDA's Award of Excellence and works by Diane Firth and Susan Else won Jurors' Choice Awards. My "hands down" favorite piece in the show (and winner of the SAQA Cream Award for a new AQE artist) was Beth Barron's Implosion #3 (2011) made with hundreds of found bandages—grossly gorgeous, sublime stitching at its best!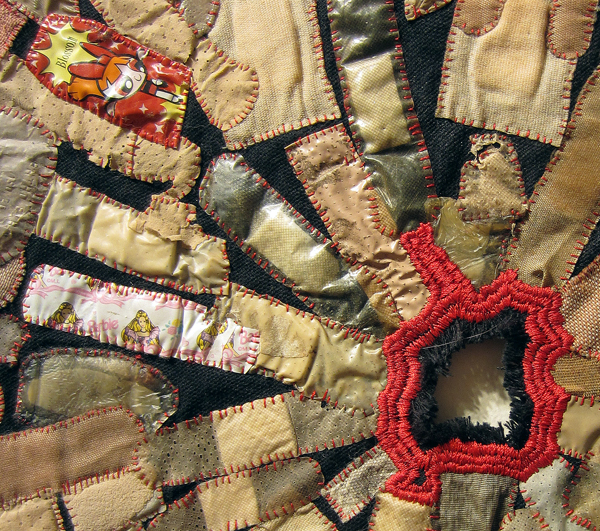 I squeezed every last drop of art from my trip by detouring on the way to the airport to see Binary, the first solo show of larger-than-life figurative textiles by hometown emerging artist Andrea Donnelly at the stately Philadelphia Art Alliance building.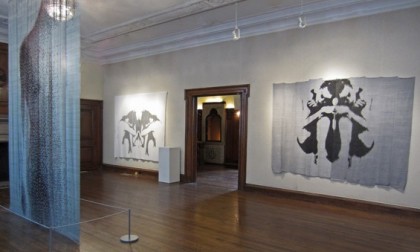 Inspired by inkblots and notions of duality, Donnelly's unique process involves mono-printing onto a finished piece of cloth that she unweaves, then reweaves the separated warp and weft into two new textiles to create a tactile mirror image. In a word: visionary.
Ending my whirlwind adventure with such contemplative and finely crafted work, I left FiberPhiladelphia content in the knowledge that the future of fiber art is in good hands.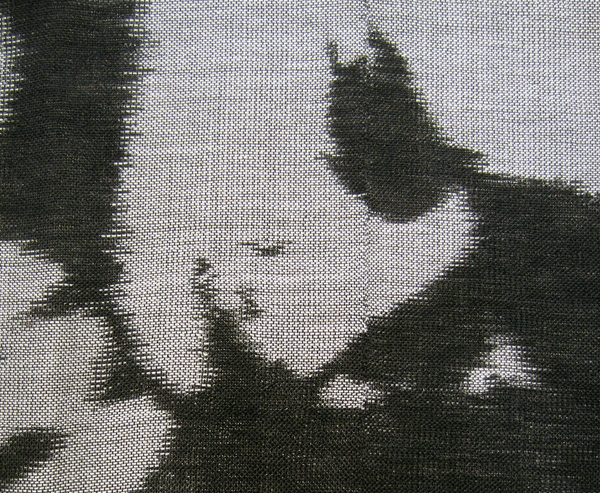 ______________________________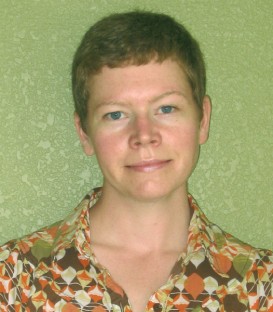 Marci Rae McDade is the editor of Surface Design Journal and former editor of FiberArts magazine. She received an MFA in fiber and material studies from School of the Art Institute of Chicago and a BA in film and video production from Columbia College Chicago. As a practicing fiber artist and independent curator, McDade has exhibited her own work nationally in solo and group shows, and curated numerous contemporary art exhibitions over the past decade. She is currently an instructor and mentor in the Applied Craft & Design MFA program co-sponsored by OCAC (Oregon College of Art and Craft) + PNCA (Pacific Northwest College of Art) in her hometown of Portland, OR.
You can find her on Facebook.