Friday Fibers Roundup
July 29, 2016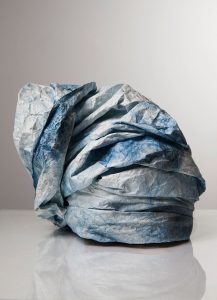 Bukola Koiki, Tyvec Gele 1 (2015) Photo cred: Sam Estrella
1) Edmond by Nina Gantz is a completely felted and knitted stop motion short and winner of the 2016 BAFTA for Short Animation. It tells a tragic tale of a man haunted by his depraved desires, whose impulse to love and be close to others is strong, maybe too strong.
2) In "An 'Act of Love': Knitted Portraits of Feminist Artists and Their Work" Betsy Greer interviews artist Kate Just on her ongoing series Feminist Fan, which explores how feminist artists have used their bodies as a form of protest over the years (via Hyperallergic).
3) Couldn't make it out to the big Comic-Con in San Diego this past week? Here are some highlights of attendees' cosplay and costumes.
4) These creepy yet enticing crocheted animal skeletons by Caitlin McCormack invoke feelings of nostalgia and loneliness (via Hi Fructose).
5) Our cover artist from "Transgressing Traditions" spring SDJ issue, Ben Venom had a recent studio visit with Juxtapoz in preparation for an upcoming group show in Seattle.
6) This GIF has been making its way around the internet for the past few weeks. Some find it satisfying, others find it horrific. Where do you fall?
7) "How London Developed a Bullish Market for Contemporary African Art" by Rob Sharp on Artsy explores the complexities of buying and selling another culture's artwork.
8) A rare and valuable WWII silk escape map dress was sold in Harrogate as reported by BBC.
9) David R. Harper's exhibition, My Own Personal Ghost, at the John Michael Kohler Arts Center in Kohler, WI closes August 28th. Check it out before it's down!
10) Block Party is a new collaborative furniture project for interior installations for intensive pattern immersion (via Design Faves).