Friday Fibers Roundup
August 5, 2016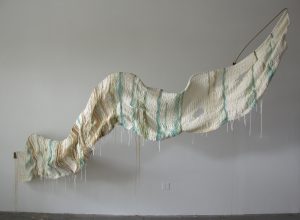 Alicia DeBlaey Untarnished (2016)
1) YARN, a must-see film by Una Lorenzen, takes a look at four women who are redefining the tradition of knit and crochet, bringing yarn out of the house and into the world.
2) Crafting the Future, a group exhibition curated by Daniel Peabody, features the work of twelve artists exploring the role of craft in contemporary art practice at Elizabeth Leach Gallery in Portland, OR. For textiles, check out the work of Louise Bourgeois, Ann Hamilton, Dinh Q. Lê, and Anna Von Mertens.
3) Emily Barletta being interviewed about her emotional work, tackling pain, bullying, and switching from crochet to embroidering on paper (via the Jealous Curator).
4) Urban pirate printers who use public street fixtures as printing elements producing shirts and bags imprinted with manhole covers, vents, and utility grates (via Colossal).
5) A 3,000 year old ball of yarn was just found in England (via Atlas Obscura).
6) Elizabeth Cline writes "Op-Ed: America Leads the World in Textile Waste and Unwanted Clothing, Here's Why" for Pratt about what happens to our clothing when we're done with it.
7) MOMA and MOMA PS1 announce Escobedo Soliz Studio as the winner of the annual Young Architects Program (YAP) in New York to create Weaving in the Courtyard, a site-specific architectural intervention.
8) Domestic Affairs is an exhibition exploring the role of textiles in the fabric of domestic life at Gallery Isabelle van den Eynde, Dubai and runs until September 8th.
9) Did you know that Spoonflower does montly design competitions? Check out this month's Common Thread contest to win a $100 Spoonflower gift card.
10) Need some cuteness after a long week? Check out these adorable cats in kimonos (via Museperk).