Batik Diplomacy: Winning Tech-style Design Enriches Indo-US Cultural Exchange
October 5, 2012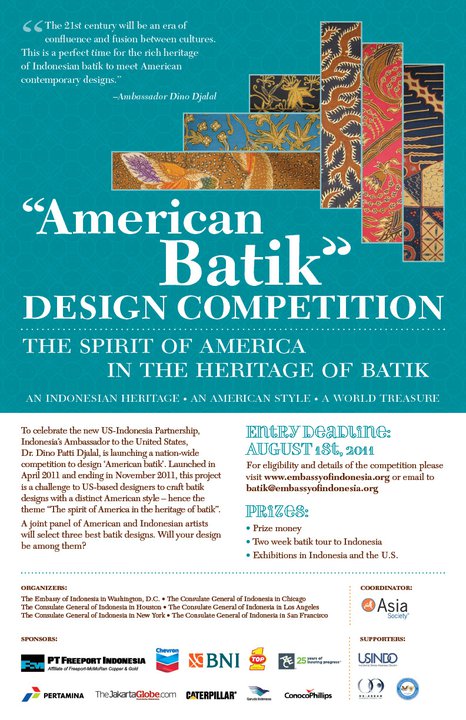 Unprecedented circumstances may have inspired the Indonesian Ambassador to the US – the charismatic and forward-thinking Dr. Dino Patti Djalal – to initiate the American Batik Design Competition in early 2011. One is the fact that US President Barack Obama actually lived in Indonesia for 4 years and has an Indonesian half-sister, thus enriching him with first-hand experience of the country, culture and language. Another is the fact that batik was officially recognized as a living expression of the culture of Indonesia in 2009 when United Nations Educational, Scientific and Cultural Organization (UNESCO) designated Indonesian batik as a Masterpiece of the Oral and Intangible Heritage of Humanity. 
In the spirit of full disclosure, I was invited to be among the judges who selected 8 finalists  based on my study of batik and years of work in Indonesia. The Indonesian judges were apparently not aware that batik has had a lively American life since it caught fire in the crafts revival of the 1960s. I was honored to share ideas with the contest team and thrilled to review the many interpretations of the theme to select my top choices – one of which was Kelly Cobb's design. Her story follows, below. – SDA NewsBlog Editor Leesa Hubbell
"The 21st century will be an era of confluence and fusion between cultures. This is a perfect time for the rich heritage of Indonesian batik to meet American contemporary design."
– Ambassador Dino Djalal
In early summer 2011, I found out (through the International Textile & Apparel Association) about a batik design competition called American Batik Design Competition (ABDC) sponsored by the Indonesian Embassy in Washington, DC. To celebrate the new US-Indonesia partnership, the Republic of Indonesia's Ambassador to the US launched a nation-wide contest to design 'American batik'. It offered an unprecedented opportunity to create, innovate – and maybe even win a trip to Indonesia.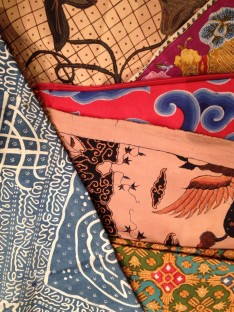 I had learned the basic process of batik – hot wax applied as a resist to cloth that is dyed – as an undergraduate at Maryland Institute, College of Art. The communicative power of batik, an art form that permeates Indonesia culture and society, compelled me to enter the competition. More than just a method for embedding pattern into cloth, it's a living symbolic language with regional inflections of color, process and technique.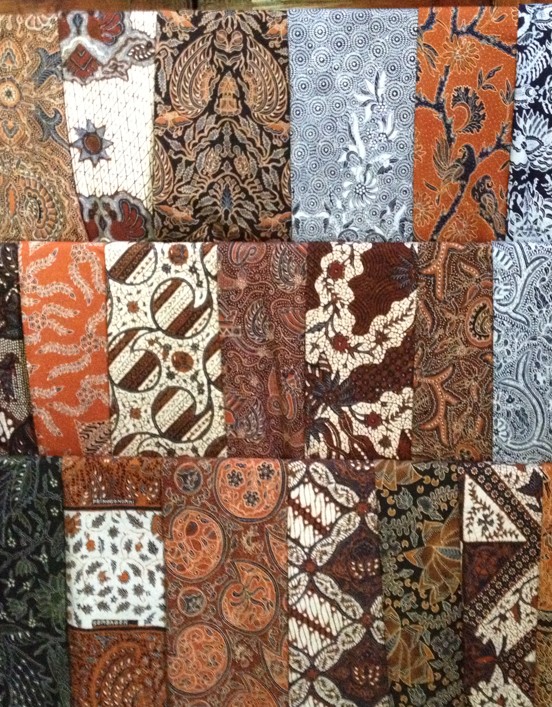 With my entry, I hoped to build a bridge spanning cultures and generations that would speak to Indonesians as well as an international community of textile lovers. The ABDC theme was "The Spirit of America in the Heritage of Batik" meaning batik design with an "American spirit and values, drawing from its history and folklore". All ABDC competition entries had to be in the format of the Indonesian kain panjang (literally "long cloth") skirt/wrapper worn by both men and women on many islands in this 3,000-mile wide archipelago. The competition invited Americans to take this traditional 3 meters of cloth to new places in contemporary expression.
My design was inspired by the trader batiks shown in the Batik Gallery on ABDC competition website. This genre of batik seemed to  readily adapt to the needs of whatever culture and region it moved through. It also seemed democratic and accessible to all people.
In that spirit, I adapted a very contemporary American symbol, the QR (Quick Response) code, into a textile design. A QR code consists of black and white squares arranged within a larger square frame that can be read by a smart phone. It is a prevalent marketing tool, having been integrated into both traditional and interactive campaigns. QR codes are free and are being used to interpret natural and historical points of interest on nature trails and walking tours by adding to or replacing expensive signs.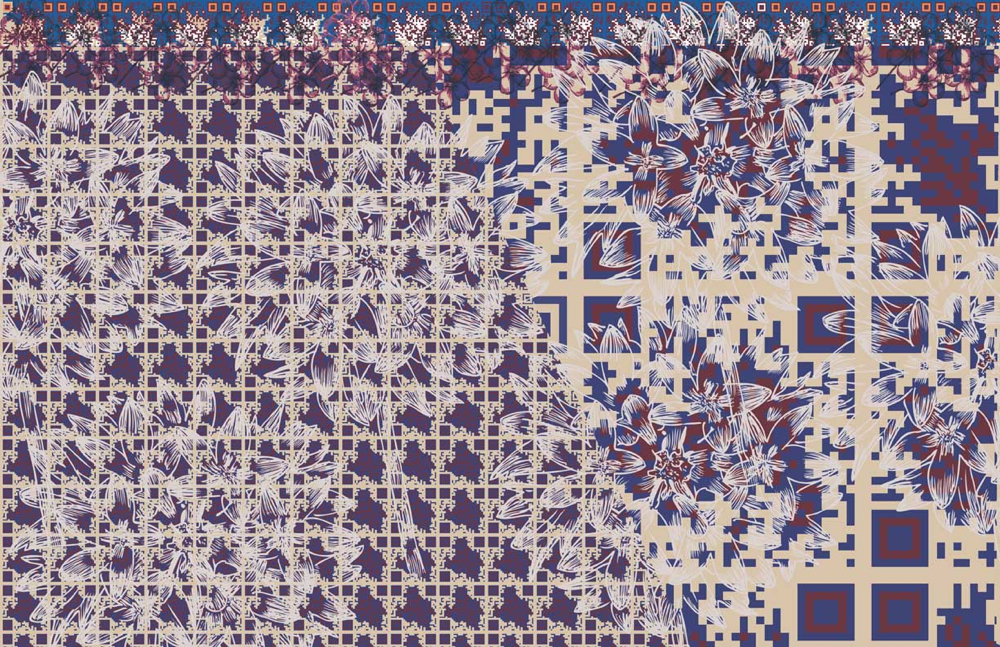 I used one as the main motif of my batik design so that, in theory, when scanned by a phone it takes the viewer to a website that features the design and that 1) defines the process and history of batik, 2) gives an overview of the history and culture of Indonesia and 3) informs the viewer about my design work. I called my design Indigo Batik with QR Code; you can find out more about it at qrbatik.tumblr.com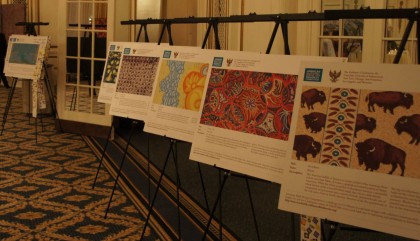 First Round of Judging: A "People's Choice" design was chosen (2nd from right in photo) during the Indonesian Festival in Washington DC in July 2011, from designs that were digitally printed on paper and displayed. Later that summer a panel of batik experts (including 3 Americans) and Indonesian cognoscenti selected 8 additional finalists – this time by viewing the digital images online.
I was contacted by Dara Yusilawati, the very positive, high-energy Third Secretary of Economic Affairs to the Indonesian Ambassador, and asked if I could simplify my design to make it fit the parameters of actual batik production. I was surprised, delighted – and overwhelmed by the task. It is my understanding in hindsight that all finalists worked with the batik experts and producers to make their designs "batik-able" – meaning simple enough to be reproduced by hand using tulis (hand drawn technique) or cap (copper stamp; pronounced "chop") tools.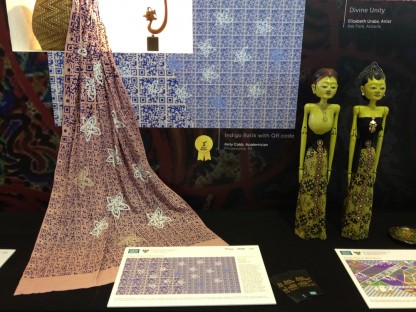 I immersed myself in a lengthy process of shaping my design to fit the 8" x 8" size (due to weight limitations) of the cap and devising a sequence of colors that would pre-dye and over-dye within a range that fit the Pantone system and complied with the batik atelier's capabilities. My design was 1 of only 2 designs to be realized using the stamped wax method of batik. Throughout the process I was most fascinated at the labor involved in handcrafting the copper cap that would print fabric with high-tech code. Imagine for a minute the contrasting systems of time at play between the hours of hand-crafting an intricate copper stamp that prints a wax pattern on cloth and the instantaneous transmission of data via QR code that links that patterned cloth to batik information on the internet.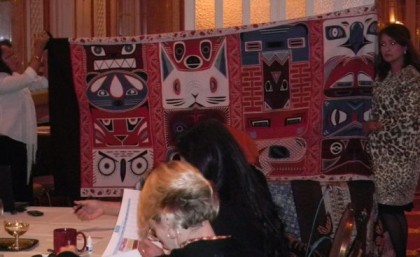 After a period of anticipation, Dara notified me that I was, in fact, one of 9 finalists and was headed to San Francisco!
Finalist celebration in San Francisco: In November 2011, 9 finalists were invited to a "big reveal" at a lavish gala banquet at the Palace Hotel hosted by Ambassador Djalal and his wife Ibu Rosa Rai Djalal. Honorary judges Ibu Djalal and Ibu Okke, wife of banquet Guest of Honor Minister Hatta Rajasa, joined the established panel of judges who were all flown to San Francisco to confer and choose which designs would win the top prizes, this time by evaluating each as a design "materialized" on 3 meters of cotton.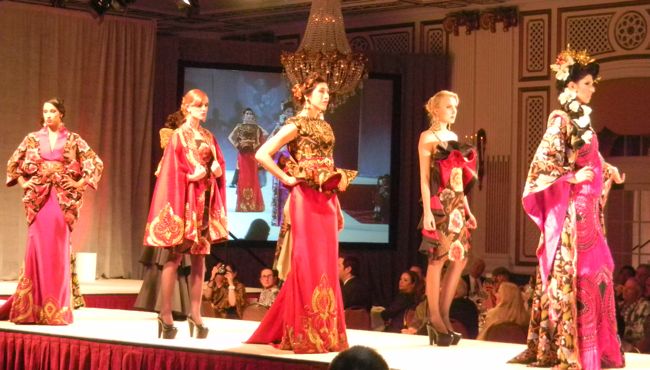 No expense was spared as we were dined and fêted. There was a batik exhibition, several receptions, policy speeches, distinguished guests of honor, awards presented by the Asia Society, then Indonesian dance performances, a fashion show by Indonesian designer Denny Wirawan and finally the ABDC award ceremony. A beautiful documentary introduced the competition, showing how the labor-intensive task of producing all 9 finalists' batik designs was accomplished by a team of batik masters.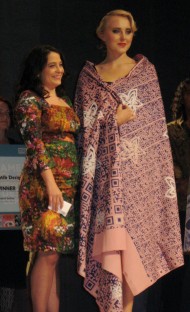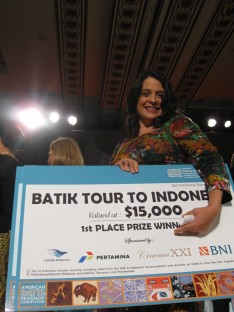 I am usually a behind-the-scenes girl, so I was literally beside myself when my name was called as one of 3 finalists. The next thing I knew, I was onstage being handed 2 larger-than-life checks: one for $5,000 in prize money and one for a $15,000 trip to Indonesia!
Workshop at California College of Art with Nia Fliam & Agus Ismoyo: The day after the gala, California College of Art's fiber department hosted renowned batik artists Nia and Agus of Brahma Tirta Sari Studio in Yogyakarta, Java, for a 2-day batik workshop for contestants and many CCA students. I worked alongside my fellow finalists, who ranged in age from mid-20s to 60s with backgrounds as diverse as sacred painter, Smithsonian scholar, graphic and lighting designer. (You can find out more about each of the 9 finalists on ABDC website.) A few of the contestants were well-versed in the art of Indonesian batik; others had never touched a canting tool. View the documentary about how Brahma Tirta Sari studio managed conversion from digital design to actual batik production of all 9 designs here:
As an educator, I relished working alongside CCA's talented students in their beautiful studio as we learned the alchemical art of creating the perfect wax recipe by adding tree sap and other trade secrets of batik. The vats were set up outside in a sunny alcove where we dipped, chatted and were in awe of the process of layering, waxing, dyeing, and watching our swatches of complex patterning unfold before us.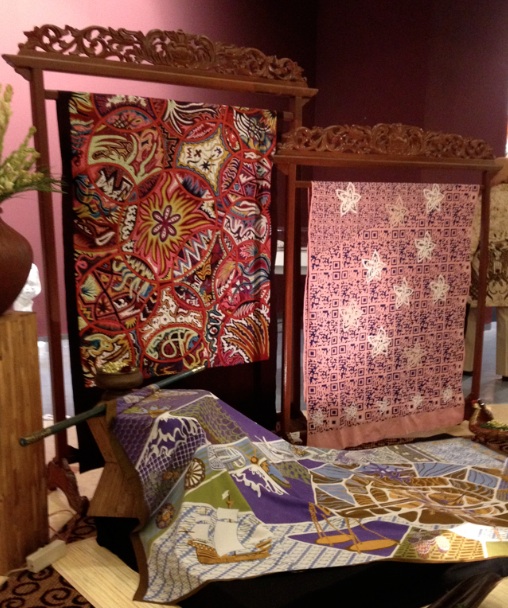 Textile Tour of Java and Bali: A 3-week intensive, guided tour of Jakarta, Yogyakarta, Solo in Java and then Bali was part of the grand prize – since each of these regions are famous for unique and distinctive styles of batik.
As winning contestants, the 3 of us were treated like cultural royalty and quickly became a troupe of giggling and excitable companions. The highlight of the trip was an exhibition and press conference at the Grand Indonesia, a prominent, high-end retail market center in Jakarta that was hosted by Ambassador Djalal and his wife. (All 9 winning designs were exhibited from February 22 to March 4, 2012, at Grand Indonesia in Central Jakarta and from March 6 – 31, 2012 at the Jakarta Textile Museum in West Jakarta.)
Each contestant seemed to have fans and followers; we were bombarded with both questions and delight from our Indonesian audience. Personally, I was overjoyed at the positive response to my work and interest by the youth press agents, cultural bloggers, emerging artists and students. I embraced my role during the high profile exhibition and enjoyed being interviewed by the press. I loved being in the spotlight! Those who approached me were so sincerely excited and keen to engage in dialogue. I was treated like a VIP and cultural ambassador. It was profoundly moving that a textile art could bridge cultures in this way. I valued meeting key players in the batik world and was inspired by their willingness to engage an American audience in a conversation about batik design.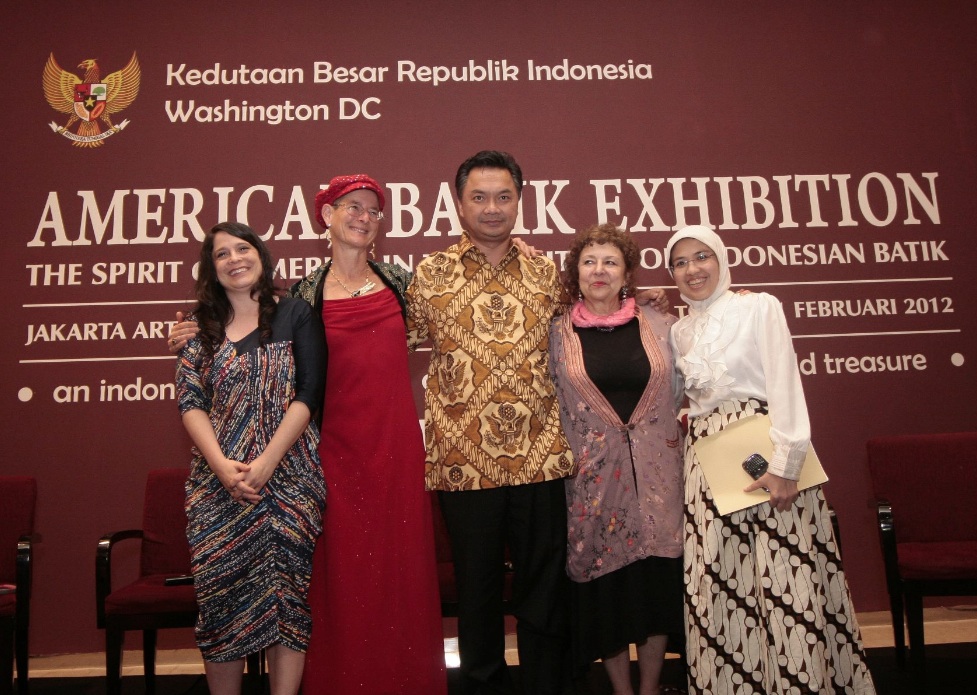 I never imagined I'd get such a hands-on invitation to explore my interest in how technique, symbol, and color migrate, embedded in textiles that are carried by trade. Batik changes appearance according to the regions of people it passes through and the hands of those people who touched, adopted and adapted its design to reflect their world. It proved to me, once again, how fundamental a role textiles play as communicator of social messages in most cultures and lives.

I am very honored to have been chosen as a winner of this ABDC competition. Traveling to Indonesia has been the highpoint of my career. One significant take away from my experience is that the youth culture of Indonesia is vibrant and exciting. I hope to return to Indonesia and learn more about the symbolic language of regional batik, to work with art students at one of Yogyakarta's universities or technical high schools and to connect with environmental programs such as the Clean Batik Initiative that are pushing the art of batik forward into the 21st century.
Read about ABDC in the Indonesian press here:
www.thejakartapost.com/news/2012/02/29/cowboys-buffaloes-and-batik
And here: www.thejakartaglobe.com/fashion/americans-offer-a-new-take-on-indonesian-batik
See more images from related events on ABDC facebook page.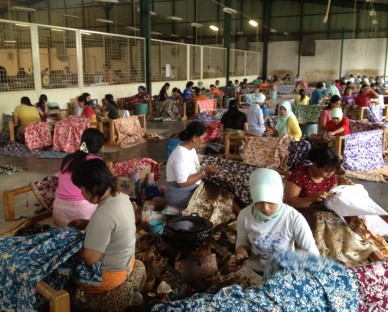 TIPS FOR TEXTILE TRAVEL IN JAVA:
Our extensive tour spanned batik production facilities from small family-run atelier to large-scale factory. If you are planning a textile-focused tour to Indonesia, here are a few cultural highlights with links to learn more:
JAKARTA, JAVA (CAPITAL CITY):
Parang Kenchana: Established in 1993, this batik producer is known for its contemporary fashion and modern silhouettes. They produce batik cloth, clothing and home decor.
Textile Museum/Museum Tekstil Jakarta: Jakarta's Textile Museum is a cultural and educational institution with a mission to conserve traditional textiles such as its extensive batik collection.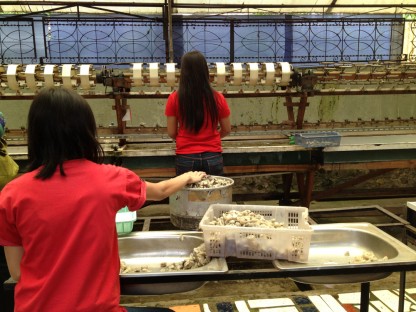 Museum Nasional: National Museum as an institution of cultural heritage studies and cultural center of educational and recreational information, have an obligation to save and preserve Indonesia's cultural heritage objects.
BOGOR, JAVA: (important economic, scientific, cultural and tourist center, as well as a mountain resort) Bogor was included in the trip to show the diversity of climate within Indonesia and to visit a famous family-run silk farm, Rumah Sutra Alam (Natural Silk House) in Ciapus district, Bogor regency.
Read more at www.thejakartapost.com/news/2009/silk-house-works-with-farmers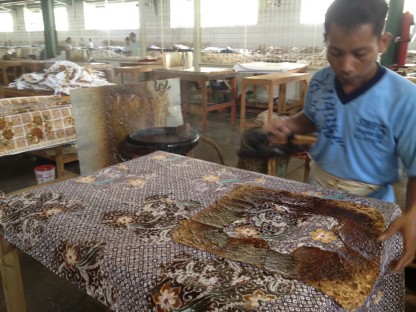 YOGYAKARTA, JAVA (touted as "the spiritual center" of Indonesia):
Pasar Beringharjo: This is the central market; I especially enjoyed the spice side market, a total immersion into smells. Lots of textile of all kinds here – at all price levels. Be sure to bargain – it is how business is done.
Brahma Tirta Sari Studio: Collaborators in art & life, Nia Filam and Agus Ismoyo run this one of several studios that produced the winning designs in either canting or cap batik. Ismoyo and Fliam were the first artists in Indonesia to extensively explore the medium of Javanese batik as contemporary textile art outside the boundaries of modern lukisan batik (batik painting).
Upcoming US Workshops: Nia and Ismoyo will be in the US in spring 2013. Check out workshop opportunities via their website link, above.
SURAKARTA/SOLO, JAVA (the "business center" of Indonesia):
House of Danar Hadi: Contemporary shop and private museum that holds an extensive collection of regional and historic batiks.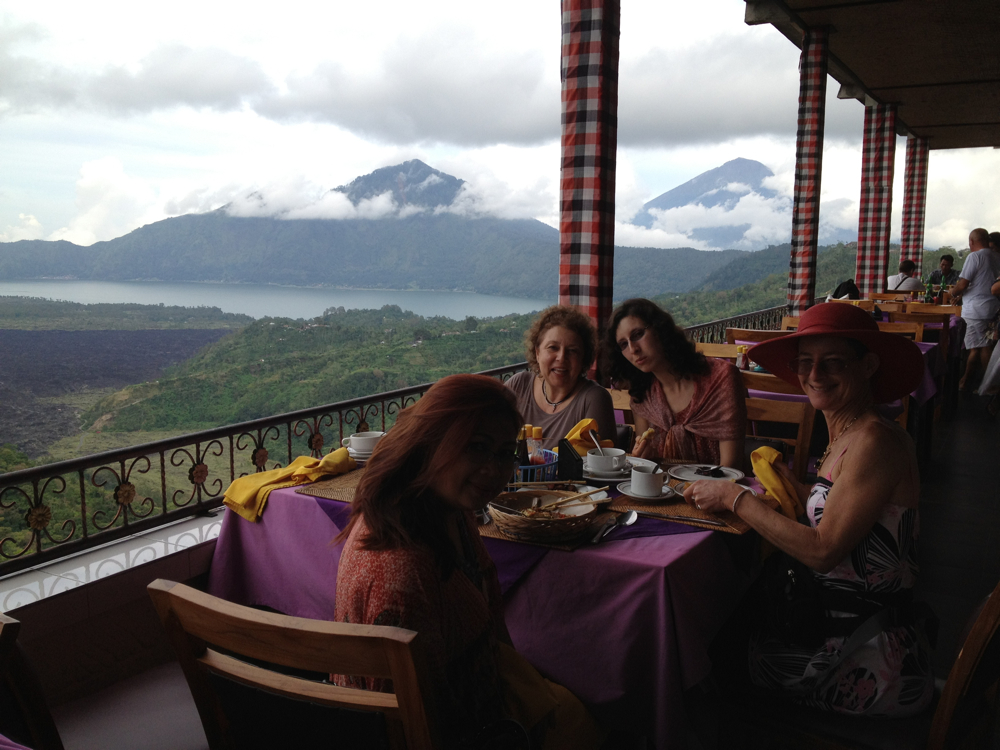 ____________________________
Kelly Cobb is a Philadelphia-based artist, designer and instructor in Fashion and Apparel Studies at University of Delaware, where she teaches CAD, Product Development/Management Studio and Creative Design Methods.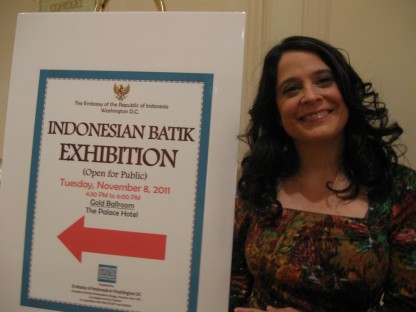 In collaboration with her design students, Gildan Activewear, Fair Labor Association and Instituto Politecnico Centroamericano in Honduras, Cobb carried out an ethical fashion project that demonstrated ground-up thinking about sustainability in the product development process. Cobb has designed functional prototypes for children's sportswear and women's RTW. She has also developed and coordinated sample production of surface designs for couture and RTW markets.
Cobb is active in community-supported creative initiatives such as Philadelphia Sewing Collective and Design Philadelphia and contributes to the blog Worn Through: Apparel from an academic perspective. She holds a BFA in Textiles/Fiber from Maryland Institute, College of Art and an MFA from University of Florida.