SURFACE MATTERS: How SDA-WA Rocked a Regional Conference
June 20, 2012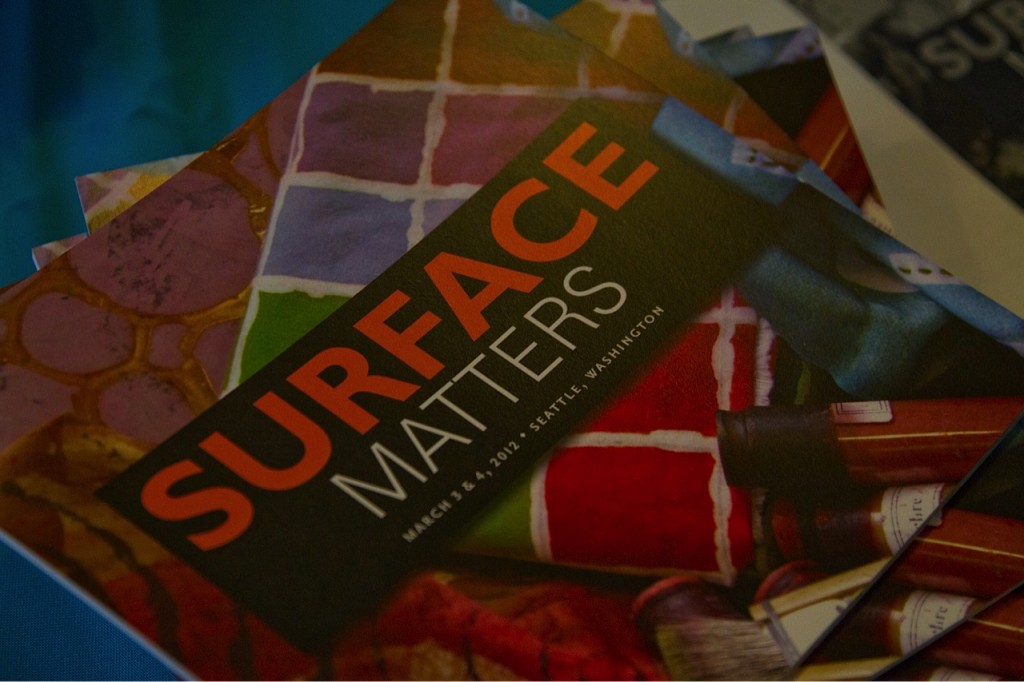 In Fall 2011, a conversation began about building the SDA-Washington State area organization. At the time there were over 200 members and a climate of untapped potential and possibility.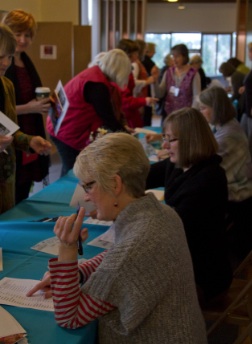 Less than a year later, on the weekend of March 3-4, 2012, SDA-WA hosted Surface Matters – a symposium, member exhibition and studio/vendor tour. It immediately filled to capacity with 150 people – plus 20 presenters and vendors – who were inspired, informed and ignited.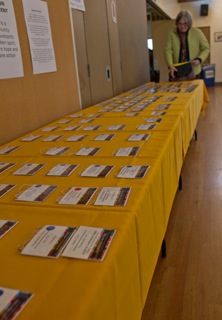 How did such a successful event happen?
What needed to be in place to make it happen?
How was the spark of an idea fanned to a brightly burning flame with a 100% volunteer effort?
What simply fell into place and what were the challenges?
What was learned that will inform what happens next?
What else is possible for a membership-based organization of people with a common passion?
I'll address these questions in brief here so that SDA members everywhere are encouraged and emboldened to make it happen in their areas, too. (A complete how-to guide for organizing a regional symposium is being written for publication as a members-only resource on SDA website.)

The initial (modest) idea was simply to organize an SDA-Washington members networking meeting: like a half-a-day gathering for informal networking and just getting to know one another. An SDA-WA blog was already in place. It seemed simple enough. Pick a date. Send some email. Post an invite on the blog. But the common vision quickly expanded to more than just a 4-hour meeting.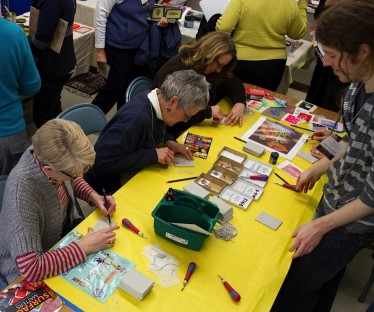 An SDA-WA Special Projects Team was formed. The first meeting was held on September 11th, 2011. Jane Dunnewold (who was SDA President-elect at the time) was in Seattle. With her very personal dedication to serving the membership in new ways, Jane quickly bought into our vision to make something happen in Washington. A date was set – less than 6 months away – and the brainstorming began.
It was immediately evident that the group was dedicated, well-connected and endowed with vast experience and talent. Committees formed: Programs, Hospitality, Marketing, Sponsors, Logistics and Budget.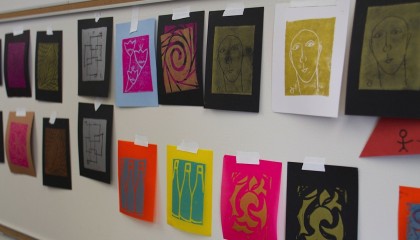 We decided to extend an invitation to our SDA area neighbors in Oregon, Idaho and British Columbia. Weeks later, the original vision and committee expanded to include members who wanted to lead the effort to organize an SDA members exhibition and studio tour.
Suddenly, Surface Matters was a 2-day event!
3 key factors were essential to the success of Surface Matters: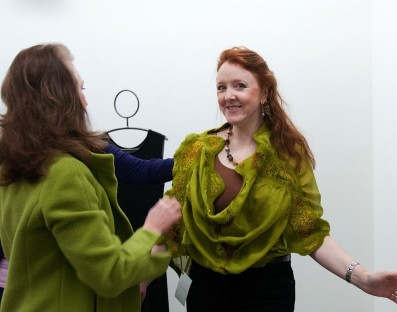 1. A TEAM of VOLUNTEERS who
shared a vision and the desire to 'give back'
agreed to play by the ground rule 'Give what you can give willingly and with joy. No martyrs. No whining.'
were well-connected and rich in relational equity from which to draw upon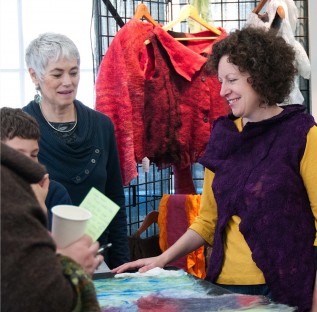 2.  Professionals and experts in the field of textile-inspired art and surface design who, when asked, were willing to GIVE their time, energy, talent and wisdom in support of the fledgling SDA-WA organization. There was NO budget and NO seed money.
3.  A community of like-minded artists and enthusiasts who were hungry for community and connection and who would trust our intention to serve them with our inaugural effort.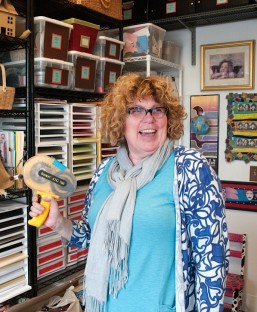 Surface Matters began to take shape almost immediately. Branding began, a logo was developed and viola! – Surface Matters had an identity. Well-known and talented players were asked – and immediately agreed – to contribute to our efforts as speakers and panel members. SDA awarded us a $500 Small Events Grant that served as badly-needed seed money. A modest venue was secured. A new committee member stepped up to handle all hospitality issues, since it was our clear intent to serve our guests.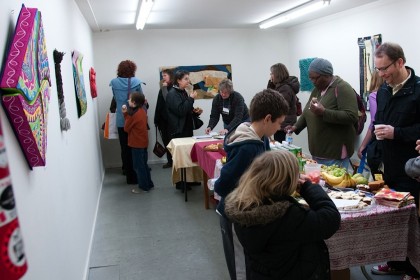 SDA-WA blog was our channel for communicating and promoting our event. Behind the scenes, an online registration process was being crafted. One committee member began contacting local businesses and suppliers who serve our membership and they, too, immediately and graciously GAVE us merchandise and services to pass on to our attendees.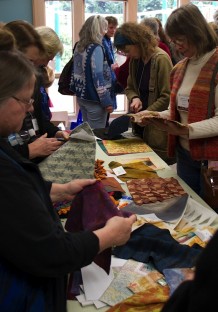 3 weeks after registration opened the event was filled to capacity with a wait list.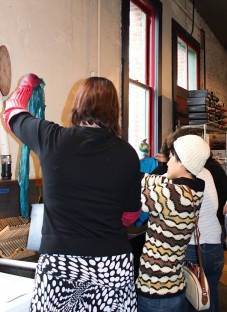 There were bumps along the way. There were turf struggles and serious conflict between a few committee members. We moved so fast and furious that SDA was challenged to meet our needs and demands in terms of online payment/registration. The venue, while adequate and affordable, was not well suited for visual presentations. This resulted in frustration and a disservice to some of the generous speakers. Unforeseen and un-budgeted expenses occurred as deadlines crashed upon us.
All-in-all – and in the end – Surface Matters was a HUGE success. The filled-to-capacity event attracted 18 new members to SDA. The post-event survey got a remarkable 67% response from attendees. The survey results were widely positive.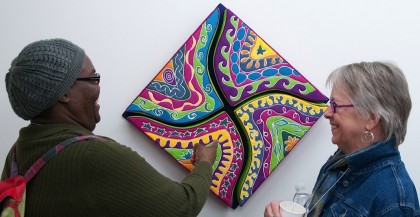 Bottom line? Everyone wants more!
Surface Matters was profitable and seed money now exists to help fund what's next for SDA in Washington. The incredible team of volunteers have rested. So what is next? Surface Matters Returns?
Stay tuned. We've only just begun!
For more information about SDA-WA or to read more about Surface Matters event, visit SDA Washington area blog at surfacedesignwa.wordpress.com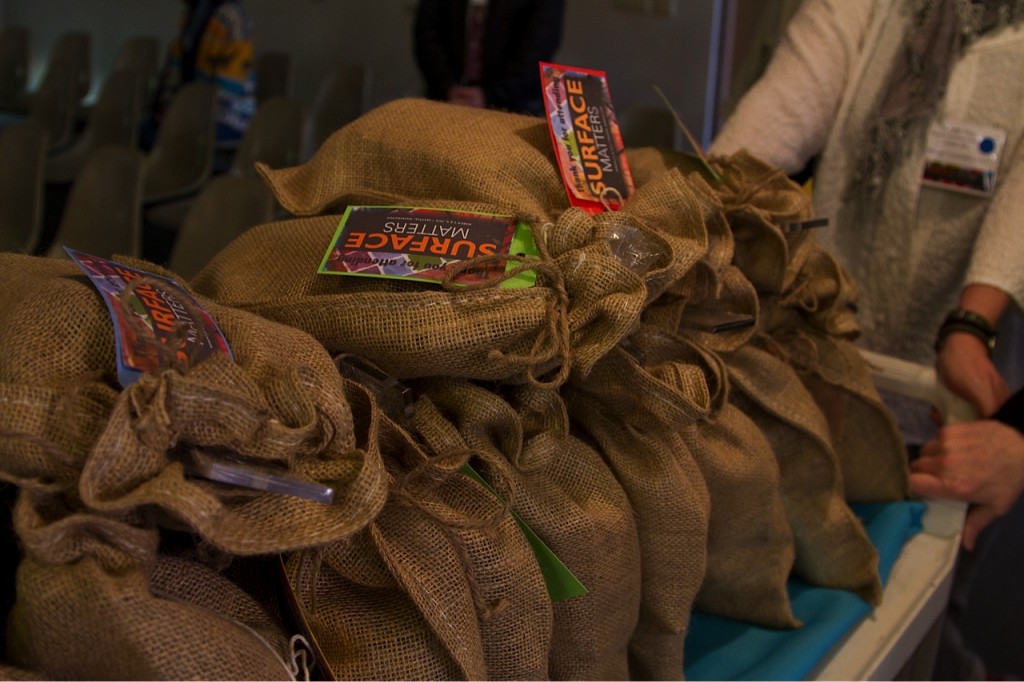 ___________________________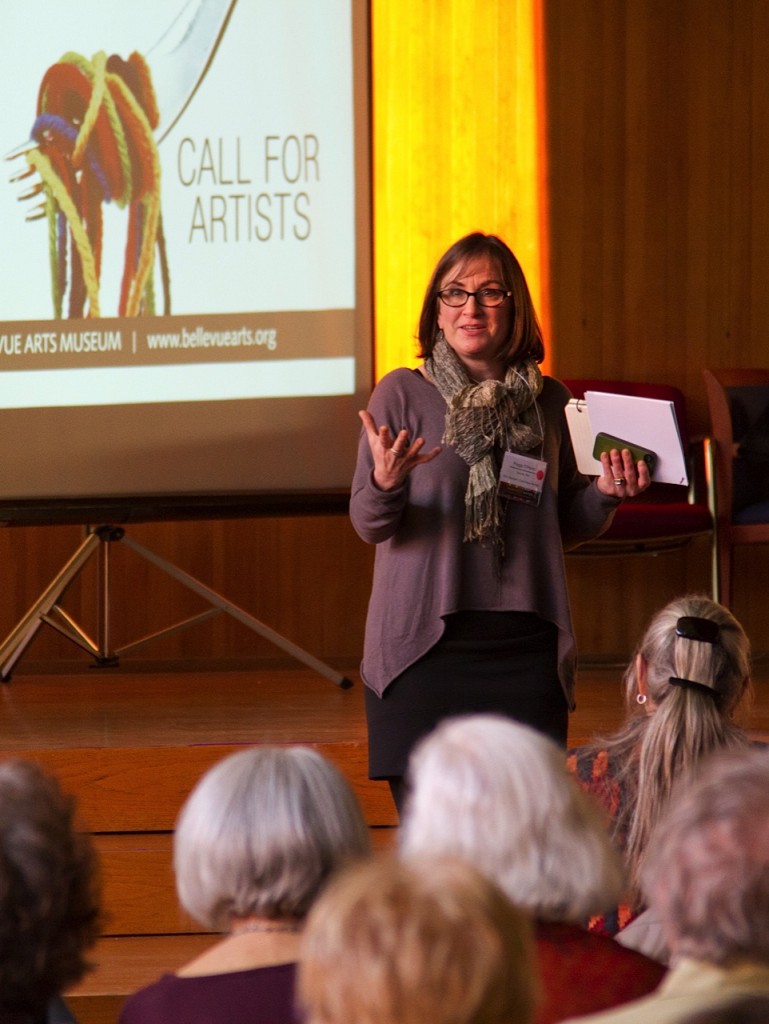 Peggy O'Heron took on the position of SDA Area Representative for Washington State just over a year ago. Responding to the urge to contribute to something greater than herself and have a break from the isolation of her art studio, she began to engage other SDA members in a conversation about what was possible for SDA in the Northwest area. O'Heron has since stepped up to serve on SDA Board of Directors.
At right, she closes Surface Matters with a big shout out to the outstanding team of volunteers and generous presenters, sponsors and vendors who together produced this grassroots, 100% volunteer effort. As promised, Surface Matters inspired, informed and ignited the fiber-focused creative spark in all who attended.
Visit her website at: www.peggyoheron.com