Immerse Yourself In Socially Engaged Art Practices @Made/Aware
June 16, 2015

MADE/AWARE: Socially Engaged Practices, Surface Design Association's first ever Craft + Concept Intensive, will offer participants an unprecedented 3-in-1 opportunity to explore socially engaged art (SEA), the latest in natural dyeing processes and ethical fashion practices.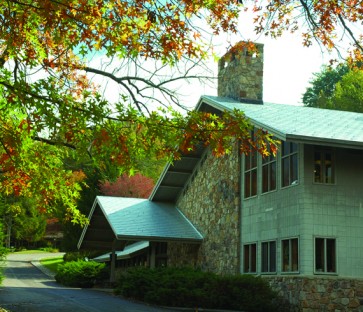 This unique event has found the perfect setting, tucked away on a beautiful campus in the Great Smoky Mountains of Tennessee, at Arrowmont School of Arts & Crafts. The 3-day intensive will be an incubator for meaningful interactions with accomplished artists and designers whose community art practices have global impact.
Attend MADE/AWARE to listen, learn, collaborate & activate your ideas with an uplifting line-up of socially-engaged luminaries. Featured presenters (l-r, above) Namita Gupta Wiggers, Mary Fisher, Laura Sansone, Rowland Ricketts, Charllotte Kwon and Carole Frances Lung  (among many others) will guide us as we contemplate our own visions for a better world & use our own creativity to build awareness about issues of concern in our communities.
You'll want to REGISTER NOW (before July 1 for lowest rate) once you take a scroll through the roster of renown speakers and presenters in each hot topic area.
SOCIALLY ENGAGED ART

Activate your work with these like-minded maker/activists: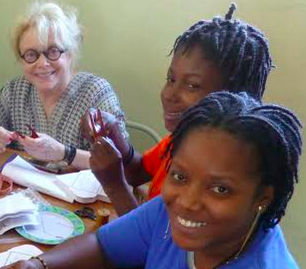 MARY FISHER, our MADE/AWARE opening keynote, rocked the 1992 Republican convention with a speech that is ranked 1 of 100 greatest American speeches in the 20th c. (read recent New York Times story about her life, work and new book here.) This author, artist, advocate and social entrepreneur is also an international leader in the arena of social change through positive thought and action. She'll get the intensive going with an address entitled The Soul of the Community, which will explore what it means to go into worlds and cultures where we are learners and, in new settings, to search for new understandings of life, death, purpose, meaning & art. She'll illuminate the ideas that will shape our 3-day exploration – along with the practices that give meaning to our work as artists.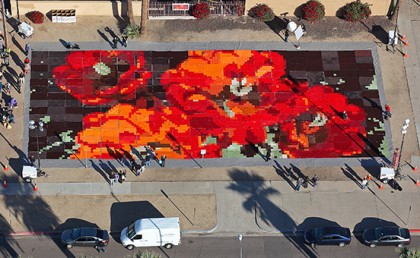 ANN MORTON, artist/educator at Arizona State University, will moderate a panel discussion on Socially Engaged Art – A Mess Worth Making? She recently led a social project titled Ground Cover, commissioned by the City of Phoenix Office of Arts and Culture and funded in part by the National Endowment for the Arts. It was selected by Americans for the Arts to be included in the 2014 Public Art Year in Review. You'll want to be part of this interactive discussion that investigates questions surrounding ethics of SEA practice, funding sources, project organization strategies, use of social media plus outreach for public participation. Feed your activist spirit further with the pre-conference (Oct 4-7) workshop Morton will offer entitled Gatlinburg: Re-woven.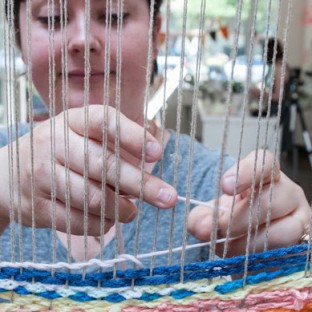 ANDREA VAIL, artist, educator and recent grad of Craft/Material Studies Program at Virginia Commonwealth University (MFA, 2014) will facilitate Creating: Conversation & Community / Mini-Lab On Collaborative Creation. Vail will informally discuss the challenges of creating collaborative events and highlight key components of planning plus explain how to build triumphs in every community. Through collaboration, group members will create a piece to be included in Vail's current project – an ongoing series of works exploring diverse intricacies within a community's shared history. The work is situated around telling stories through objects & the traditions of handwork associated with textiles – designing, producing & mending.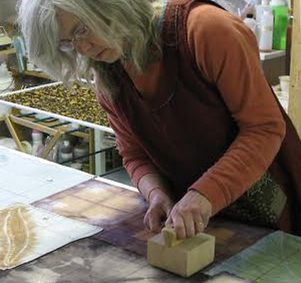 FRANCES DORSEY, artist/educator in the textiles program of Nova Scotia College of Art and Design (Canada) will lead a group discussion on Exchange & Collaboration. No matter how far along you are in developing a project plan, this is an opportunity to vet your ideas with a supportive & engaged group. Her most recent work focuses on gratitude, the beauty of the immediate environment and local dye color. She's also involved in several initiatives to revive a "terroir" textile industry in Nova Scotia using flax, native dye plants and universal design garments.
NATURAL DYEING

Immerse yourself in the latest dyeing discoveries with these color luminaries: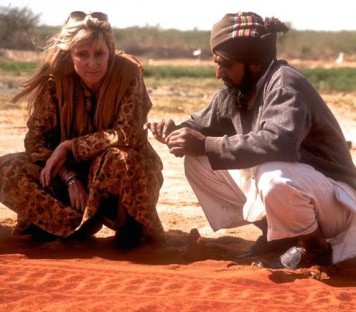 CHARLLOTTE KWON is owner of Maiwa Handprints Ltd., a commercial/retail enterprise, and director of Maiwa Foundation, a non-profit that supports and sustains artisans in the craft sector. Through them, she also runs a textile archive and research library located on Granville Island in Vancouver, Canada. Kwon travels extensively each year to research handcraft and to supplement her natural-dye research. In her featured talk, Waiting for the Monsoon: Slow Clothes in India, she'll lead you, via film and images, on a tour of hand production in India that will make you rethink everything that goes into the creation of a garment. You'll also get some hands-on action during her presentation Not Under Glass: Using Collection Pieces to Inspire Revivals.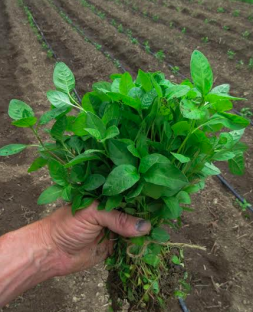 ROWLAND RICKETTS utilizes natural dyes and historical processes to create contemporary textiles. A grad of Cranbrook's MFA program, he was also trained in indigo farming and dyeing in Japan and is currently Associate Professor in Textiles at Indiana University (Bloomington).  In his featured talk, Making: A World of Blue, he'll share how his understanding of just what it is he makes has evolved over time to encompass everything from dyed textiles, to the dyestuff itself, to community – and now outward to a world of blue. You'll also have the opportunity to participate in a discussion he'll co-lead with craft critic Namita Gupta Wiggers titled Origin/ality, which will explore a different understanding of originality – one that starts from your own internal interests in process & materials.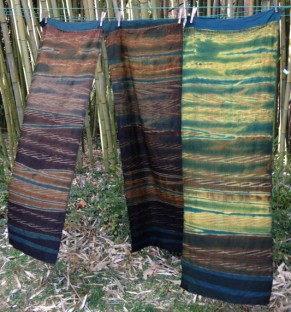 CATHARINE ELLIS has been a weaver/dyer for over 40 years. Having studied natural dyeing with Michel Garcia and Joy Boutrup, she committed to the exclusive use of natural colorants 10 years ago. Well-known for her work in woven shibori, she has taught natural dyeing at Penland and Haystack, among  many other venues. This popular educator and natural dye advocate will lead a must-hear group discussion and exchange On Natural Dyeing – where all your questions will be addressed. Participants are invited to bring samples of work to share & discuss. Go deeper by taking advantage of her pre-conference workshop (Oct. 4-7) at Arrowmont that explores Printing On Cotton.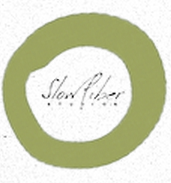 YOSHIKO IWAMOTO WADA, renown artist, author, curator, independent scholar and film producer, has long been an exponent of traditional and sustainable practices in fashion and textile production. Drawing on her pioneering work as president of World Shibori Network and founder of Slow Fiber Studios, she'll moderate a panel discussion on Gifts from the Earth: Growing Plants for Dyeing in the 21st Century. It will explore a range of social issues around the use of natural dyes, such as environmental advantages & issues, community benefits, educational challenges and commercial practices. Panelists will include Catharine Ellis, among others to be announced. Don't miss the additional opportunity to study with Wada-san in her pre-conference (Oct. 4-7) workshop at Arrowmont on Knowing the Material: Getting the Most Out of the Least.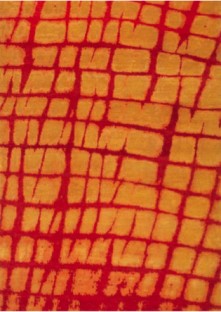 SARA GOODMAN is a textile artist, designer and educator with a studio/school called House of Dreams in Lyme, New Hampshire. She's a former board member of GoodWeave Foundation, an organization dedicated to eliminating exploitive child labor in South Asia's handmade carpet industry. She's recently designed a collection of shibori-inspired, naturally-dyed pile carpets that are being woven in a Goodweave-certified workshop in Nepal. In her group discussion & exploration titled Beyond the Immersion Bath: Using Natural Dyes for Surface Applications, you'll have the unique opportunity to discuss the many ways natural dyes may be used for surface design: painting, printing, silk-screening & discharge. Start your inquiry early by taking her pre-conference workshop (Oct. 4-7 – with Mary Zicafoose) on Indigo & Ikat: New Paths for Ancient Partners.
ETHICAL FASHION

Refine your understanding of sustainable practices with these fashion activists: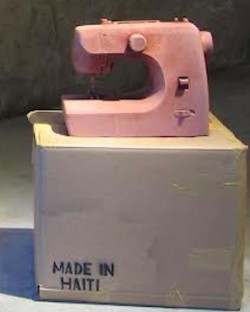 CAROLE FRANCIS LUNG is Assistant Professor in the Department of Art, Fashion and Textiles program at California State University/Los Angeles. She maintains the Institute 4 Labor Generosity Workers & Uniforms, Frau Fiber's archive, experimental factory and a storefront studio in downtown Long Beach, CA. In her featured talk, Factory to Factory: By and For the Organization, she'll introduce us to her alter ego, Frau Fiber, who has transformed herself from humble worker into a soft guerrilla textile activist, drawing attention to the labor behind the label of the garments we wear. She'll share some work Frau has been doing in the United States, Haiti, Ghana & Germany. You'll also be invited to Join the Sewing Rebellion! in a hands-on mini-lab as Frau leads participants in a motivational talk, hands-on activity and an oath of solidarity to the Sewing Rebellion. Start hacking fashion before the intensive even begins with Lung's pre-conference workshop (Oct. 4-7) at Arrowmont that invites you to be part of Hacking The Assembly Line. (Read SDA NewsBlog 2014 story about Lung's work with CARPA (Craft Advanced Research Projects Agency) here.)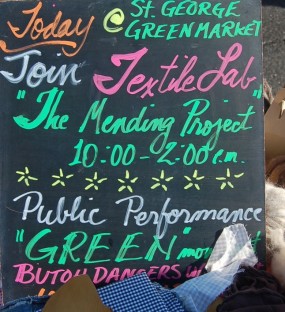 LAURA SANSONE is the owner and operator of House-Wear Design Studios, specializing in sustainable textiles (Hudson Valley, NY). Currently adjunct Assistant Professor at Parsons The New School for Design in the School for Design Strategies (SDS) in New York City, she is also creator of Textile Lab, an ongoing project that examines environmentally responsible textile methods and community-based systems of production. You'll get the opportunity to hear all about it in her featured talk Exploring the Relationship of Design, Nature, Local Production & Industrial Manufacturing. Then, in her Hands-on Mini-Lab: The Mending Project, you'll be invited to bring an article of clothing or a textile that needs repair and collectively mend it using locally sourced, naturally-dyed materials including wool fleece, roving & yarn as well as leather & naturally dyed cotton.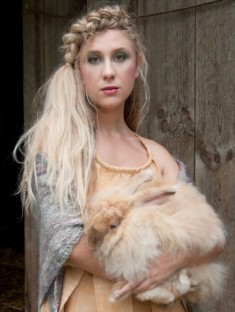 JUDI JETSON is a fiber activist and creative economic developer with 30 years experience designing and implementing regional and community-based growth strategies that build on local assets. She is co-founder and current chairman/executive director of Local Cloth. Conceived as an economic development organization to start a local fiber movement, Local Cloth's goal is to grow the fiber economy in the southern Appalachian region within 100 miles of Asheville. It focuses on makers, fiber animal farmers and small scale fiber mills and processing businesses. You'll have a unique access to her story through a panel discussion she will moderate on Farmer-Artisan Partnership Clothing: The Local Fibershed Movement with panelists Ongeleigh Underwood, owner of Temperate, a Chattanooga-based eco-dyed clothing business and Melanie Wilder, supervisor of Warren Wilson College's fiberarts program.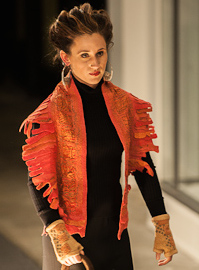 LISA KLAKULAK works with felt and natural dyes to make body adornment and figurative sculpture while also offering workshops in her Asheville, NC studio. Having received a BFA in Fiber Arts (1997) from Colorado State University (with independent studies in natural dyes), she began exploring the felt medium in 2002 at an artist-in-residency at Appalachian Center for Craft in Smithville, TN. Her group discussion and exchange on Felt Integrity will offer unprecedented access to detailed information on the intricacies of feltmaking – especially tailored for those creating wearable works. Take advantage of her pre-conference workshop (October 4-7) at Arrowmont to take your skills deeper in The Color Grab: Equalizing Distribution Among Different Fibers.
SPECIAL PRESENTATION OPPORTUNITY FOR SDA MEMBERS WORKING IN SOCIAL PRACTICES!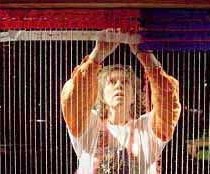 CAMERON ANNE MASON & MARCI RAE MCDADE:  "Pecha Kucha-Style" Presentation – 
10 x 20 x 20: Socially-Engaged Work by SDA Members. 
In this snappy presentation, 10 SDA 
Made/Aware
attendees engaged in social practices will talk about their unique vision, materials, or techniques while showing 20 images for 20 seconds each.
Pecha Kucha
 (which means "chit chat" in Japanese) is a presentation format that originated in Tokyo. SDA's modified version will give viewers deeper exposure to the range of socially-engaged work created in 2D, 3D, installation or community projects by these 10 SDA members selected by jurors Mason & McDade. 
CALL-FOR-ENTRIES
 will be sent to all registered for 
Made/Aware
 in 
early July
. Deadline for submissions is
August 9
. Presenters will be notified by
August 20th
. Check 
SDA conference webpages
for updates.
REGISTER NOW by calling Arrowmont at
865-436-5860

!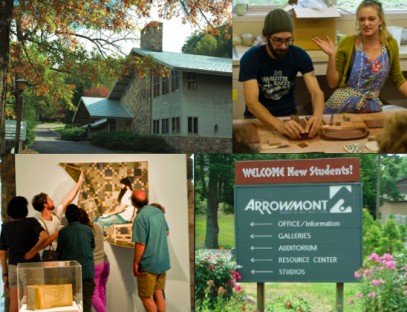 So what are you waiting for? YOU won't want to miss this action-packed opportunity to become a part of Made/Aware.
This focused confab will provide a unique context for artists, designers, educators & activists to share, discover, experiment & network.  Each participant will leave Made/Aware ready to innovate, collaborate, act – and inspire others. Whether your project is personal, regional or global, this 3-day immersion will incite & support bold action.
See complete list of speakers + topics here.
Access complete Made/Aware information at www.surfacedesign.org/conference-2015
Register before July 1, 2015, to get the low "early bird" conference rate
(see page 6 of online brochure for rate information & deadlines).
QUESTIONS? Contact administration@surfacedesign.org or call 707-829-3110.