Losing It (literally) Over Embroidery: The (Teeny- Tiny) Pieces of My Heart
March 31, 2013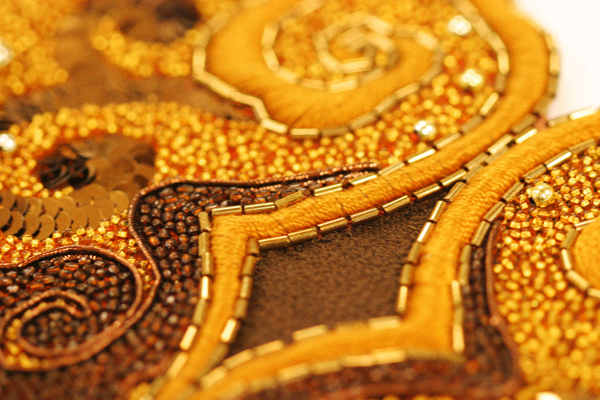 The (Teeny-Tiny) Pieces of My Heart: Beginning Tambour Embroidery
with Lalon Alexander & Theresa Alexander
SDA in•ter•face Post-conference 5-day Workshop
June 10-14, 2013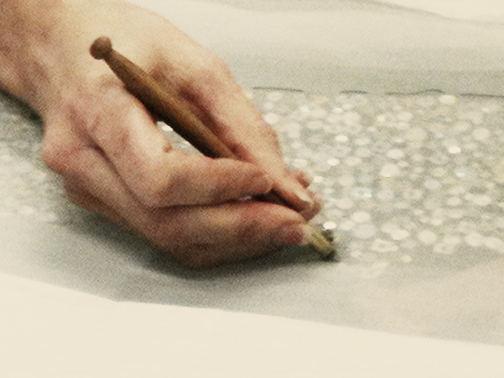 San Antonio, Texas
(PLEASE NOTE: This workshop has been cancelled due to under-enrollment. However, the Alexander sisters will present a demonstration, "Creativity and Couture Embroidery", on Friday, June 7.)
"What's the hardest part about beading on fabric?" is the question we are most frequently asked.
"The constant loss" is the most honest answer – out of many possible complex answers to that question. (Note that this requires a wistful look to the side as spoken).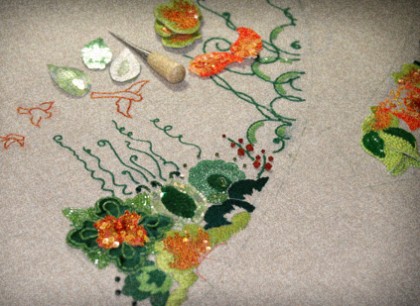 Imagine that the phone rings, or the cat decides you obviously need her help – or you suddenly remember the natural laws of chemistry applied to whatever you are cooking, and you are required to set aside your embroidery work.
It is inevitable that when you return, some sort of space-time shift has occurred, and you can no longer locate your scissors, beads or glasses. After all, it couldn't possibly be that you just forgot where you laid them down!
Personally, I always blame the cat. Inexplicably, the lost item returns as soon as I locate a replacement. I have yet to find a physicist that can hypothesize a viable theory for this.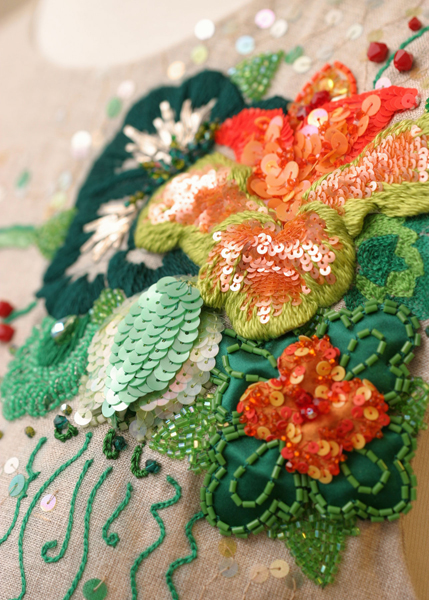 In truth there are many challenges with textile embroidery and beading, but the outcome is more than worth it.
It's a bit like buried treasure in its own way: you have to work your buns off to get to the right point, but that treasure is a beauty!
In this class, you will not be learning about cross-stitch, crewel, or needlepoint.
While beautiful work can be created with these techniques, they are rarely employed in professional embroidery and beading for garments. Professional embroidery and beading – whether for fashion, costumes, interior or art-making – generally uses a mix of techniques and tools. Both the threaded needle and the tambour hook are commonly employed. The materials will be custom-selected to match the overall design. Many beading designers need to know as much about fabric manipulation as they do about beading and embroidery in order to command the full range of design possibilities.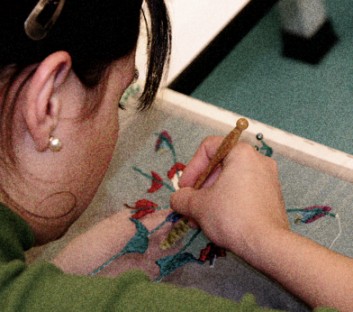 One of the biggest misconceptions that we commonly hear is the idea that this sort of embroidery can either be done by machine, or by anyone who does hobby embroidery. There is a big difference between hobby embroidery and professional embroidery.  As to a machine doing this, well, trust me. It can't.
So why not expand your own creative possibilities? Join us to learn about professional beading and embroidery!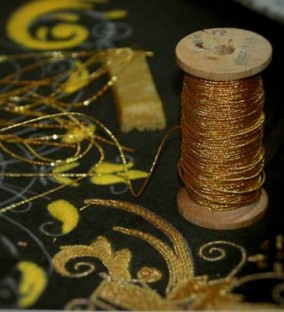 It doesn't take any previous skill. We start everyone from the beginning. In fact, we have never found any particular "type" of person to be more adept at it than another. Previous embroidery experience does not matter.
In this class, you will learn to set up your own frame, use both the needle and tambour hook to apply threads, beads and sequins and the process for finishing the project.
We will cover how to transfer designs, beginning stitch techniques and the applique process. Even if you do not complete the project in class, you will have all the information you need to finish on your own.
Join us. You will go home with your own beaded heart – and all of its teeny-tiny pieces!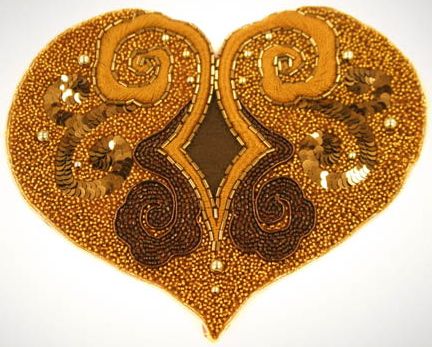 Register for this in•ter•face post-conference 5-day workshop at www.surfacedesign.org
(Workshop availability subject to change after April 15, 2013.)
You must log in as an SDA member and register for the conference to add this workshop.
(If you'd like to take the "workshop only" option, you can subtract the conference fee after.)

_________________________________________
Lalon Alexander & Theresa Alexander: Biographical Information + Usual Questions Asked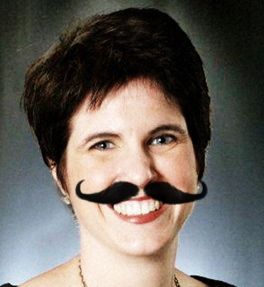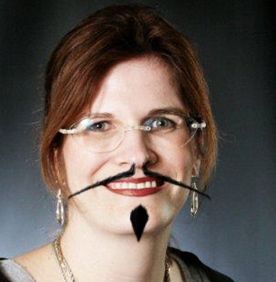 Theresa and Lalon Alexander ARE sisters. They are not twins.
They share many of the same interests and currently teach at the same university – University of the Incarnate Word in San Antonio, Texas. While this causes some initial confusion for the freshman, they eventually figure it out by their sophomore or junior year.
They have lived, studied and worked around the globe, mostly bifurcated. Both studied at École Lesage in Paris, the embroidery and beading atelier for Chanel, Dior and other high-fashion labels. Lalon worked as a beader for film and Broadway in New York City before returning home to Texas. Theresa taught classes in Paris and Lubbock, TX (gasp!). Theresa continues to teach a beading and embroidery class each spring to her UIW college students.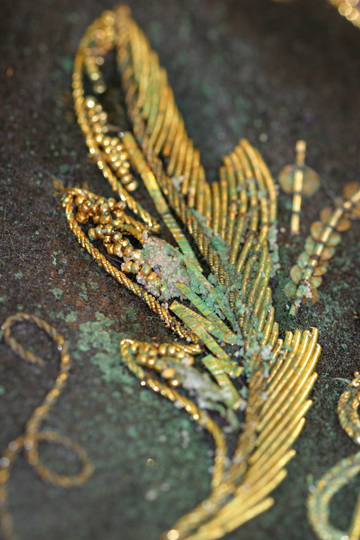 Their work has been featured on Broadway in Wicked, Spamalot, 25th Annual Putnam County Spelling Bee, The Color Purple, The Producers, La Cage Aux Folles, and Mame – among many others. Their film & TV credits include Memoirs of a Geisha, The Producers and Temple Grandin (HBO). Their fashion embroidery has been featured in WWD and Martha Stewart Weddings.
Lalon has a BS in Fashion Design from Texas Tech University, MFA in Costume Design from Carnegie Mellon University, and also studied at Paris Fashion Institute, École Lesage, London College of Fashion & Fashion Institute of Technology.
Theresa has a BS in Fashion Design from Texas Tech University, MA in Clothing Technology from Nottingham Trent University with further studies at Paris Fashion Institute, École Lesage & London College of Fashion.
Their side business, Elephant Embellishments, was started in 2006 to take professional embroidery commissions. It will soon be turned into a school.