"Making our Mark: SDA at 40" — Out Now!
July 24, 2017
Surface Design Association is pleased to present our Summer edition "Making our Mark: SDA at 40" to celebrate our 40th Anniversary. With opening letters from President Astrid Bennett and Guest Editor Wendy Weiss, this Journal reflects on the amazing people that helped SDA grow into what it is today, as well as looks forward to the emerging artists and ideas that will lead SDA into the future.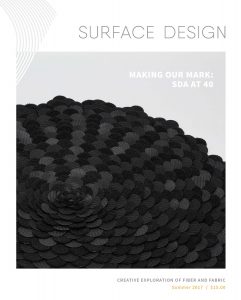 ---
Here's a little preview of what you'll discover:
1) "Crossing Generations" deeper explores the work on display in the identically titled exhibition for our conference in August. With exhibiting artists organized into three categories–mentors, current, and emerging–curator and author Jane Sauer explains why she picked who she did, and what their work is contributing to the textiles field.
2) "Jo Ann C. Stabb: A Legacy Promoting Wearable Art" by Susan T. Avila looks at the life work and Stabb's contribution to both the fashion and wearable art communities, as well as her own creative practice.
3) Karen Hampton's "Moving Forward: Re-Defining the American Textile Conversation" brings five politically engaged artists together to examine how we are serving our communities when the world is in upheaval.
4) "Responsive Textiles and the Technology of Touch" by Jennifer Bockelman features the work of five artists who combine technology and fiber to create interactive installations, tell amazing stories of transformation, and question social ideals.
5) In "Making our Mark: 40th Anniversary Tribute to SDA", Wendy Weiss interviews six representatives from SDA who played important roles to the life and growth of the organization.
6) "Unism in the 21st Century: Textile Artists from Łódź" by Jolanta Rudzka Habisiak highlights the ingenious methods in which Polish artists are using nontraditional materials to push textiles, technology, and fashion to its furthest limits.
7) "Elsa Sreenivasam Memoriam" by Cindy Gould pays homage to one of SDA's Co-founders as well as an internationally known textile artist, researcher, and Iowa State University Professor Emerita.
8) "Spotlight on Education" features the Oregon College of Art and Craft and Portland State University–the two universities SDA has proudly partnered with for our conference.
9) Made Aware's "Contemporary Black Feminism: The Revolutionary Fiber Art Practices of The Yarn Mission" by Lila Stone examines the subversive nature of knitting and the pro-Black, pro-rebellion, pro-community knitting collective that formed in St. Louis, Missouri, in response to the tragic death of Mike Brown at the end of 2014.
We are proud to release this amazing edition of our Journal, and cannot wait to see everyone in Portland or our Biennial Conference in Portland, Oregon from August 3rd to 6th, 2017!
---
To buy a copy of "Making our Mark: SDA at 40", go to the SDA Marketplace, or you can check out a free digital sample on our SDA Journal page.