Mending Gold in the Balkans
October 30, 2015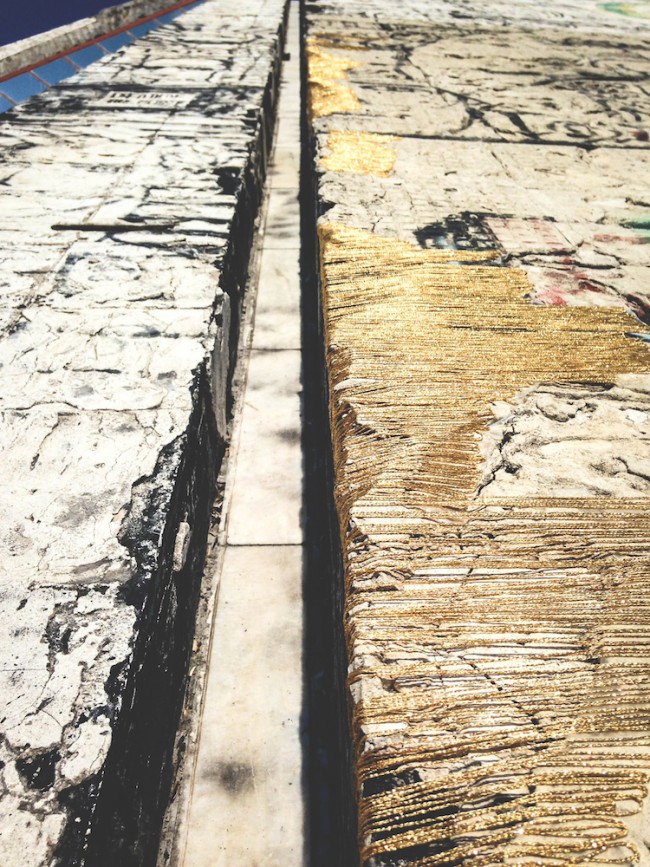 Recently, while unpacking my studio luggage, I was reminded of the extraordinary creative opportunities I had this past summer (2015) in Tirana, Albania and Bucharest, Romania.
Over the past 3 summers, I have spent time getting to know the rich traditions, culture and citizens of Tirana, Albania and other Balkan countries. During visits to Albania, I have worked with faculty members at Universiteti POLIS (website not available at present), an international school that focuses on architecture, urban planning, art and design.
Inspired by research I conducted during my residency at POLIS in 2014, I created work for a solo exhibition, Adaptive Rituals, in the POLIS MAD Centre Gallery this past July. These works  connected material and technique to rituals I perform (within my own studio practice) by combining Albanian material culture with traditional ceremonies. This combination inspired a new body of work, Mending Gold, that links the worldwide, common act of mending cloth to the mending of land and architecture.
Albania is a country rich in history and tradition but undergoing drastic change. It moved away from communism and became a democratic nation over 20 years ago. A building known as The Pyramid, dedicated to the communist dictator Enver Hoxha, still stands in the city center. This building represents the difficult relationship between Albanian citizens and their government, which causes mixed feelings and uncertainty about the future of the building.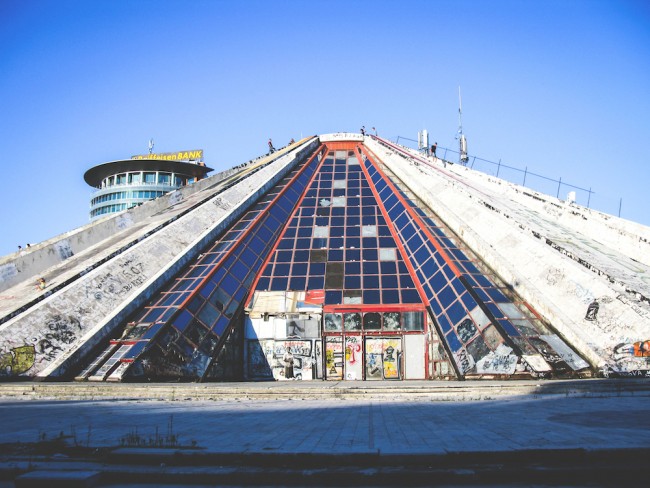 As an observer and admirer of Albania's citizens and culture, I was inspired to mend a part of the building.
Over several days, I built up the courage to apply stitching to a small section of the Hoxha Pyramid. Since the building is climbed daily by locals as well as tourists – and is covered in graffiti – I became part of the activity on this site by adding stitching to the structure.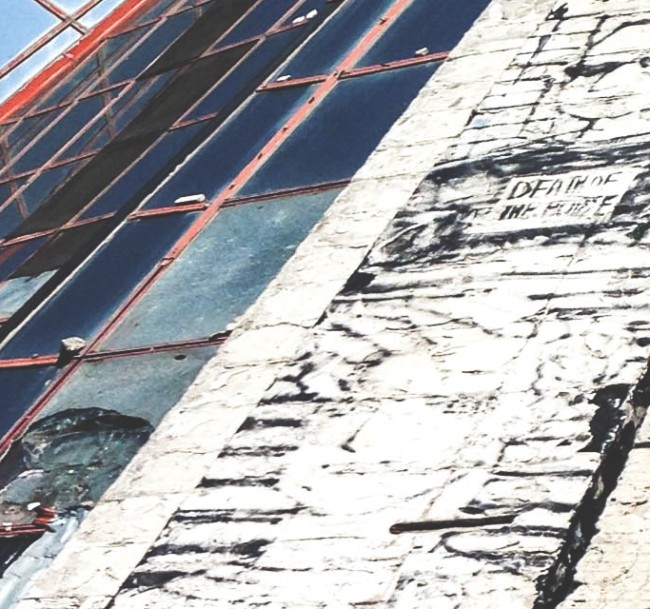 Sunscreen applied and materials in hand, I climbed a small section of the very steep Pyramid and was attracted to graffiti that said Death of the Hoxha – a comment on the contradiction many Albanians feel about living in the past while figuring out how to move forward into the future.
Using mending as a metaphor and gold as high-value additive, I thought, "what better location to perform some gold mending?" Gold yarn in hand, I began to mend the worn and crumbling surfaces of the building, while thinking deeply about the Albania I have come to know and appreciate.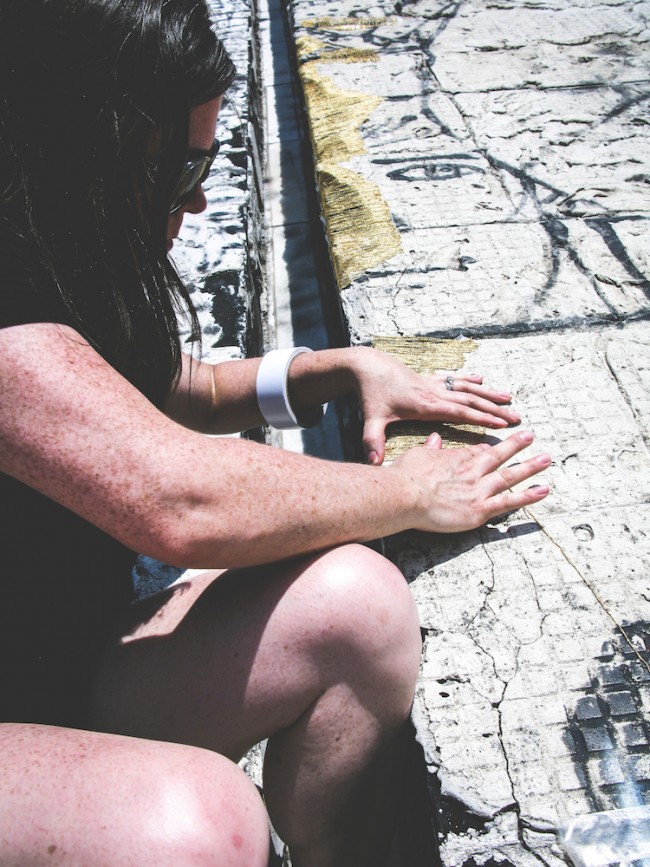 Not knowing the language is a barrier, so I worked with a generous student, Kristi Janku, from POLIS University, who translated a statement I wrote and helped to answer any questions locals or tourists asked.
Shortly into mending process, some curious men in their twenties approached Kristi and asked what I was doing. One climbed up to the area where I was wedged and he simply said, "You need to mend the entire building, but first you need a hat". His statement was very true!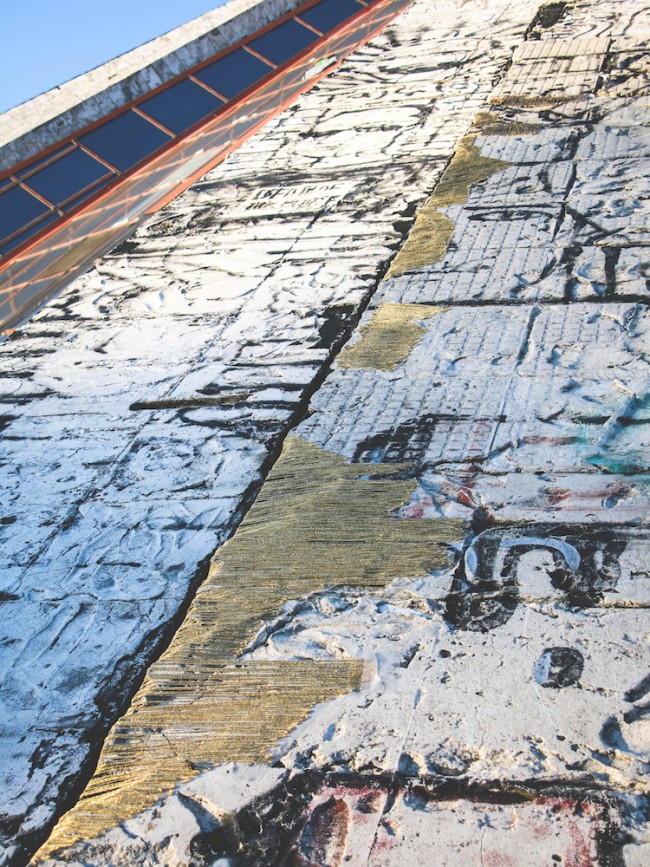 In the short amount of time I've spent in Albania, I've observed great progress and positive change for its citizens. It is with this mending that I wish for continued positive change for a country that has such amazing landscapes, rich traditions and a history filled with resilient citizens.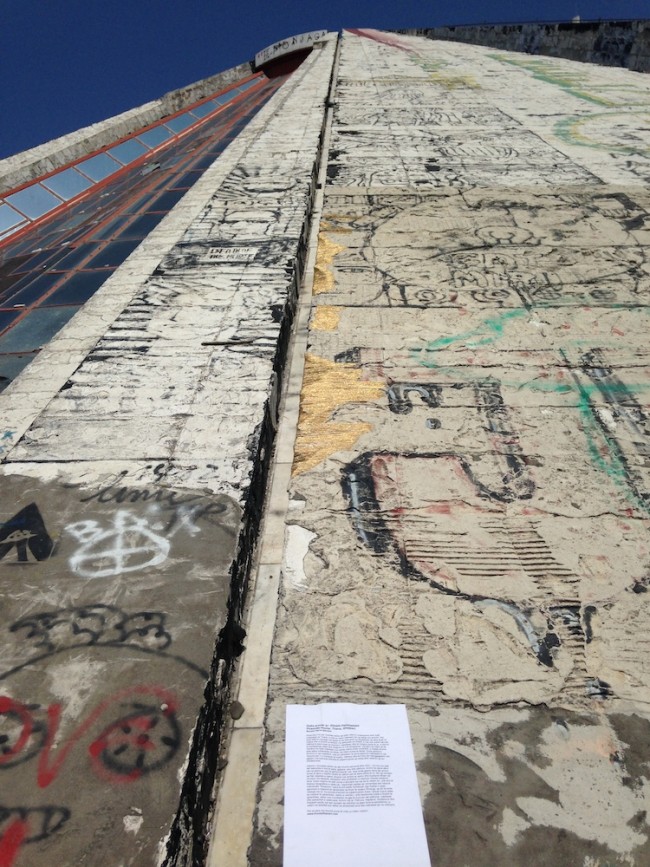 The second part of our summer travel began with a 1 week work-related trip to Bucharest, Romania. During this time, my husband taught a digital fabrication workshop at Nod Makerspace, located in the Industria Bumbacului (cotton industry) building.
This former cotton-spinning mill was closed in 2003 when its function was outsourced to Turkey. For me, nothing could define serendipity so perfectly. Having grown up in the southern United States, I related to the hardship caused by the flight of industry as I watched most of the furniture and textile industry leave my home state of North Carolina in the 1990s-2000s.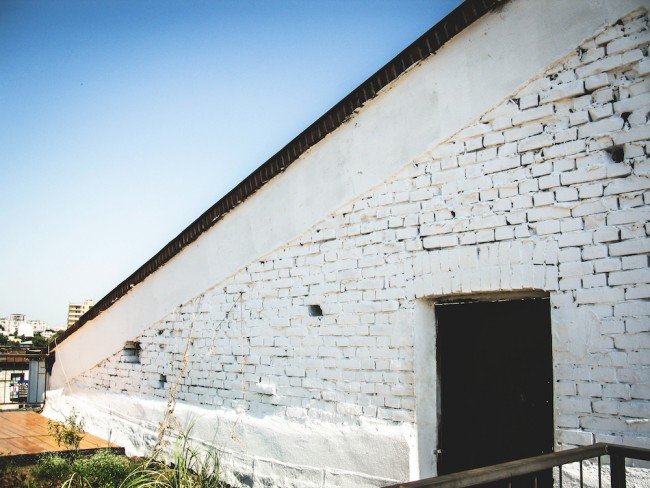 Similarly, Romania's economy has suffered a drawn out recession, like many other countries worldwide – but compounded by the end of communism in 1989. The closing of this cotton-spinning mill is just one of many examples of industry leaving one country for another with the promise of cheaper labor and lower taxes, ultimately depriving skilled people and close-knit communities of work – and their pride.
Luckily, a group of young entrepreneurs have recently rehabilitated the former mill to house the new industry of creative makers working in 3-D printing, prototyping, furniture and ceramics, among many other disciplines. Directly upstairs from Nod Makerspace is Deschis Gastrobar, a rooftop meeting place where businesses can hold creative retreats and other events that reflect the new and vibrant energy of this area.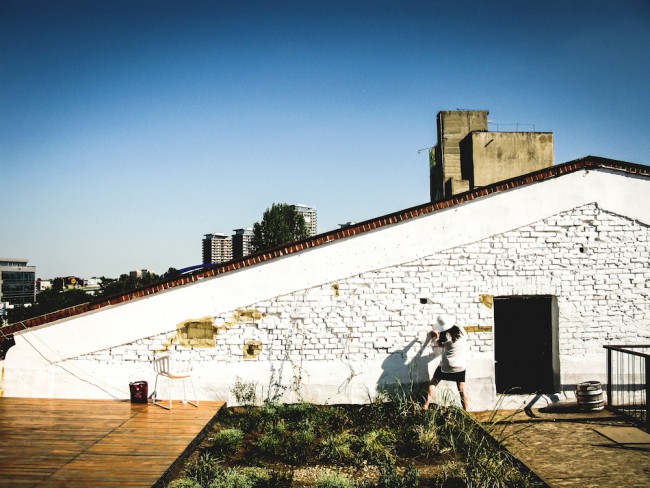 Fortunately, I was able to arrange a space to mend with Alexandra, the owner of Gastrobar. This time I was prepared with a hat and, of course, sunscreen.
Responding to the varying topography of the painted brick building, I was able to highlight and mend missing areas of the rooftop section. These areas allowed the gold yarn to expose missing gaps in the mortar as well as sections of missing bricks.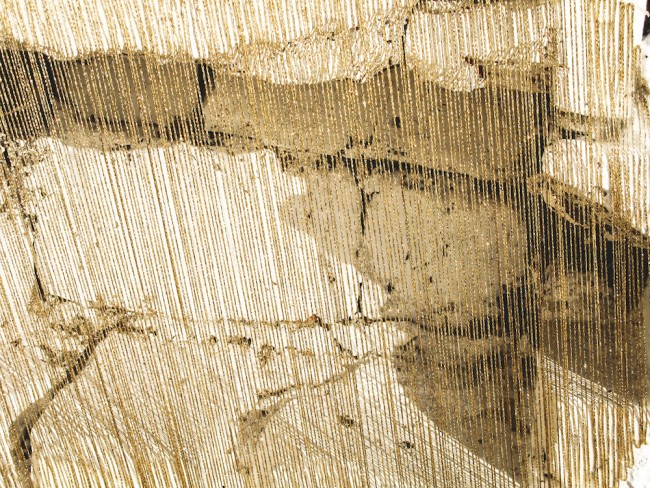 Over several hours of mending, I observed groups of young professionals meeting as well as preparations for that evening's TED Talks, attended by about 400 people. It became obvious over the course of 2 days of mending that there is a community that supports this new creative energy and re-purposing of what existed before. May this kind of healing continue to grow in Bucharest!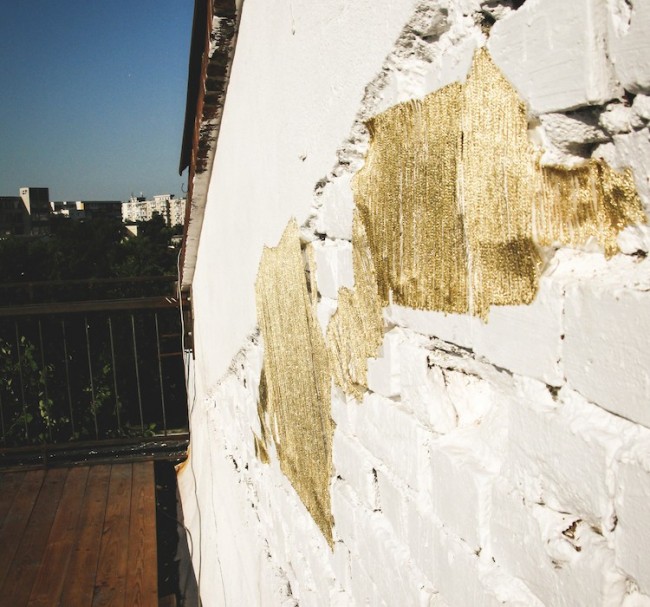 Albania and Romania are 2 beautiful and interesting countries located in the Balkans. In this region of growth and change, there are also strong traditions and a compelling sense of pride. I wish for the gold mending that I performed on these 2 buildings to speak softly, adding support and imparting the feeling of admiration, as they move forward in time.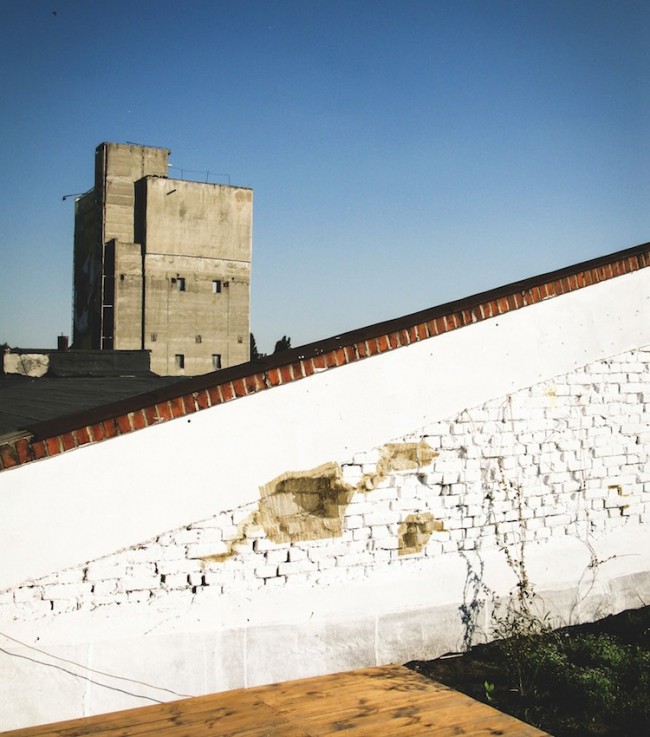 As mending is a large part of my current studio practice, I am hopeful that more architectural mending will occur during my travels in both the USA and abroad.
_______________________________________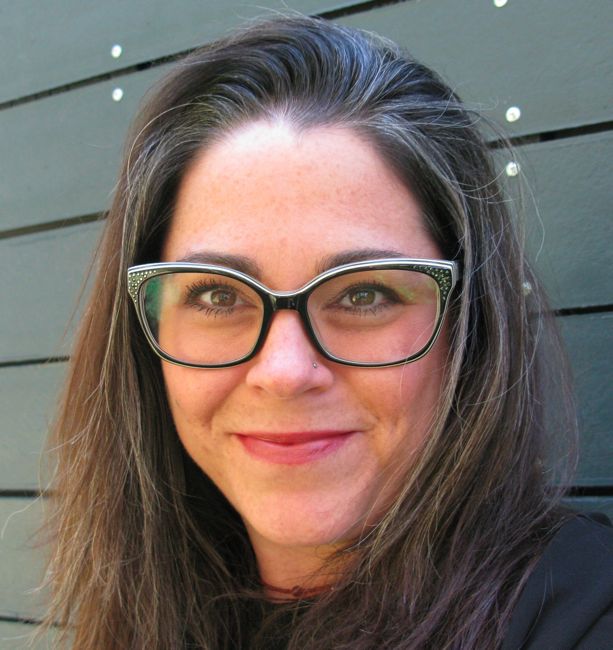 Brooks Harris Stevens is an artist, SDA member and Associate Professor at Eastern Michigan University (Ypsilanti, MI), where she is coordinator in the Art Department's Fibers program.
She creates installations and 3-D fiber-based work using interdisciplinary approaches that push the boundaries of the medium. Inspired by various cultural observations, her current research focuses on the mending of cloth, land and architecture.
Stevens has lectured on textile practices in both Europe and the USA while exhibiting work in solo, group, and juried exhibitions nationally and internationally. She is currently preparing work for upcoming exhibitions in Tirana, Albania and Atlanta, Georgia (USA).
Visit her website at www.brooksfiberart.com