New on DVD: Study Itajime Shibori With Ana Lisa Hedstrom
November 30, 2015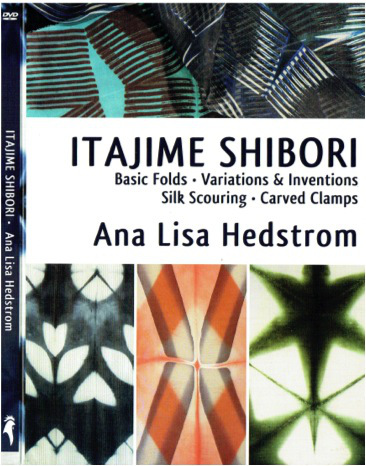 Who hasn't been captivated by the art of folding?
Whether it is plaiting straws, making paper airplanes or creating complex origami birds, the hands are just made for folding things.
I've been so captivated by the bold graphic designs of itajime folded and clamped resist textiles from Arimatsu, Japan that folding has been an integral part of my shibori practice for over 35 years.
Pleating or folding fabric before stitching or wrapping on a pole allows for working with a wider fabric and also increases the potential for patterning.
As always, the weight and weave of the fabric is crucial, as it either allows or prevents the dye from penetrating the layers.
So it's only natural that I would share my itajime discoveries in a follow-up/companion DVD to my first one on arashi shibori and stitching.
For most westerners, it's surprising that some of this beautiful fabric was once made for baby diapers. Such lucky kids!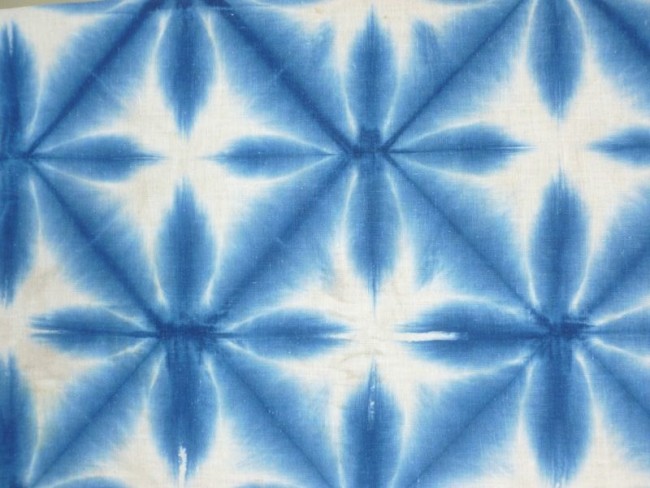 In many ways, itajime is the simplest of shibori techniques, but as I started to make new samples and experiments for the itajime DVD, I realized I had just scratched the surface….and that I could become possessed!
The DVD is organized into 4 chapters. The first looks at the basics of Japanese itajime: folding kimono-width fabric into a variety of square, rectangular or triangular bundles and using simple wooden shapes as blocks. Even with these constraints, the possibilities are endless.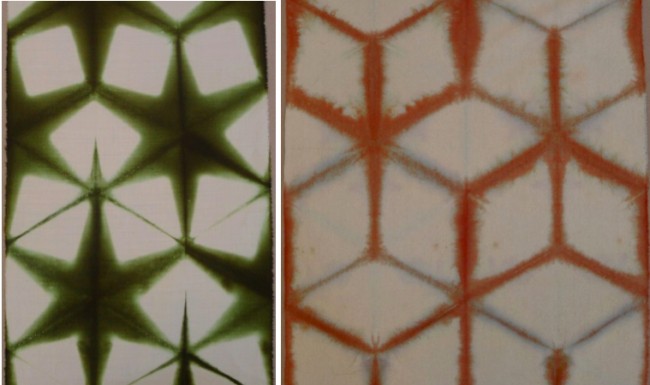 Chapter 2 is an invitation to play with different folds and shaped blocks.
As always, I emphasize the characteristics of the substrate in planning and dyeing the cloth. I look at this through the eyes of a contemporary dyer, pushing the concepts behind the technique. The first steps of origami folding has been a source for inspiration, as well as found objects for blocks.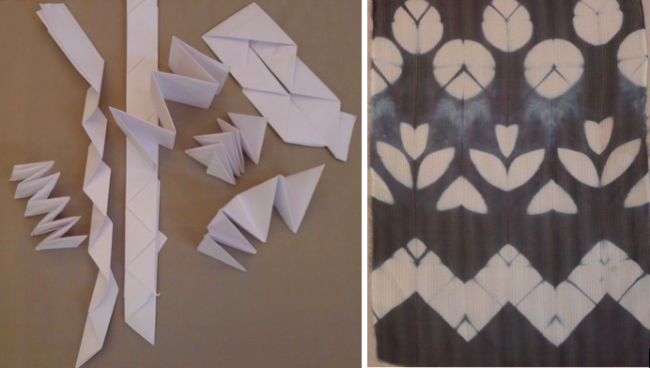 My own practice of itajime has often been on resist-scoured silk organzas – where the sericin (gummy protein secreted by silkworm) is removed from the exposed cloth, leaving graphic areas of soft lustrous silk juxtaposed with the stiff unscoured organza. I devote Chapter 3 to this process.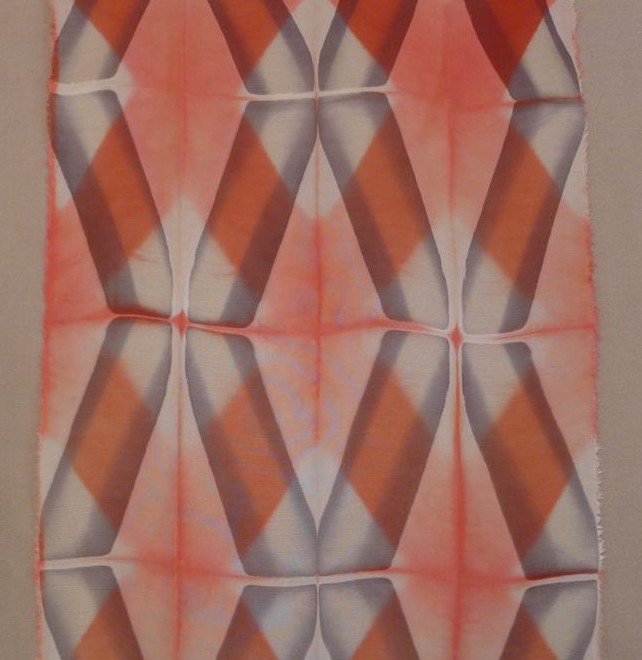 The most exciting discovery for me was how well thickened fiber reactive dyes work with this technique. Different colors have different affinities for the scoured or non-scoured areas. What looks like a brown paste will separate, revealing bright reds on the lustrous areas – and dark colors on the sericin.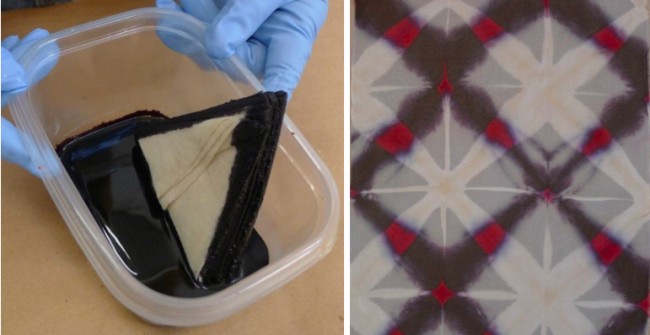 Natural dyes, too, will often take differently on the resist scoured silks.
Chapter 4 introduces the concept of using carved patterned blocks. I've held images of mysterious historical patterns created with carved clamps, called kyokechi, in my mind for years!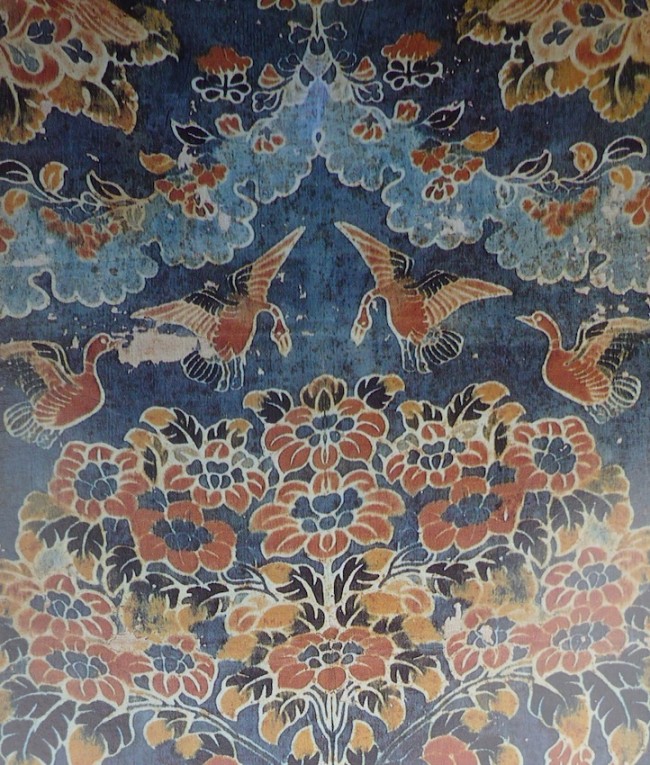 The most amazing examples were found in the Shoso-in in Nara, Japan. These ancient silk samples have pictorial images of animals, birds and flowers in multiple colors. The carving is like a maze – about ¼" deep – in wooden blocks. Holes are drilled in strategic spots to allow the dye to flow into the channels. Small wooden plugs could block certain areas so different colors could be used. Later the kyokechi concept was used in Central Asia, China, and Japan to produce fabric in a production mode. This process is called jiaxie in China and beni (safflower dye) -itajime in Japan.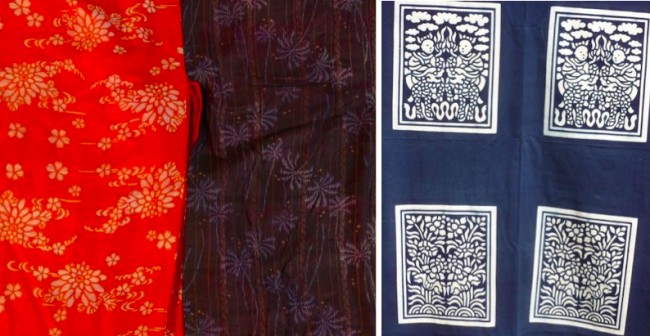 I was fortunate to travel to southern China 14 years ago with author and researcher Sadae Torimaru. (Yoshiko Wada joined as a consultant in resist processes). We visited an artisan in Zhejiang Province who still produced wedding coverlets in heavy cotton and indigo using 13 stacked blocks. I was able to re-visit a jiaxie studio last year during the International Shibori Symposium, where I documented the process.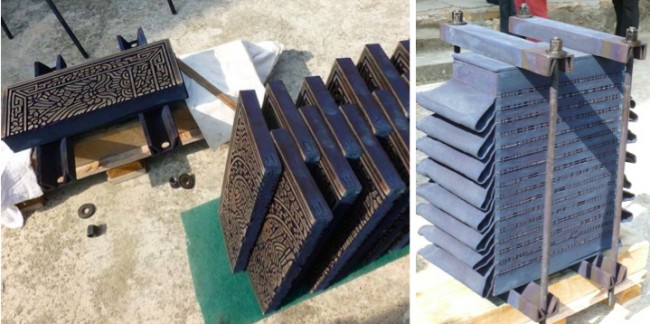 My colleague Jay Rich and I were both intrigued and came home to explore this idea in our own studios. In China, the blocks were carved in hard wood and kept wet to prevent warping. We were interested in how new technologies and materials could be used in the creation of blocks. Jay Rich was the first to employ a CNC router to cut the channels in plexiglass.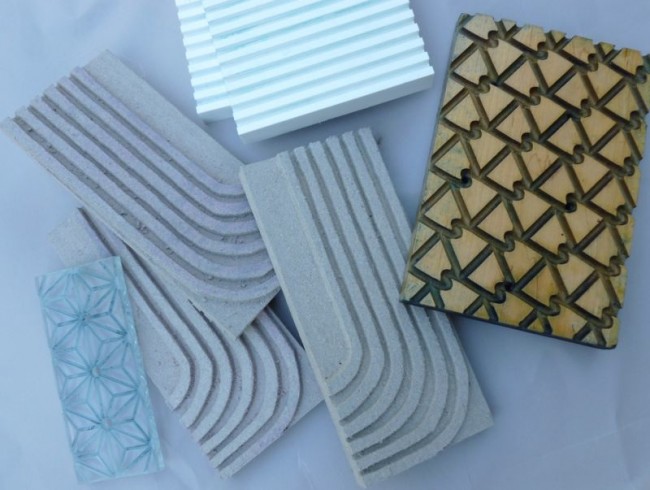 Since then, I have experimented with Corian counter top material (won't warp in simmering water) and artificial decking boards. This past summer my student Holly had some blocks made by 3-D printing. The material didn't hold up well in a hot dye, but would have been fine in indigo. More to explore!
This 4th chapter presents kyokechi as a wide open arena for experimentation and play.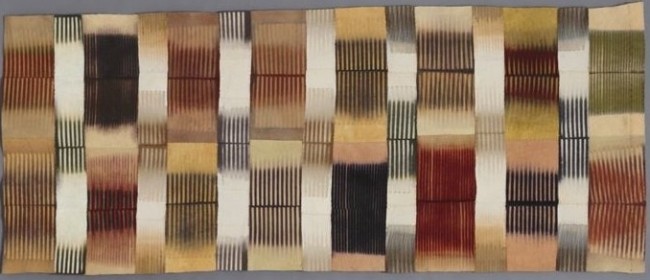 So what's next?
I may have exhausted my interest in making DVDs for now, but in the future my videographer, Andrew Galli, and I plan to create e-books based on my arashi and stitch resist DVDs. In the meantime, he will offer a streaming option through his website at gallipublishing.com.
All my DVDs are available on my website at analisahedstrom.com/dvds/.
___________________________________________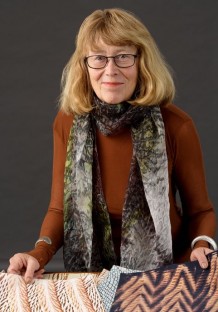 Ana Lisa Hedstrom's signature shibori textiles are included in the collections of  Cooper Hewitt (Smithsonian Design Museum), Museum of Arts & Design, De Young Museum, Oakland Museum and Racine Museum. She has completed public art commissions for Emeryville California City Hall and the American Embassy in Brunei.
Recent exhibitions include Quilt National, 2015; Materials Hard and Soft 2014 (Denton, Texas); and ISS international, Hangzhou, China, 2014
Teaching engagements include San Francisco State University, California College of Art and numerous international conferences and summer art programs. Hedstrom has been the recipient of 2 NEA grants and is a fellow of The American Craft Council.