New Textile Museum Fit for a Queen
April 24, 2014
A Royal Textile Collection Receives a Royal Textile Museum
It was a celebratory day on April 26, 2012 when Queen Sirikit Museum of Textiles (QSMT) was opened on the grounds of the Grand Palace in Bangkok, Thailand by Her Royal Highness Princess Maha Chakri Sirindhorn.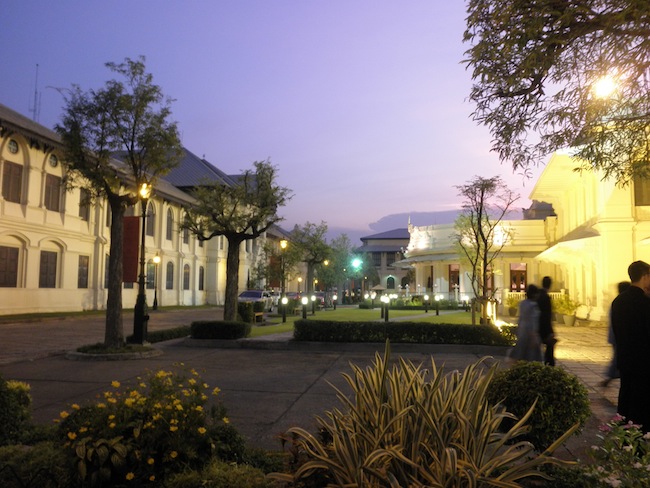 An exclusive event, the cultural elite of Bangkok, high-level donors, dignitaries, friends of the museum, and the women from the weaving villages of SUPPORT, the Queen's craft initiative (many of whose hand woven textiles were on display) gathered for a banquet dinner and a private preview of the museum galleries. The museum opened to the public shortly thereafter – then announced that its international launch would be marked by a symposium to be held in November 2013.
Pathway to the Symposium
I excitedly awaited the QSMT opening as I had been following the museum's progress for almost a decade through bi-monthly accounts of construction and design updates related by Dale Gluckman, friend and former curatorial colleague of Los Angeles Museum of Art. Gluckman is one of the senior consultants working together with Melissa Leventon, formerly of the de Young Museum, San Francisco to establish the foundations of QSMT and guide it to its full growth. Experts in royal costumes and Asian textiles, the 2 curators were hired to advise QSMT staff on developing a modern museum facility. They have been a vital part of the team since its inception. (Leventon was a featured speaker on her book Artwear: Fashion and Anti-fashion at SDA 2007 conference. – Ed.)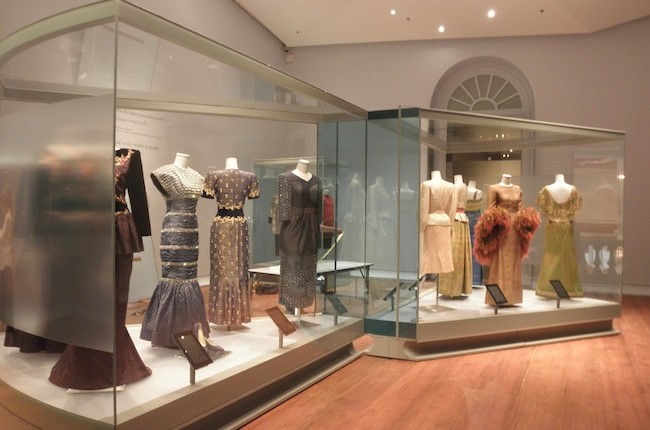 The museum's mission is "To collect, display, preserve, and serve as a center for all who wish to learn about textiles, past and present, from Southeast Asia, South Asia, and East Asia, with a special emphasis on the textiles of, and related to, the royal court and Her Majesty Queen Sirikit."
Beginning its life as a gutted Beaux Arts style building on the grounds of the Grand Palace, it took 9 years for an international consortium of consultants and dedicated Thai staff to complete the state-of-the-art museum.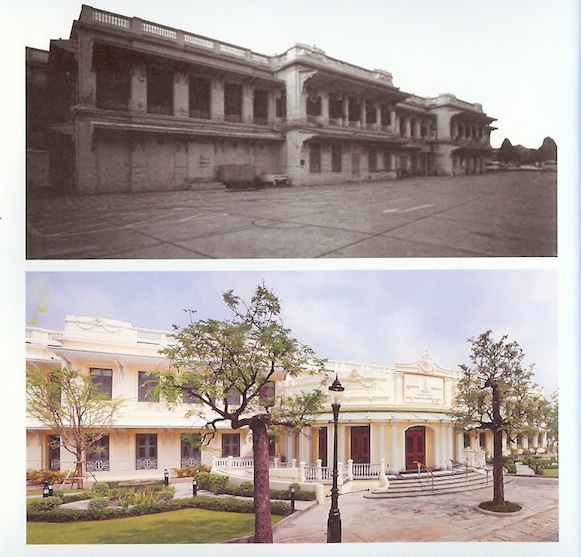 During the ensuing years, I had listened in rapt attention to Dale's tales as she spoke of the long and meticulous transformation the museum had undergone: the design of the expansive lobby of patterned marble and graceful colonnade; the high-tech climate-controlled systems and custom display cases in the galleries; and the crowning jewels of the "back-of-the-house" facilities: the textile-specific storage and dedicated textile conservation laboratory – the first of its kind in Thailand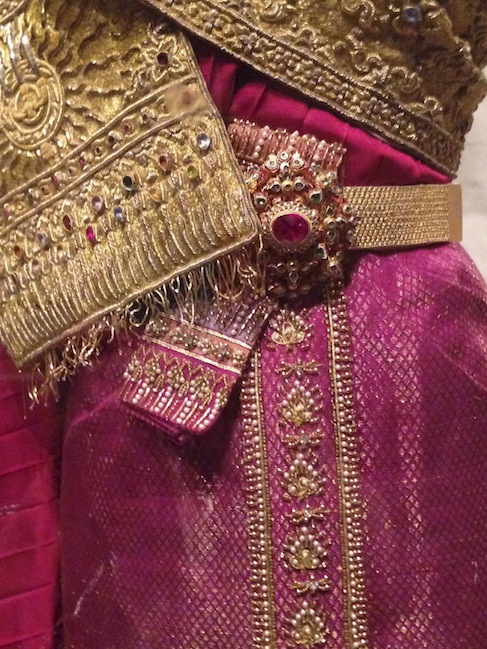 And my ears were on high alert when Gluckman described the well-stocked museum shop/bookstore and the coffee bar (for me, welcoming beacons that enhance the museum visit). Indeed, I felt that I had visually, virtually, and vicariously performed a walk-through of the museum from framing to finish, through updates and images.
What I lacked was the real experience of seeing and occupying the physical space. But that opportunity happily occurred soon after the QSMT inauguration.
In spring of 2013, the QSMT opened enrollment for its first international symposium, Weaving Royal Traditions through Time: Textiles and Dress at the Thai Court and Beyond. Longing to visit the QSMT and thirsting for more knowledge about Thai textiles, I was destined to attend this event.
Weaving Royal Traditions Symposium in Bangkok, November 6-9, 2013
And attend I did, along with more than 200 other participants, representing Australia, Brunei, Canada, China, Europe, Hong Kong, India, Indonesia, Japan, Laos, Malaysia, Netherlands, Singapore, Taiwan, United Kingdom, and the United States. More than half of the attendees were from Thailand and the United States and presentations were conducted in English.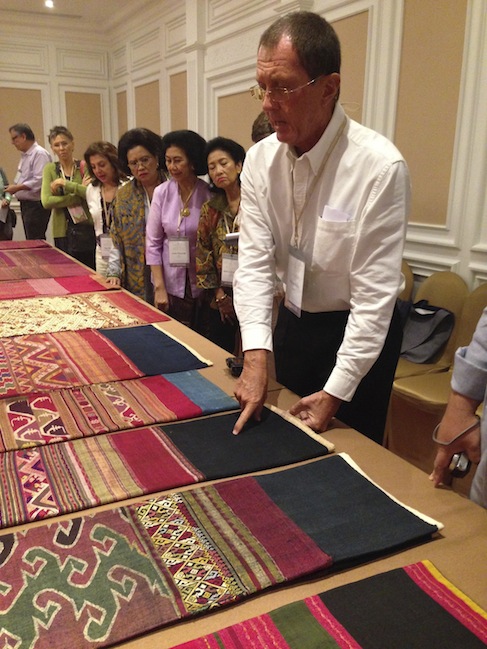 The symposium was held at Dusit Thani Hotel Bangkok. In addition to pre- and post-conference tours, the 3-day program offered scholarly presentations by an estimable roster of art historians, curators, and conservators; special access to the "behind the scenes" facilities at the QMST; and exclusive visits to private collections of textiles not generally accessible to the public.
Each conference day had a theme upon which the presentations were based, covering a diverse range of research topics related to the museum's collections. They included:
Thai court textiles and dress
Royal Thai Batik Collection,
Influences of Western fashion,
Chinese silks & Indian trade textiles for Royal court / commercial market
Conservation challenges for preserving Royal collections
Contemporary designs for modern-day Royals
Conference Presentation Highlights
To the delight of this non-textile expert, many of the presentations were engaging and entertaining and did not require specialist knowledge to comprehend and enjoy. Admittedly a fashion junkie, there were lectures that held the greatest appeal as they fed my craving.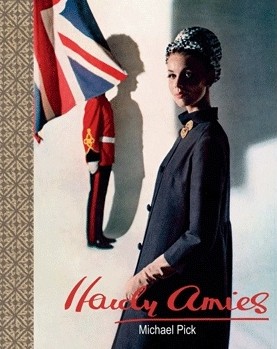 Philadelphia Museum of Art conservator Sara Reiter gave an impassioned presentation concerning Princess Grace (Kelly) of Monaco's wedding gown. She dramatically illustrated how the gown had suffered from its popularity and begun to unravel from the demands of exhibition. It was a cautionary tale that made clear that the job of textile conservation is to protect a museum's holdings.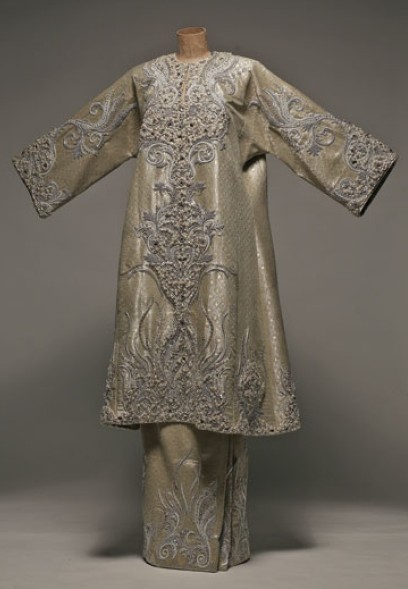 British speaker Michael Pick's presentation was a fascinating historical romp through the royal closets of HM Queen Elizabeth II. She was a fashionista in her early reign and wore the couture designs of Sir Norman Hartnell followed by the royal designs of Sir Hardy Amies. It was noted that even as a young woman, the monarch sported the matching hat, handbag, gloves, and shoes that have become her endearing trademarks. It was inspiring to learn about the couture careers of Hartnell and Amies from Pick, who has published books about both.
Malaysian fashion designer Bernard Chandran (who dresses pop royalty like Lady GaGa and Rihanna – Ed.), gave the final lecture on the topic of court fashion, From Rock Concerts To Royal Thrones: Designing For The Royal Families Of Malaysia And Brunei. His theme and exuberant presentation, that included both music video and clips of runway models wearing his collection, was unquestionably the grand finale. Blending tradition with modernity, Chandran designs a stylish and sophisticated line of court dress for the royal women of Malaysia and the Sultanas of Brunei using embellishments like yellow ostrich feathers, glass beads, and chiffon to enliven the silhouettes of the traditional kebaya and kurung. (See more images of this opulent collection on New Straits Times website.)
Textile Adventures
Not all learning was confined to the conference room. There were several field trips to important textile collections, cultural centers, historic homes, and a private tour of the QSMT before its public hours. Each day the conference attendees boarded a bus and set off on a new adventure.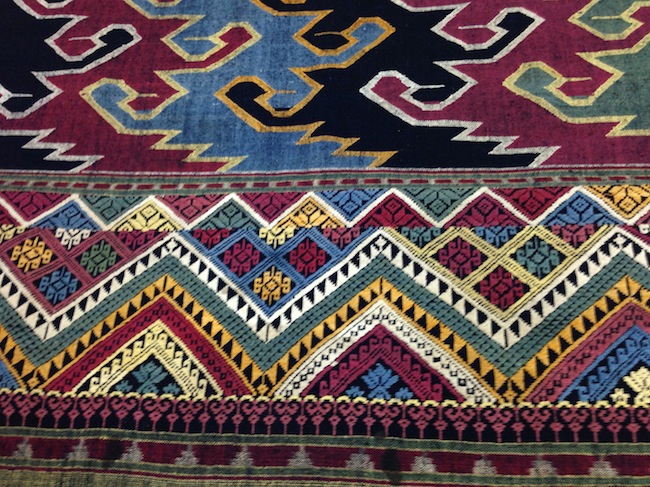 On the first day we visited the museum-quality textile collection of Thailand's oldest and largest law firm, Tilleke & Gibbins. Within the corporate offices we viewed many outstanding examples of textiles representing the diverse cultures of Southeast Asia (that form the foundation of the collection), as well as several rare pieces from Laos and Indonesia housed in their conservation storage.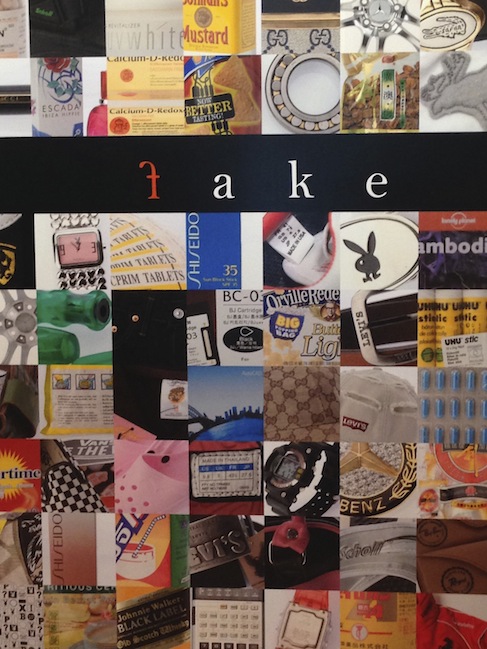 As an added bonus, we were able to tour the Museum of Counterfeit Goods, consisting of an extensive display of counterfeited products made by unscrupulous manufacturers. It was fascinating to compare the original with the fake. Patents, copyrights, and intellectual property are among Tilleke & Gibbins' areas of legal specialty.
The long-awaited moment arrived on the morning of the second day: the group's private visit to the QSMT. The museum was more impressive than I had imagined: a grand, elegant setting with architecturally stunning galleries appointed with well-designed cases and measured lighting.
We were able to roam leisurely through the exhibitions on view, as we were the only visitors. There were 3 opening exhibitions installed in the 4 gallery spaces. 
I lingered in the second gallery devoted to the exhibition Fashioning Tradition: Queen Sirikit Creates a National Dress for Thailand. On display was a cornucopia of royal couture ensembles, in lavish silks that appeared to be a blending of Thai and Western dress. (The other 2 opening exhibitions were Artistry in Silk: The Royal Style of Her Majesty Queen Sirikit, and For Love of Her Country: Her Majesty Queen Sirikit Creates the SUPPORT Foundation.)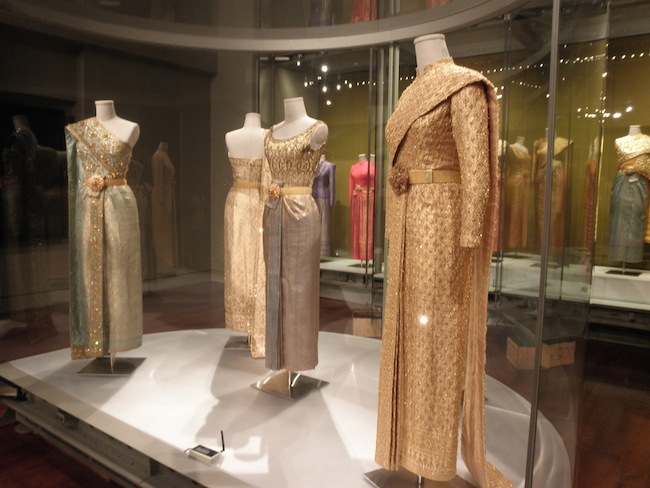 Interested, and wanting to learn the story behind the designs, I read the didactic panel: "In the 1960s Her Majesty's team created a group of dresses based upon the wrapped and draped styles Thai women had traditionally worn—hip wrappers (phaa nung) and shoulder cloths (sabai)—but constructed according to Western dressmaking techniques. The result was a new national dress designed to honor the past while conveying a practical, modern Thai identity."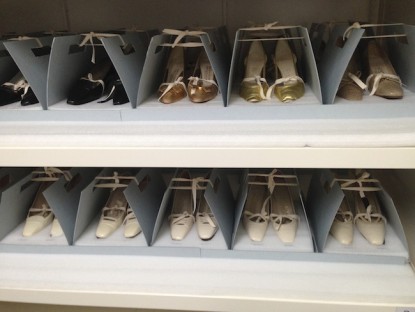 This captivating narrative was told through the presentation of historic court textiles, archival photographs and film – and more than 30 examples from Her Majesty's own wardrobe, the majority of which were created by House of Balmain, Paris and the couture embroidery firm Maison Lesage.
The selection of Her Majesty's dresses on display was dazzling; the richness of color, texture, material opulence and jeweled accessories bespoke the royal stature of Queen Sirikit. All were designed to complement her elegance and acclaimed beauty.
The following evening we visited the famous Jim Thompson Art Center for a private dinner and dance performance by Bangkok City Ballet, along with an exclusive viewing of the historic Jim Thompson house.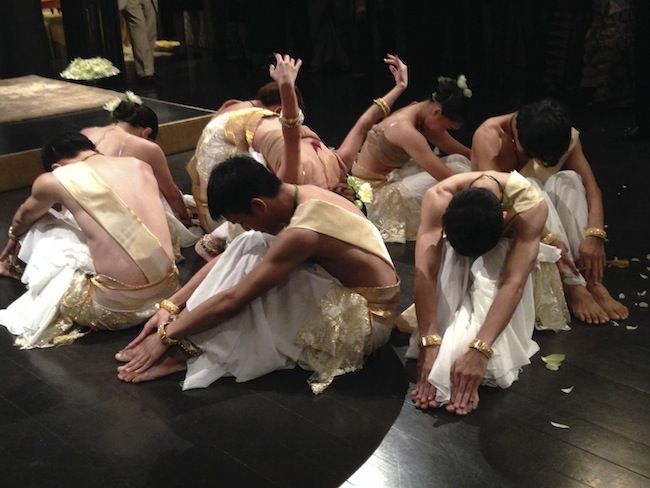 We were also given a special tour of the exhibition mnemonikos: Art of Memory in Contemporary Textiles led by guest curator Yoshiko Wada, president of World Shibori Network and founder of Slow Fiber Studios. The exhibition showcased the diversity and innovation of contemporary textile art created by leading international artists.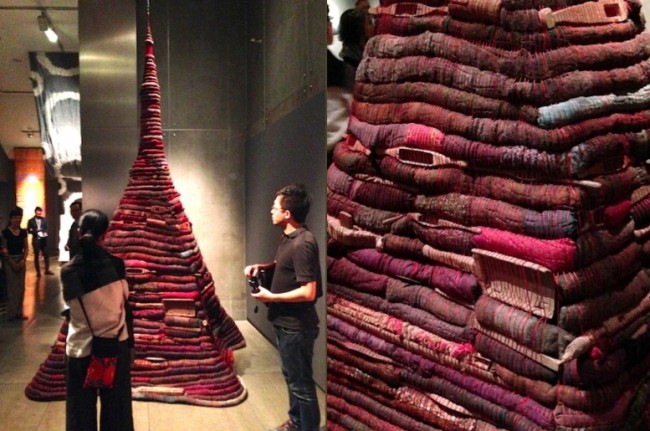 The symposium's pièce de résistance occurred on the afternoon of  last day when we heard a presentation on the modern revival of Khon, a masked court play performed by highly-skilled dancers popular in the early Bangkok period (1780s-1870s). The presentation was accompanied by a demonstration of the preparations the dancers undergo to perform in their roles.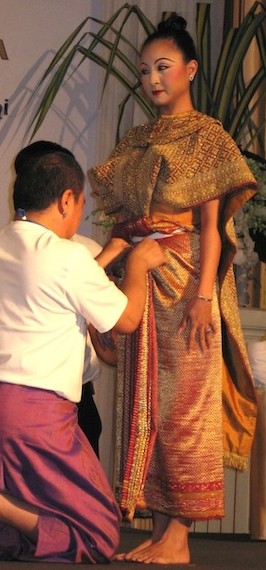 Awe-struck, we observed the dancers being dressed – painstakingly, layer by layer – and our eyes followed them on stage as they executed the graceful gestures and exaggerated movements of the theatrical dance.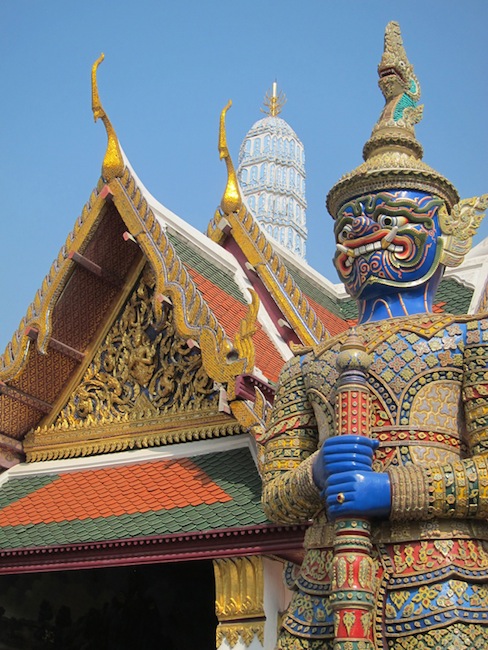 That evening we were treated to a lavish farewell dinner, graciously hosted by Her Majesty, at the grand Mandarin Oriental Bangkok hotel.
Champagne flowed, musicians played, and a multitude of gourmet dinner courses were served.
Sated, we were all invited to feed scraps of bread to the jumping catfish swimming in the river that runs alongside the hotel.
Good food and splendid conversation shared with newfound friends in a fairy-tale setting; this provided the perfect ending to 4 days exploration and immersion in Thai textiles and culture.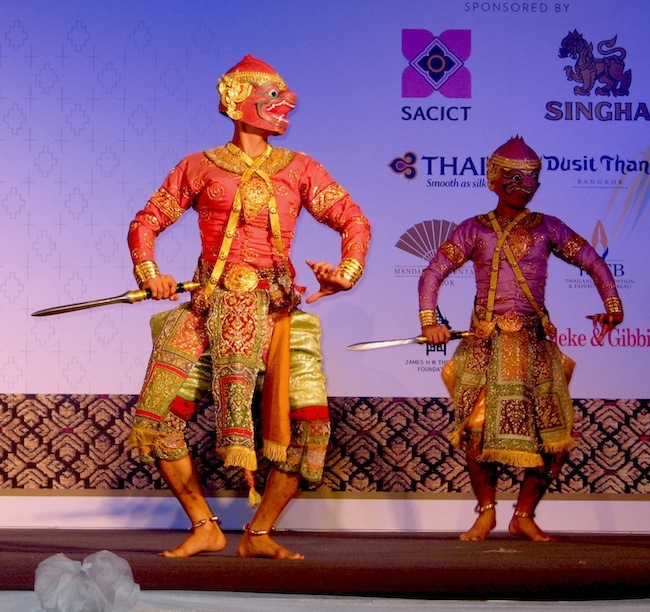 For latest events at QSMT or additional symposium images, check QSMT website or Facebook page for archives and updates.
_____________________________________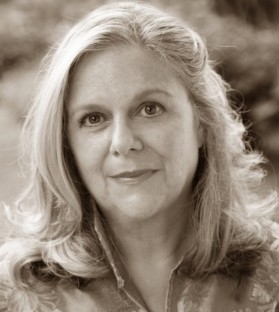 Jo Lauria is an independent curator and writer specializing in decorative arts, design and crafts. A former decorative arts curator at Los Angeles County Museum of Art. she has organized several national touring exhibitions as well as numerous museum survey shows. In 2011-12 she curated Golden State of Craft: California 1960 – 1985. This exhibition of California crafts was part of The Getty Foundation initiative Pacific Standard Time. Lauria has also directed and produced film documentaries focused on artists and topics relevant to the fields of craft and design.
Her publications have included Color and Fire: Defining Moments in Studio Ceramics, 1950 – 2000, Ruth Duckworth: Modernist Sculptor, California Design: The Legacy of West Coast Craft and Style, and most recently Craft in America: Celebrating Two Centuries of Artists and Objects.