On (& Off!) Campus: ECU Students Make the Scene at *Identity* Conference
July 30, 2012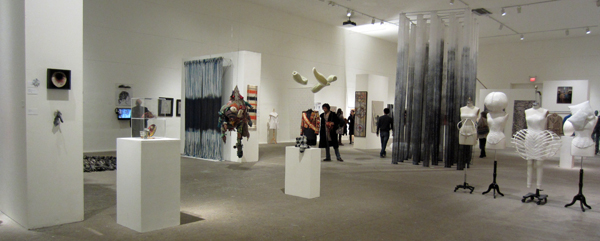 When it comes to traveling and experiencing venues outside the academy, the textile students of East Carolina University (Greenville, North Carolina) know how make things happen.
Our students are members of a textile guild that is funded each year with monies for guest artists, equipment and travel. I (an Associate Professor), along with Robin Haller (an Assistant Professor), are their liaisons and advisors – but the guild itself is completely run by the students with officers, budget and scheduled meetings with minutes taken.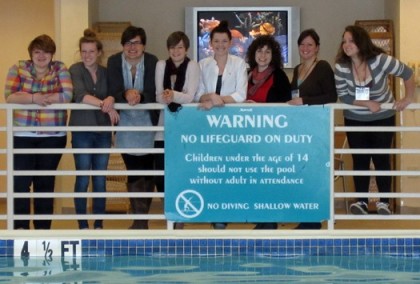 They met in February 2012 to determine how to spend the remaining funds for the year. They decided that going to Surface Design Association/Studio Art Quilt Associates conference Identity: Context and Reflection would be the highlight of the school year for all who could attend. But there were not enough funds left for all the students who wanted to go! A total of 12 students (8 undergraduates and 4 graduate students) – including Ashley Mason, Rachel Nelson, Torre Grills, Kate Harris, Rachel Ross, Lauren King, Alyssa Herring, Katie Hatfield, Katherine Hobbs, Sydney Sogol, Lori Ary and Tina Lazzarine – hoped to take advantage of this conference experience.
And ECU textile students have a history of getting what they want.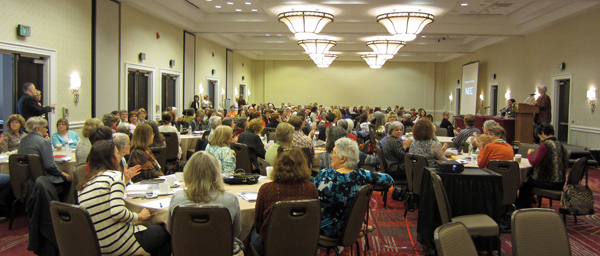 They procured funding for 15 students to attend 2011 SDA Confluence conference in Minneapolis. They also found the funding for 20 students to attend the Traces Textile Symposium at NC State University in Raleigh, North Carolina that same year. They did all the necessary lobbying and paperwork through ECU Fine Arts Funding Board and Student Government Association. Their efforts were rewarded with $4,724 to support the travel expenses for all 12 students and for 3 graduate students to participate in post-conference workshops.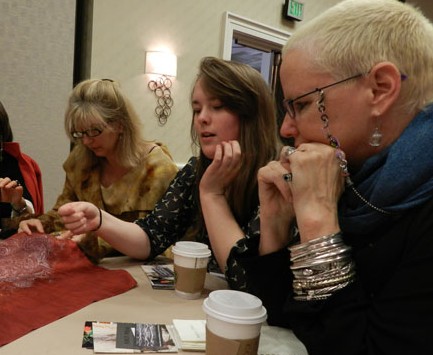 They had a blast and came back with reams of inspiration and information to share.
One of the graduate students, Lori Ary, was able to take Adrienne Sloane's class Knit Anything, Not Clothing. While there, she sent an email stating, "The conference is amazing so far…" and went on to let us know about all the people she and the others were meeting. Upon her return, Ashley Mason, an undergrad, said "I am so overwhelmed and excited by all that I saw at the conference".
These students are already planning possible guest artists for next year; the networking they were able to do at these conferences will enhance their choices. Their commitment to "real world" exposure is commendable; at times they have been the largest student contingent from any single university. We support all their efforts – and learn from their experiences and stories. Monies are tight everywhere but the ECU textile students have been told that if you do not ask you cannot receive. They continue to act on this advice. We are quite sure that they'll be making the scene at SDA and SAQA events in the future.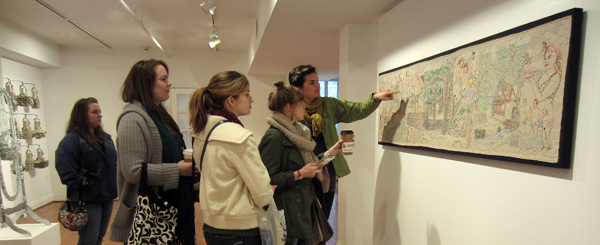 ________________________________
East Carolina University is located in Greenville and is part of the 16 University System of North Carolina. Having nearly doubled in size over the last 15 years, there are now more than 28,000 students on campus.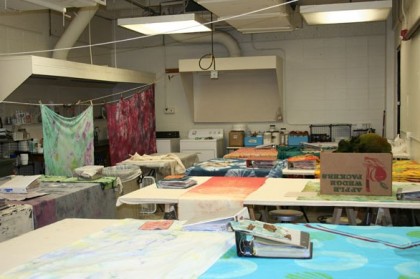 The School of Art and Design (founded in the 1940s) is housed within the College of Fine Arts & Communication. The Textiles Program began in the 1960's and currently attracts 70 – 100 students in any given semester out of about 600 total art majors. There are currently 32 undergraduate majors and 5 graduate students.
Students enrolled into BFA and MFA degree programs in Textiles are instructed in a variety of fabric printing/dyeing/surface embellishment techniques as well as a number of multi-harness weaving processes. The strength of the program is its ability to offer grounded training in traditional techniques along with the opportunity to explore individual creativity, cross boundaries and create contemporary – and cutting edge – work. Our classrooms are fully equipped with dye kitchen, printing spaces and looms necessary to support all offered classes.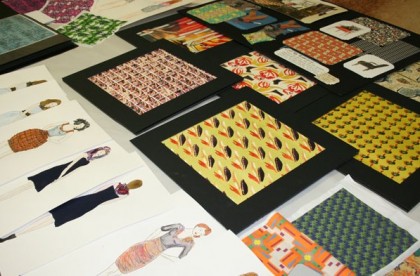 Anyone interested in either the BFA or MFA programs can contact Christine Zoller, Associate Professor and Textile Coordinator at zollerc@ecu.edu or check out our website at www.ecu.edu/cs-cfac/soad.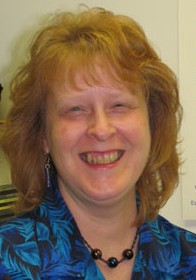 Christine Zoller is presently an Associate Professor and Textile Area Coordinator at ECU, having obtained her MFA from University of Georgia.  She has taught at other universities as well as conducted workshops at Arrowmont School of Arts & Crafts, Penland School of Crafts and Quilt Surface Design Symposium. Her work has been exhibited both nationally and internationally and can be seen in Surface Design Journal and Fiberarts Design Books 5 & 6.