SDA Book Club: "The Nature of Things" reviewed by Vivien Zepf
July 1, 2022
The Nature of Things: Essays of a Tapestry Weaver by Tommye McClure Scanlin
In his artist statement in the 1988 World Tapestry Today exhibition catalog, Archie Brennan wrote that tapestry is a frequently boring 20th century activity (1). Author and tapestry artist Tommye McClure Scanlin concedes the point. She notes it can be boring when a piece seems to live forever on the loom. However, she also states, "I know that my childhood heart's desire to be an artist is truly being fulfilled with every pass of the yarn when I weave tapestry."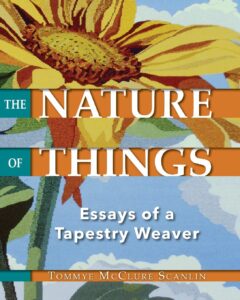 Already attracted to fiber, fabrics and the possibilities of those mediums, Scanlin attended the 1988 World Tapestry Today exhibition in Chicago, IL and was astounded by what contemporary tapestry artists were creating. At the time, Scanlin was in the midst of soul-searching about weaving, seeking validation for the medium that would best enable her to create pictorially. The exhibition convinced her to pursue handwoven tapestry in earnest. 
This story appears in Scanlin's delightful book, The Nature of Things: Essays of a Tapestry Weaver, which is part memoir, part illustrated tour of Scanlin's lifelong desire to create. Scanlin focuses several individual chapters on her most notable natural world inspirations: stones, birds, spirals, and the natural environs of her North Georgia home. Interestingly, Scanlin devotes a chapter to doubts, sharing excerpts from her journals that reveal her own anxiety about creating work that matters. Many readers will appreciate her candor and hopefully, will reach the same conclusion that Scanlin has. Doubts are part of the ebb and flow of the creative process, "…evidence of the cycle of growth and decline and growth once more." She also discusses mentors, the benefits she's received from artist residencies, and how she weaves (pun intended) elements of her life, including grief and catharsis, into her tapestries. 
Throughout the book, I was impressed with Scanlin's clarity of thought and expression. It's not easy to discuss one's work nor the process of conceptualizing and making art. Scanlin uses lyrical, yet very understandable, language that I imagine she fine tuned in the decades spent guiding her art students. The book has many color images to enjoy, including inspiration photos and works mid-stream. There are also photos of Scanlin's art process, one which includes paintings, journals, and value studies, that give form to the descriptions of her thoughts and design and subject matter decision-making processes.
I do wish there was another appendix of additional inspiration resources, from books about creating pigments from natural materials to Emily Dickinson's poetry, that Scanlin sprinkles throughout the text. Yes, everything is footnoted, but a list would have been nice to peruse while also acting as a one-stop glimpse into the artist's mind. I would have preferred glossy paper for the photographs, but the matte pages do just fine.
Though it includes a basic weaving primer at the end, The Nature of Things is not a how-to tapestry book. It is, however, a charming narration of Scanlin's personal artistic path, and in describing that ongoing creative cycle, she shares insights that any artist in any medium can benefit from and enjoy. 
World Tapestry Today

, (Chiloquin, Oregon: American Tapestry Alliance, 1988), p. 54,74. Published in conjunction with a world-touring exhibition of the same title organized by the American Tapestry Alliance USA, in collaboration with the Victorian Tapestry Workshop, Melbourne Australia. Quoted in

The Nature of Things

, Tommye McClure Scanlon, 2020, p. 25.
Scanlin's second book, Tapestry Design Basics and Beyond was published in June, 2021 and is already in its second printing. It's a great resource if you're looking for instruction on tapestry weaving. You can also view a gallery of Scanlin's tapestries on her website. 
---
Publisher:

University of North Georgia

(

buy it here

)

Date: September 2020

ISBN:

978-1940771724
If you've read this book, leave a comment and let us know what you think!
---
Do you have a recommendation for a recent fiber-related book you think should be included in SDA's Book Club? Email SDA's Managing Editor, Lauren Sinner, to let her know!