SDA Members in Print: Daniella Woolf + EWaTS
November 1, 2010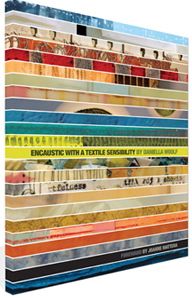 Usually people curate a show and then produce a catalogue. In my case the process was backwards!
Many elements simultaneously came together for me to create my book Encaustic With a Textile Sensibility. I wanted to publish something different; not a how-to book, but a gallery between pages. I envisioned something that would inspire artists while exploring the breadth and depth that encaustic can provide.
A great mentor, Joanne Mattera, encouraged both my writing and curatorial skills.  Linda Womack, who wrote Embracing Encaustic, graciously and generously shared publishing information with me. Victoria Rivers gave me the final oomph to get going.
For several years I have been presenting variations of a talk, "Encaustic With a Textile Sensibility", at the Encaustic Conference, so I already knew many of the artists I wanted to feature. I asked others for suggestions. Working with award-winning art director and multi-talented friend Carol Charney opened my eyes to the fascinating world of book layout and design.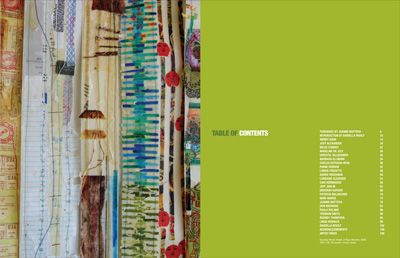 Many surprises have come about since this book made its debut. I'd been in contact with Jeff Juhlin since we took our first R & F Paints class together and his work is included in the book. He took a pdf of the book to the curator of the Kimball Art Center (www.kimballartcenter.org) in Park City, Utah, before it was even published. The curator proposed a show featuring the artists in the book; it will open next May! Other venues also want the show, so I am now working on the details for "traveling it" for the next 2-3 years.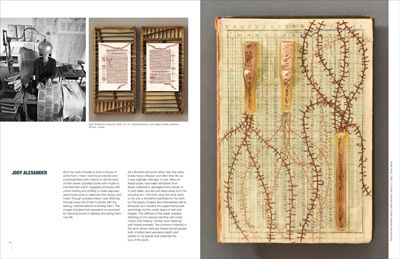 While teaching in Colorado, I gave the "EWaTS" talk and mentioned that a teacher, Walter Nottingham, had changed my life at Haystack (www.haystack-mtn.org) back in 1969. After his talk about "The Magical Mythic Qualities of Fiber," he wrapped my hair with every color of fiber from the weavery, and poof!–I became an instant fiber artist and left my jewelry roots behind. I wrote an acknowledgment of him in the book. In that Colorado audience was a person who lives near Walter Nottingham in Hawaii and knows him very well. I gave her a signed copy of the book to give to him. He sent me a lovely handwritten message saying how honored he was. He pointed out that you never know how you're going to affect your students–and you never know who's in the audience.
My seatbelts are fastened–because the surprises from this book just keep coming and the audience is growing!
–Daniella Woolf, October 2010

For more information, visit daniellawoolf.com