Shop Talk: How Encaustic Heat & Wax Transformed My Creative Process
July 23, 2014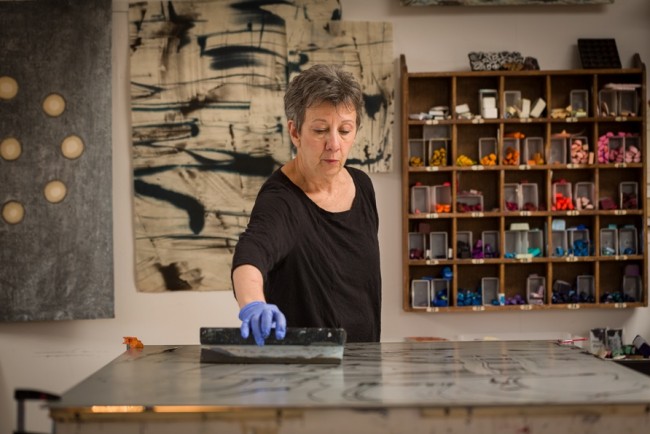 The trajectory of a life path is rarely a straight line. 
A new medium or process doesn't come along often.
In the mid-1990s, due to unforeseen circumstances, I found myself between college teaching jobs. While I was considering my next step, I happened to start thinking about the artwork of an acquaintance, Dorothy Furlong Gardner. A printmaker in the early 1980s, Dorothy had developed encaustic monotype printing as a way to free up her art practice. I was fascinated by its immediacy and the fact that it didn't require a press. Instead, printmaking with encaustic (beeswax, damar resin and pigment) requires heat to melt the paint, so that it can be absorbed into the paper.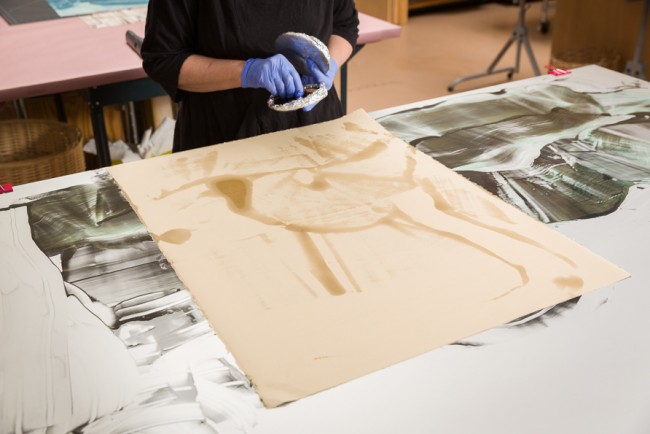 Recognizing the inherent beauty of the (then) little-known process, I took a break from job hunting and set out to build on Gardner's initial research. A monotype is a one-of-a-kind print, essentially a painting done on a printing plate and transferred to paper. Each piece begins anew or builds on the residual ghost image left on the plate after the last printing.
Monotypes are usually made with oil or water-based inks. With encaustic monotype, pigmented wax is applied directly to a temperature-controlled metal plate by painting or pouring it onto the plate, or more commonly, drawing on it with encaustic in solid stick form. The molten paint can then be manipulated with brushes and other tools to refine the image.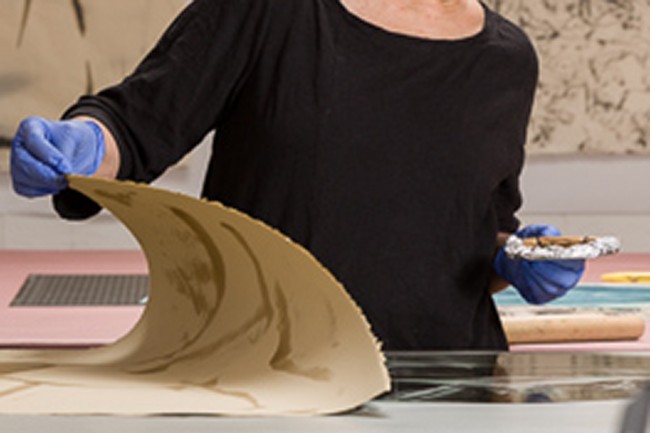 To create the print, absorbent paper is laid on the plate so the image transfers onto — actually absorbs into – it. Fabrics may be used as well. A hand-held Japanese printmaking tool called a baren may be used to gently press the print and bring it into full contact with the plate.

Monotypes are compelling because of their immediacy and the intimacy of the artist's touch. Encaustic monotypes have an enhanced material quality; they can capture a calligraphic mark with the poignant resonance of a haiku. A multi-pass (layered) print may yield depth, translucency and complex color.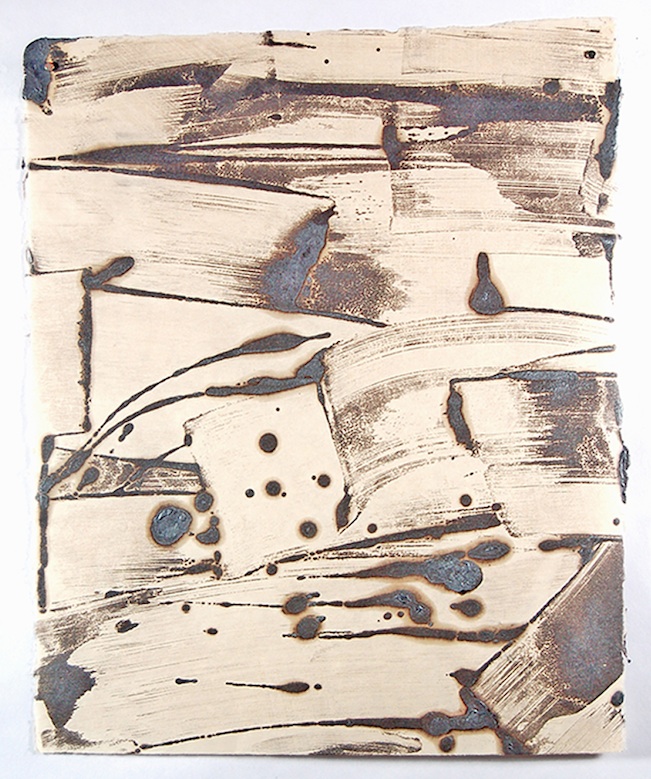 Through trial and error over several months, I taught myself to print monotypes with encaustic. I quickly learned that it's not as easy as it looks.
The process presents a double-edged sword, so to speak; one side being spontaneous, fun, intriguing, full of unplanned results that inspire new ideas – and the other a set of complex variables, including pigment-to-wax ratios, types and thickness of paper and variations in temperature that could quickly turn the print into a hot and waxy mess.

I often work in series and I needed to be able to predict and (loosely) repeat outcomes in order to create related works. But I also understood that the encaustic's free and fluid aspects were its strength and that too much control could make the work look stiff and stilted.
I therefore adopted a Zen approach: Be in the moment, pay attention to what's happening – and let go of attachment to outcome.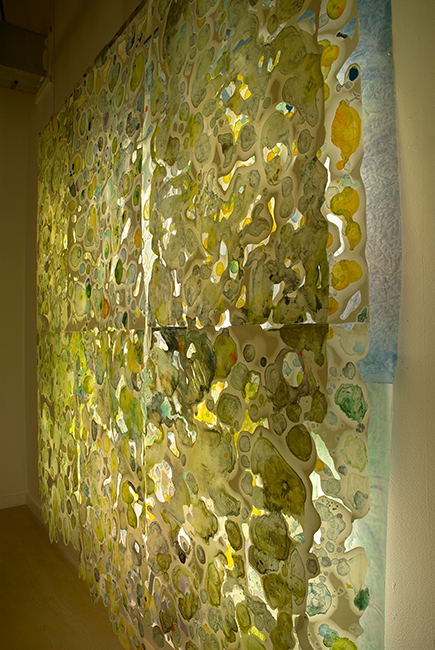 With experience, encaustic printing proceeds intuitively. An artist working in encaustic monotype learns to improvise, responding to the molten wax, adjusting body movements, constantly assessing the heat and other variables to guide – but not determine – the outcome.
I had no particular affinity for printmaking before I began working in encaustic monotype. I was trained as a painter; my works typically consisted of painting, drawing and installation art.
What inspired me to persevere were the medium's seemingly limitless possibilities.
The mercurial aspects of the molten wax itself supported my interests in natural forces, systems and the sciences that illuminate them. Through research and experimentation, I learned that wax strengthens and seals paper. This enhanced strength and durability opened possibilities of working large or 3-dimensionally. Wax also renders paper translucent, allowing the transmission of light.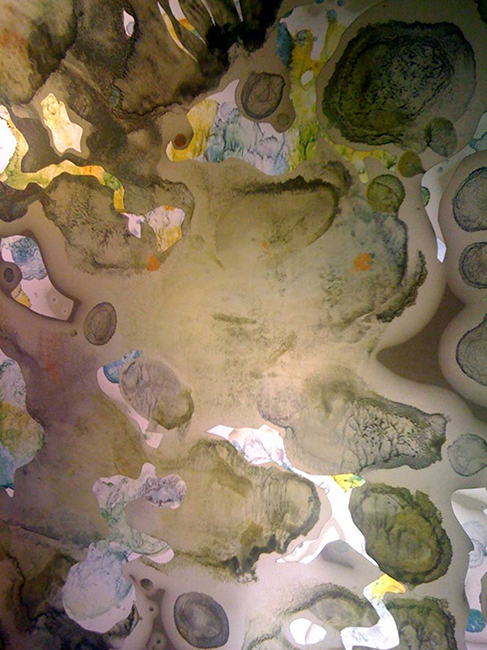 Plain or colored wax on paper (or fabric) combines well with inks and water-media, which resist the wax and create intriguing textures. Finally, I loved the discovery that if I heated a print from the reverse side, I could work back into its waxy surface with drawing media such as graphite, charcoal, and oil pastel, and these marks would remain "fixed" when cool.

After several months of experimentation, I had to decide if I would re-enter academia, or strike out on my own path. I chose the latter, surprising myself and others who knew me. I wanted to be in charge of my life – without institutional interference.
A risky path for sure, but I am still following it 18 years later. That doesn't mean I stopped teaching. With 20 years of teaching experience, an MFA in painting/sculpture, undergraduate and graduate coursework in education, awards – and a hefty exhibition resume spanning more than 15 years, I was well qualified to develop a curriculum to teach encaustic monotype.
It seemed feasible to teach workshops because I live in Santa Fe, New Mexico, a city with a huge population of artists. I thought the workshop teaching would be temporary: once interest from local artists had been met, demand would wane.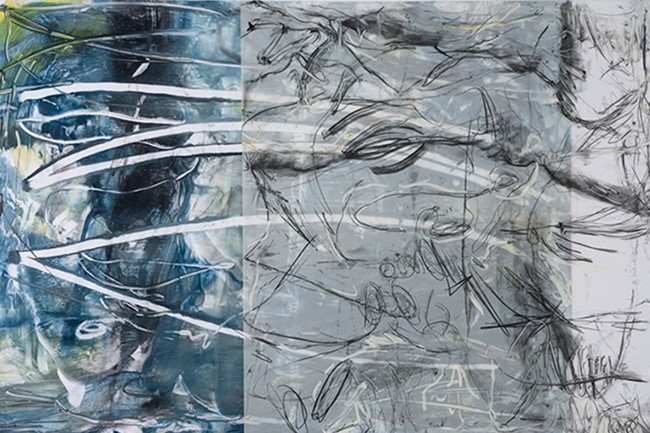 However, my timing turned out to be very good. Within a few years, encaustic painting had become the new hot thing. I got a website. Artists from around the globe began attending my workshops and clamoring for longer classes. They also started asking for the equipment that would allow them to continue printing in their own studios.
Thus began another foray into business: manufacturing the Roland Encaustic HOTbox.
I needed equipment that was inexpensive and easy to transport that did not use much electricity. For my own work and teaching I had long since modified the "stove" that Dorothy had used — a welded steel box with light bulbs as a heat source — to make it lightweight and insulated.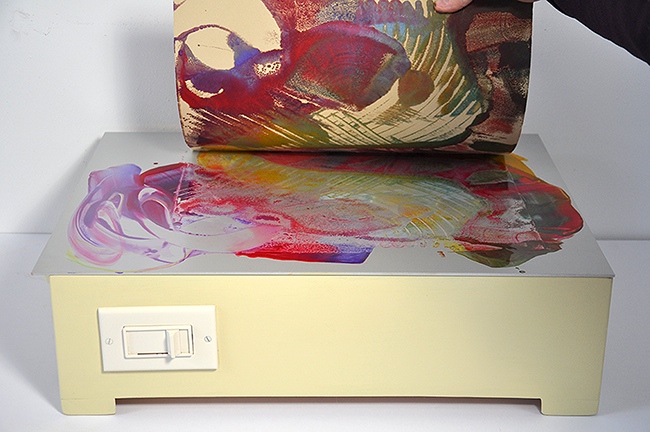 I added an anodized aluminum printing plate so that the pigment colors would not react with the metal. Now that I was selling the HOTbox, accommodating the needs of professional artists was a primary concern. I made the equipment modular so that it could be used singly or in groups with a larger plate, enabling the use of large sheets of paper. I affixed a side bar so that paper could clamp to it and be "registered".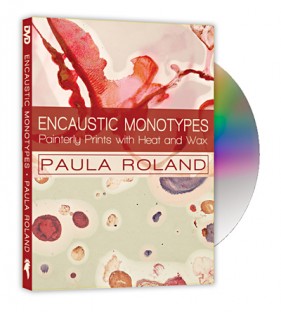 The printing plate surfaces range from 16" x 22" (single), 22" x 32" (double) to the Pro model  with a 32" x 44" plate. I named this creative tool HOTbox because I thought it was catchy and straightforward.
The Roland HOTbox™ and instructional 2.5 hour DVD, Encaustic Monotypes: Painterly Prints With Heat and Wax, are available at www.RolandWorkshops.com which features my workshops and products. DVD is also available through Amazon.
International orders for DVDs can be made through Zijdelings.
My early works included installations of 35-foot-long scrolls; heated encaustic and mixed-media drawings; multi-part print installations; translucent and multi-layered prints; and prints combined with encaustic paintings on panel. These pieces led to cut-paper installation works and path-breaking ways of exhibiting the works, including back-lit monotype installations and, most recently, video projection on a large-scale print image.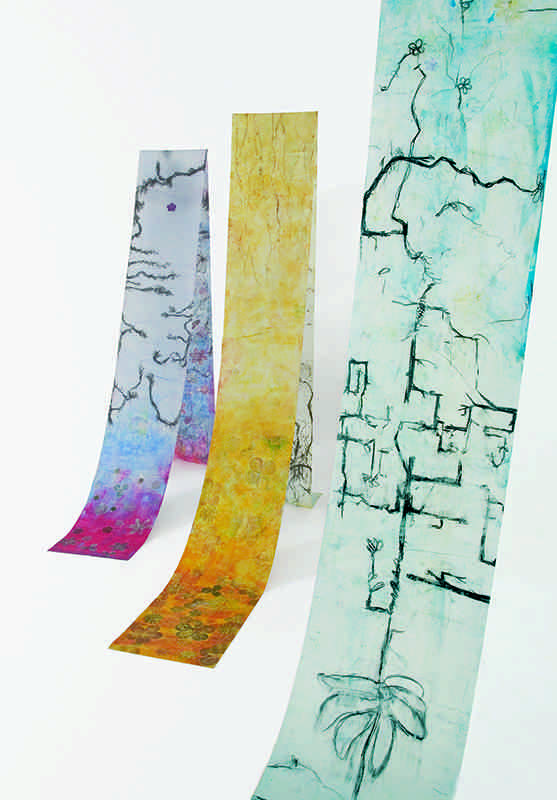 I am committed to sharing my technical and aesthetic explorations and discoveries with students and other makers while I continue to devise original ways to incorporate encaustic monotype to express artistic concerns that expand the definition of printmaking.

_________________________________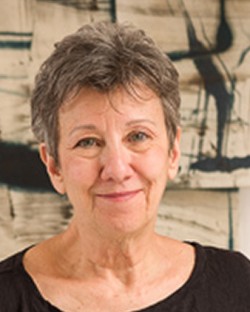 Paula Roland lives and teaches in Santa Fe, New Mexico. She exhibits at William Siegal Ancient Contemporary Gallery (Santa Fe), Conrad Wilde Gallery, (Tucson, AZ) and Smink, Inc (Dallas, TX). Her work is widely exhibited and collected in the US and abroad. She has been the recipient of many awards, including one from National Endowment for the Arts.
Roland has taught encaustic throughout the U.S. and in Italy and France, while also offering the first (and perhaps only) college course in encaustic printmaking. Her instructional DVD, Encaustic Monotypes: Painterly Prints With Heat and Wax, has sold well over 1000 copies.
View her work and exhibition schedule at www.PaulaRoland.com.