"Skin Deep" in a Portuguese Castle
January 7, 2014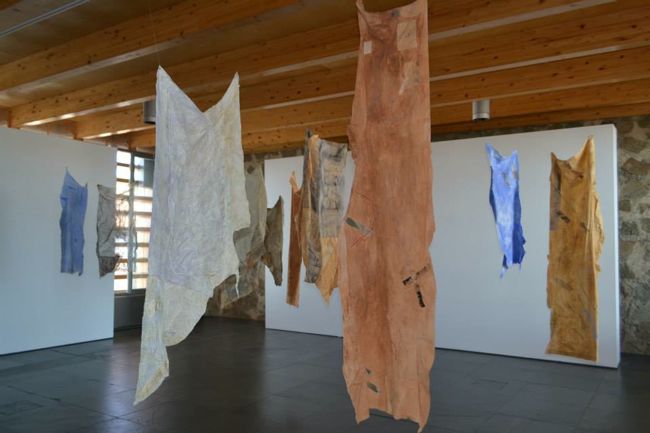 An exhibition in a castle? It was an opportunity definitely not to be missed!
My textile installation Skin Deep was selected for a solo exhibition in a centuries-old castle in Portalegre, Portugal during July-August 2013.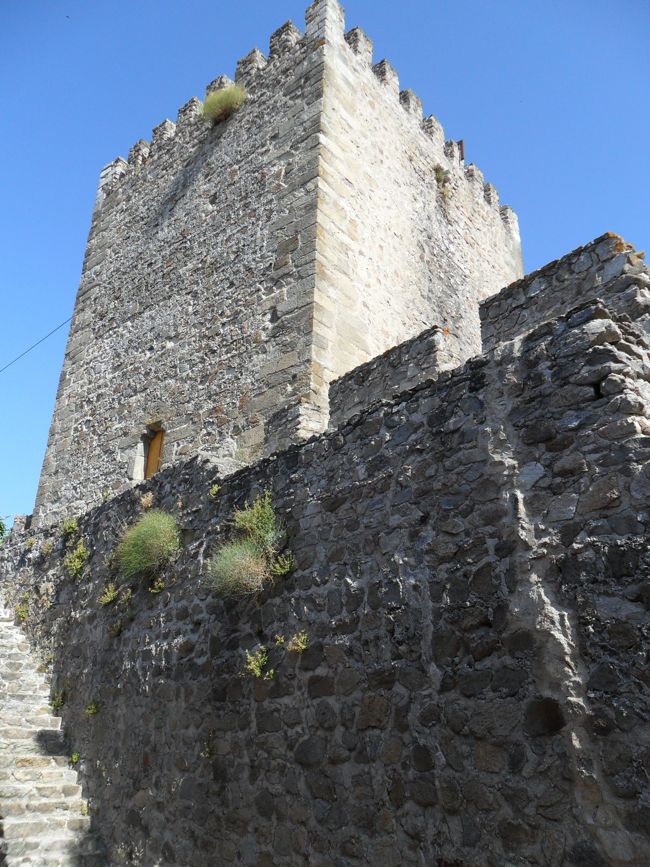 On a visit to Guy Fino Tapestry Museum (Museu da Tapeçaria de Portalegre Guy Fino) in Portalegre 2 years ago, I had enquired about showing my work there and was referred to the director of the castle gallery as a more appropriate venue. The castle is a 13th century fortress in this beautiful hilly city situated in the upper Alentejo region of Portugal. Steep cobblestone streets lead the breathless visitor to panoramic views across the valleys to the mountains beyond.
I began this body of work during 2 separate stays at Foundation Obras, an artist residency not far from Portalegre. On an earlier trip to Portugal I briefly visited several of the megalithic dolmens and cromlechs scattered throughout the countryside. I knew I wanted to return.
When I found Obras on an internet search  for a residency stay, I applied and was accepted. During that first month-long stay, I created works that made reference to the megalithic sites. Treks in the countryside brought familiarity and appreciation for the landscape in this arid region, setting the scene for further visits and projects.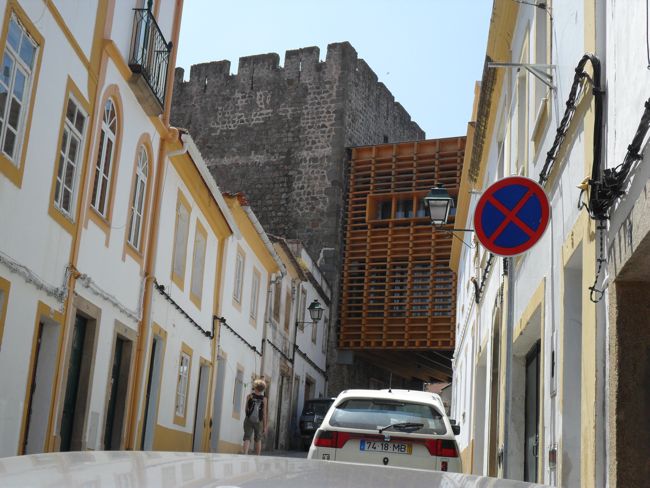 Skin Deep reflects my observations and experiences in the rural landscape from my perspective as a visitor to the country. It explores the similarities between the surface of the land and human skin – our personal landscape.  The similarities exist in the way both show evidence of the scars and marks that record their histories – while providing a protective covering for what lies underneath.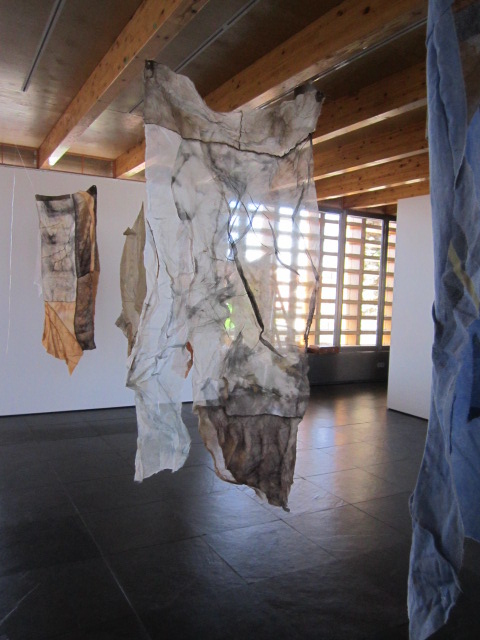 Having completed the project on my return home, it felt like a significant accomplishment to be selected to exhibit the pieces in the place that had inspired their creation.
My introduction to natural dyes was via workshops with Karen Casselman. My own experiments with resist dyeing added further patterning possibilities. More recently I attended a talk by India Flint and learned of her unique methods of dyeing with plants.
My residencies took place during 2 different seasons – spring and fall. In the fall, locally sourced earth pigments provided colour and texture for my fabrics. In spring, I collected wild plants and flowers which I either bound directly into the wet cloth or rendered in a dye pot. I mixed the pigment powders with water to make thick pastes which I scrubbed into the cotton fabrics; this process creates a rough leather-like texture which felt appropriate for my theme. I chose colours that reflected the early autumn landscape – ochre, medium browns, and, of course, the clear blue of the Mediterranean sky.
An unusually cool, rainy season during my spring residency was a disappointment that year; it meant that many flowers were not yet in bloom. Tiny wild irises, lavender, eucalyptus leaves  and a variety of other small leafy plants provided my colour palette. I chose silk fabrics for this part of the project, mostly re-purposed pieces left over from earlier projects. Happily, my results again reflected the colours I saw around me.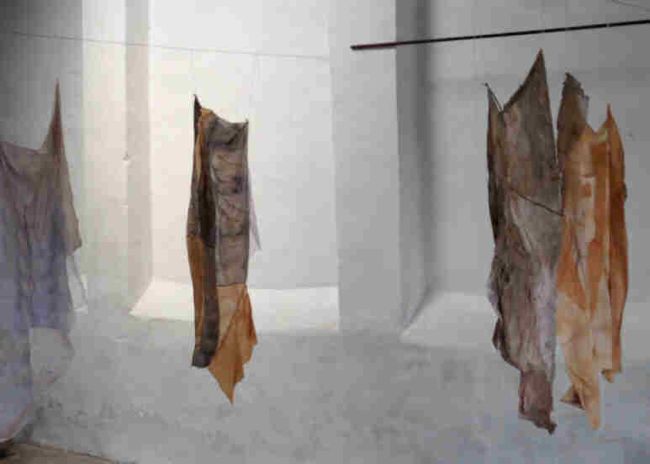 After dyeing, the fabrics were torn, slashed and re-assembled with stitching, appliqué and embroidery to form the individual "skins" that would hang from the gallery ceiling.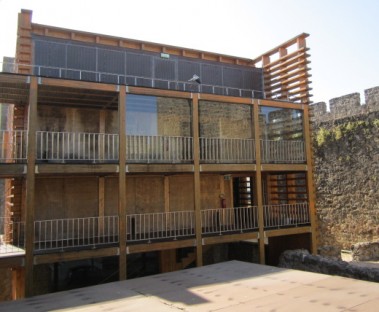 Since I had never seen the castle or the gallery, as the time approached to travel to Portugal to install my work and attend the opening of the show, I tried not to worry about crucial details, such as ceiling height, size of the space, lighting considerations – and how to communicate my wishes to Portuguese-speaking gallery staff.
As it turned out, everything went amazingly smoothly, thanks to a very professional installation crew under the guidance of gallery director Emilia Mourato Silva and assistant Carlos Tavares.
The Galeria de Exposicoes Temporarias (Temporary Exhibitions Gallery), located within Portalegre Castle, is the result of extensive renovation work undertaken by the city a few years ago. A new entrance, a contemporary art gallery and  a performance space were created, successfully integrating the new architecture into the old.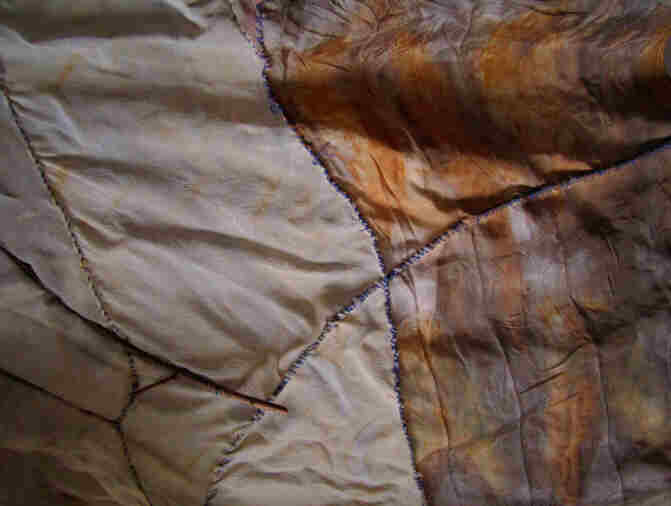 It felt like a perfect venue for this body of work.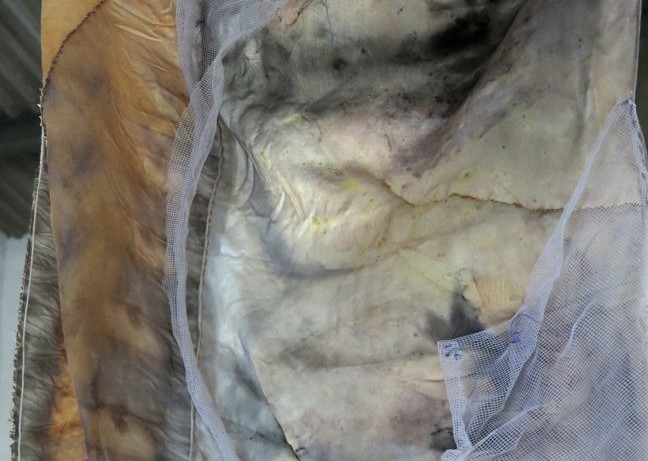 ______________________________________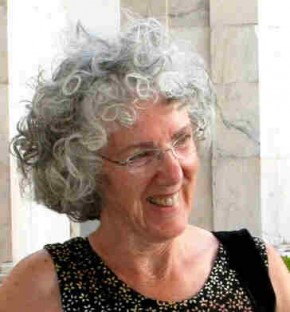 Pat Loucks is a textile artist (and SDA member) living in Bedford, Nova Scotia (Canada), with a BFA degree in Textiles from Nova Scotia College of Art and Design. A former weaver, spinner and dyer, she is interested in the structure of cloth and the repetitive, labour-intensive nature of work in textiles.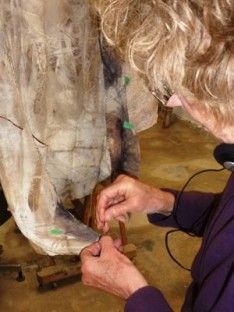 Re-purposed fabrics, torn and re-assembled to make the structure apparent – and to demonstrate strength as well as vulnerability – are regular features in her work.
Loucks states that, "Inspiration usually comes from observations of forms and marks on the landscape that indicate seasonal changes, the effects of time, or the results of human intervention in the environment. My imagery results from reflection on my responses to these elements."
View more of her work at patlouckstextileart.wordpress.com