Why I Made Time to Get Made/Aware
November 16, 2015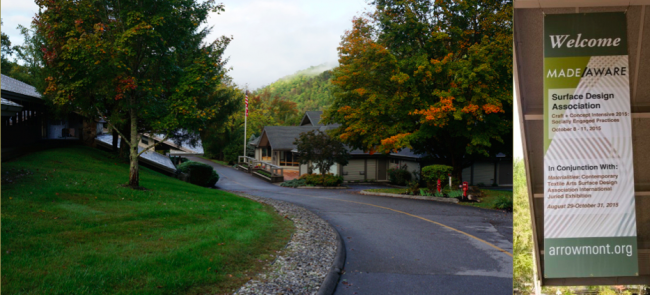 Eager to attend Made/Aware, SDA's 1st Craft + Concept Intensive – and my 4th SDA conference – I arrived at Arrowmont School of Arts and Crafts on Wednesday evening, well after dark, stressed from being lost on a Google Maps "journey to nowhere" through Great Smokey Mountains National Park. I was eager to network, reconnect with old friends and colleagues and take a pre-conference workshop with Lisa Klakulak, but had to cancel that due to my teaching schedule. Thankfully I was able to find the time to fit the conference in.
Thursday, October 8
I spent this first morning with my mom, former SDA President Candace Edgerley. We walked the streets of Gatlinburg and took in the people and sights of this interesting vacation land surrounding Arrowmont. Along the way we stumbled upon a "yarn-bombing" by Carole Frances Lung's pre-conference workshop participants.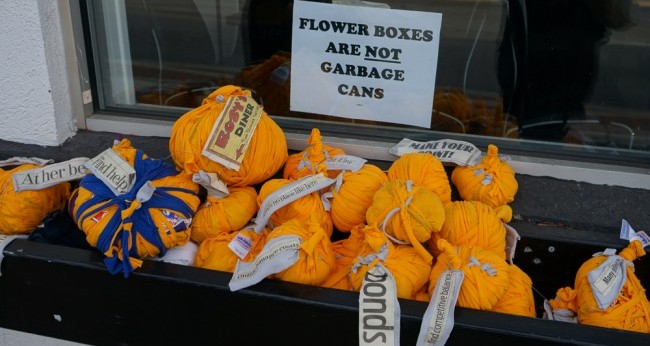 The reception for Materialities: Contemporary Textile Arts members' exhibition in Arrowmont galleries was a buzz of activity with everyone catching up and networking with new friends. With 164 SDA members in attendance, I felt their energy and excitement that evening, surrounded by stimulating work. I was proud to be part of an organization that represents so many talented and hard-working artists.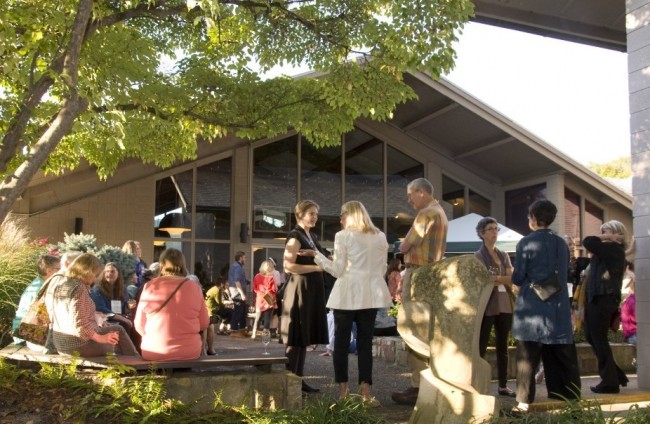 During the opening reception I met Sue Cavanaugh in front of her large installation titled Ori-Kume #45. Not only did her work have an incredible amount of stitches, so did the hemline of her pants!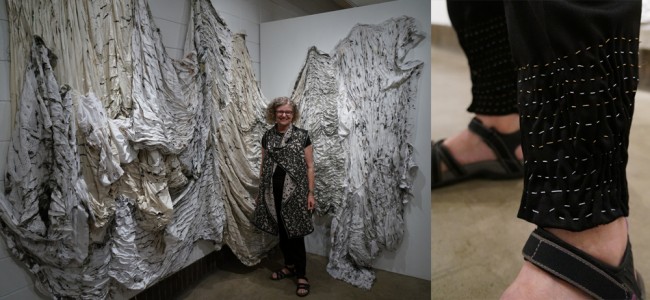 To focus the evening, we were honored to have Materialities curator, Namita Gupta Wiggers, discuss her process for selecting works for this unprecedented SDA exhibition and comprehensive catalog. Wiggers is the co-founder/director of Critical Craft Forum, an online platform for conversations about craft. She announced that podcasts are coming to the site soon (I can't wait to add them to my morning commute schedule).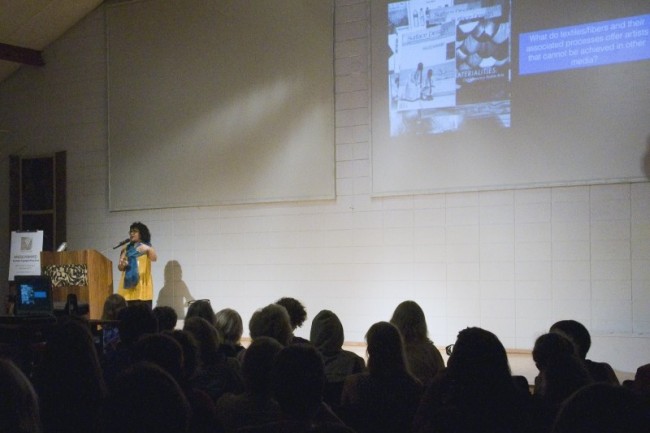 "How might SDA members re-think the idea of surface itself?" was one of the questions she asked us to think about. Themes in submitted work that Wiggers discovered during the jurying process were: The Grid, Structure, Materiality, Softness/Drape, Landscape and Portraiture. There was a lively and informative Q&A session after her talk, especially since many in the audience either had work in the show or had submitted work. (Read more about these themes in Wiggers' essay in the catalog, which you can order here. -Ed.)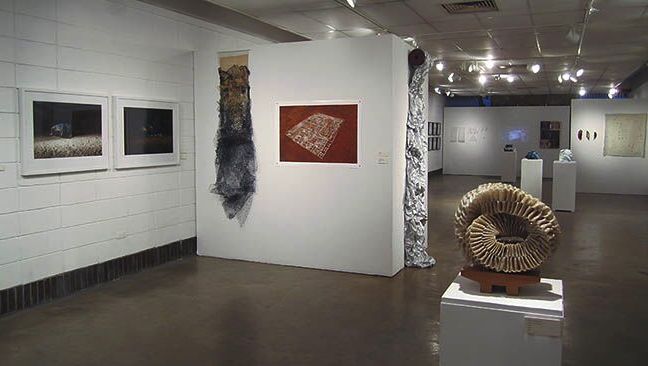 Friday, October 9
Artist, author and educator (and former SDA President) Jane Dunnewold introduced her longtime friend Mary Fisher whose keynote was entitled The Soul of the Community. Fisher identifies herself as an artist and advocate who nurtures and supports women around the globe. Her discussion focused on building community as she introduced us to her 100 Good Deeds Bracelet project – now being sold by Macy*s.
Since I was invited to introduce Laura Sansone, 1 of 5 featured speakers on the program, I attended The Mending Project, her hands-on mini-lab to learn a little more about her practice. She asked participants to bring a garment that required mending to the session. I met SDA Board member/legal advisor Vivian Mahlab and we happily needle-felted our garments with naturally-dyed wool, side-by-side. Sansone spoke with us informally about her many projects. I found her systems thinking – with its focus on localizing production of garments – intriguing, and a new way of seeing the clothing industry. She also introduced us to "Farm to Fabric" – a new term which stems from the slow food movement.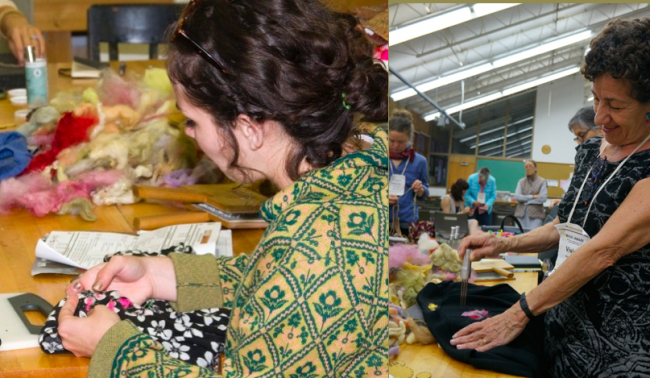 I missed Andrea Vail's Creating: Conversation & Community mini-lab but I popped in at the end and watched attendees participating in Friendge, her collection of fringe tassels made by people from all around the country. (You can contribute to this on-going project by clicking on the link above).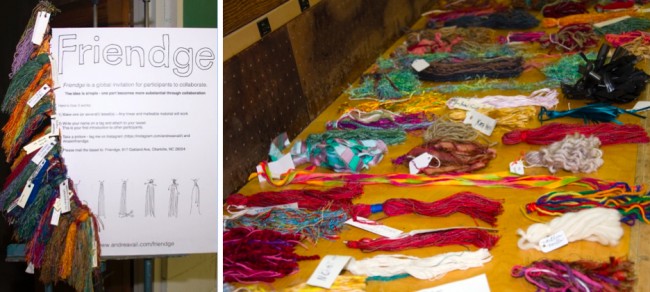 During lunch, I joined a student meeting (since I just graduated in May) and was pleased to see a great turnout! It seemed like every one of the 20 students in attendance was there, including 12 students from the nearby Warren Wilson College's Fiber Crew in Asheville, NC.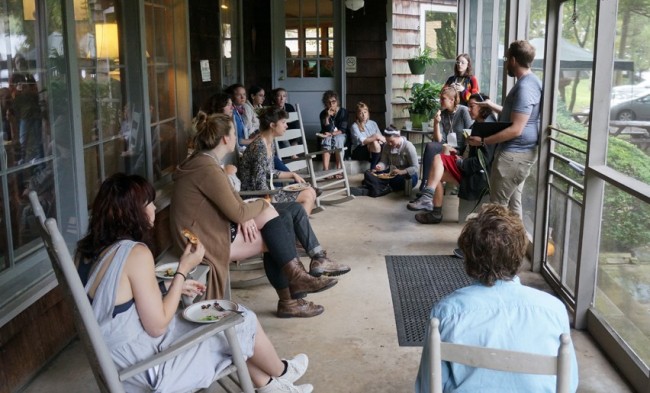 Billy George, one of my former classmates at the University of Missouri, led a discussion guiding students to think about what is valuable to them in the organization and what they feel SDA could do for them as students. The biggest concern for students was the high cost of attending conferences. Most students present had to apply for grants and outside funding in order to attend and worried about being able to do so again for future conferences.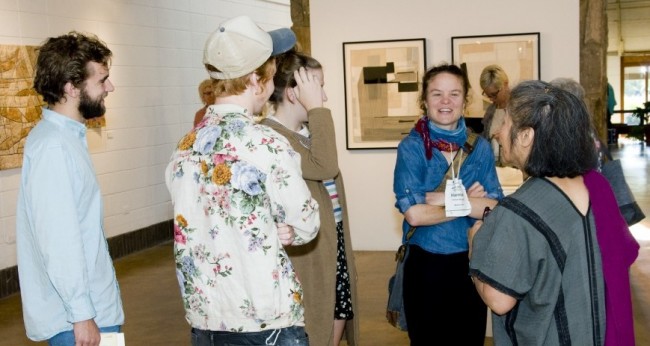 After lunch, Rowland Ricketts and Namita Gupta Wiggers led a group exploration and discussion titled Origin/ality. I found their session to be relaxing and insightful, as we were guided through creative thinking and writing exercises, small group discussions and a brief walking meditation within the gallery exhibition.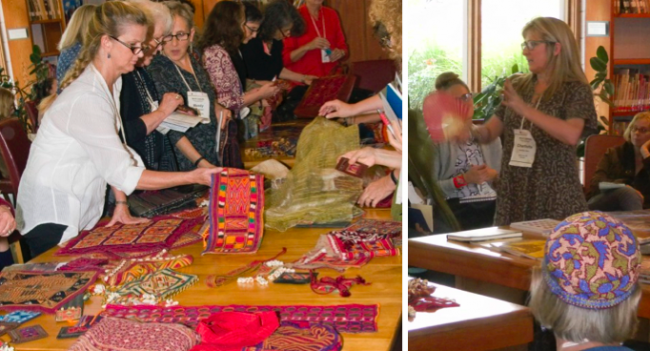 Charllotte Kwon gave a hands-on presentation titled Not Under Glass: Using Collection Pieces to Inspire Revivals. Having been to India myself on a textile study trip, I was blown away by the quality, design and craftsmanship of the work from Maiwa. Kwon brought so many fabulous samples and generously passed them around for us to touch and examine. I couldn't get over how detailed and rich the pattern and surface textures were and I am grateful for being able to handle them.

After a hearty dinner of delicious Arrowmont cuisine, our lively featured evening speaker, Carole Frances Lung introduced the radical work she and (her alt persona) Frau Fiber have been doing in a talk titled Factory to Factory: By and For the Organization. When she invited 50 participants to take an oath to become Faux Fraus in her Sewing Revolution on Saturday afternoon, you could feel the interest and anticipation fill the room.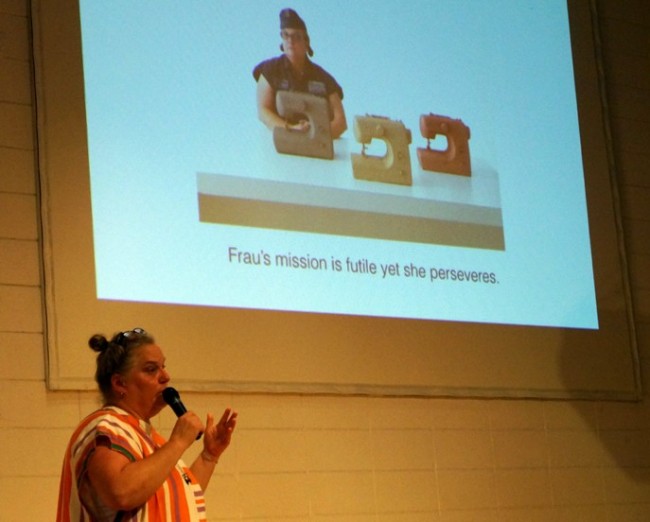 Saturday, October 10
I had the privilege of introducing Saturday morning's featured speaker Laura Sansone and her talk on TEXTILE LAB:  Exploring the Relationship of Design, Nature, Local Production & Industrial Manufacturing. I recently discovered her great resource, Urban Dyer's Alamanac and recommended it to some of my students. Textile Lab is a project that she runs at the Green Market in Brooklyn, NY. This project addresses overconsumption and the broken supply chain within the clothing industry, aiming to reconnect people to the process of making in collective production, a re-thinking of the current fashion model.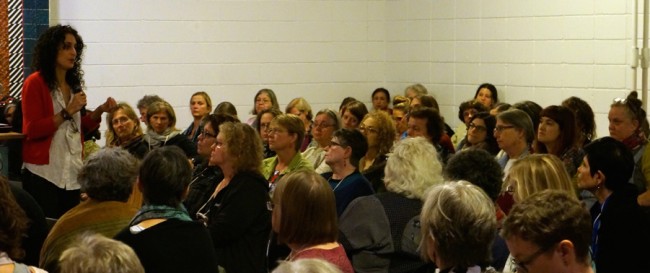 Following Laura's talk I attended Sara Goodman's discussion and exploration of Beyond the Immersion Bath: Using Natural Dyes for Surface Applications. It was really helpful to hear so much technical and experiential advice from so many natural dyers all in one room.
Cameron Anne Mason and Marci Rae McDade curated and hosted a Pecha Kucha-style presentation of 10 artists/activists titled 10x20x20: Socially Engaged Work by SDA Members. You can find a full list of the presenters with links to their websites on Cameron's blog. I was most impressed by the youngest presenter, Lexie Abra Johnson, and her presentation titled Let's All Be Nice to Each Other. Lexie was among recipients of SDA Outstanding Student Awards 2015.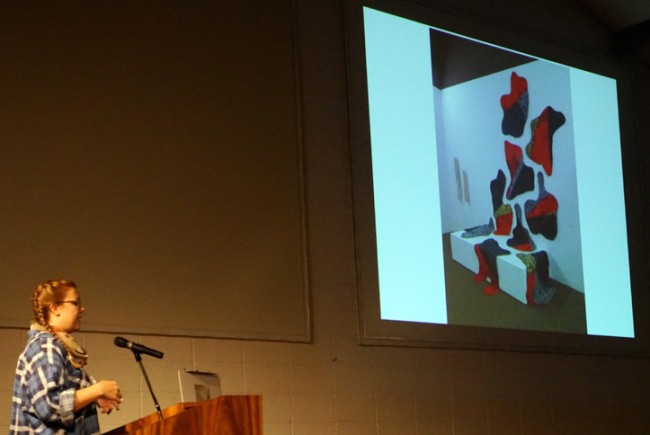 Next, I headed over to hear master dyer Catherine Ellis lead a group discussion on natural dyeing. I have limited natural dyeing experience and am eager to take all of the information gathered from the many sessions I attended on the subject back into my studio.
During Frau Fiber (aka Carole Frances Lung)'s hands-on mini-lab Join the Sewing Rebellion! Frau Fiber did, as promised, lead over 50 SDA members – the most ever in a single event – in taking "The Faux Frau Oath of Solidarity" to become Faux Fraus for life in one of the conference's most engaging moments!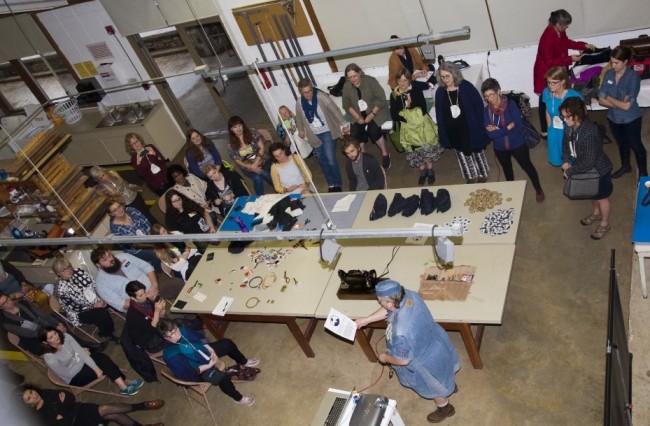 Featured speaker Rowland Ricketts presented Making: A World of Blue, an informative and inspiring walk through his process of growing, harvesting, processing and dyeing with indigo in Indiana – and the rigor of his apprenticeship in Japan.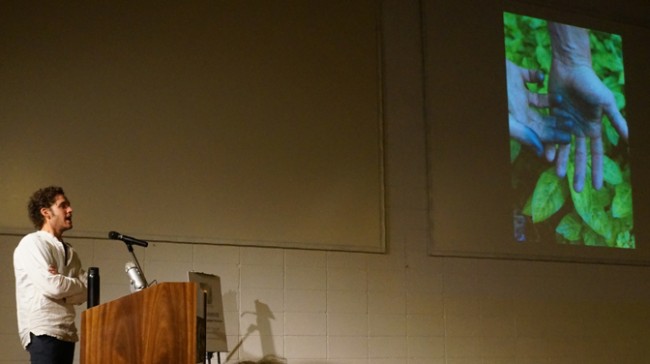 Sunday, October 11
Charlotte Kwon was our closing speaker, presenting a talk called Waiting for the Monsoon: Slow Clothes in India. I'm so glad that I stayed through Sunday morning to see the fantastic film clips that told the multi-faceted story of Maiwa's mission, collaboration with artisans and the beautiful textiles they make.
After Kwon's presentation, SDA President Astrid Bennett (below left) gave closing remarks and challenged us all to get into the studio!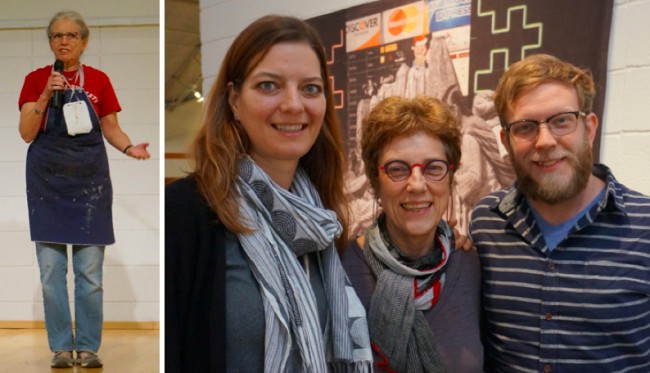 On my way out, I took in Materialities exhibition one last time and posed for a goodbye photo with Jo Stealey and Billy George (above, right). I had not seen either of them since I graduated from the University of Missouri in May (2015). It was great to reconnect at the conference. I first met Jo, my thesis advisor, at SDA's Confluence conference in Minneapolis (2011) then met Billy at in•ter•face conference in San Antonio (2013). I am grateful that SDA helped further my career by providing opportunities for me to meet and get to know such inspiring and accomplished activists and artists.
I look forward to returning to Arrowmont again soon to spend a week in a workshop. It's a precious gem nestled in the heart of a bustling tourist town!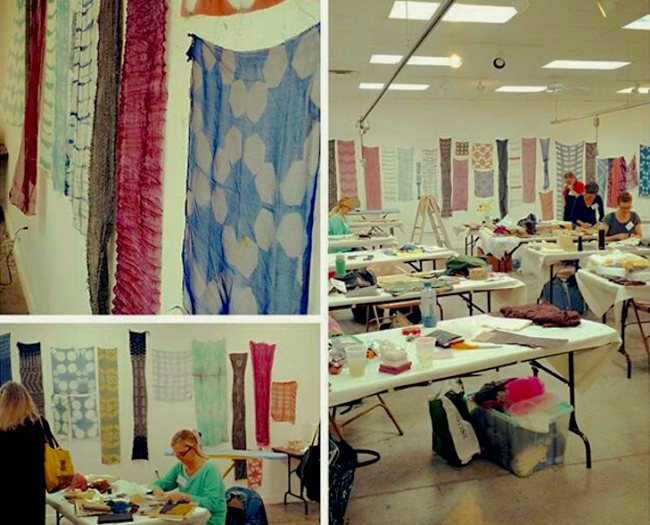 For all the reasons described above, such as networking and connecting to new and old friends, plugging into the latest social, sustainable and low-impact practices, being exposed to new work, new ideas and access to experts in the field, I will continue to make the time and find the money to attend SDA conferences like Made/Aware.
I look forward to participating in the next SDA conference – hopefully one that celebrates SDA's 40th anniversary of advocating for the textile arts.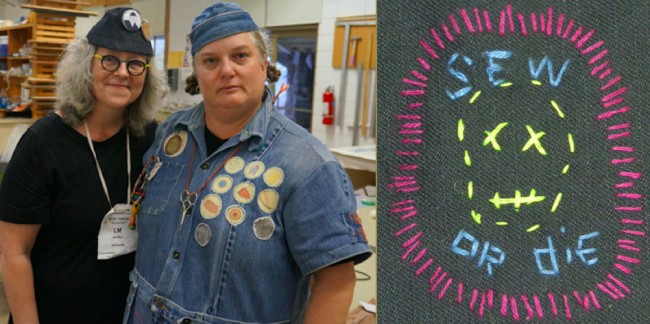 Check out these other SDA members' blog posts about the event:
 _______________________________________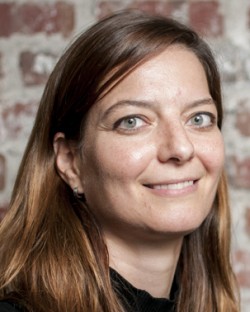 Tamryn McDermott teaches foundations courses at 3 Virginia universities. She received an MFA in Fibers and Sculpture (2015) from the University of Missouri. She completed an MA in Art History and Arts Administration at Tyler School of Art, Temple University (2005), where she also received a BFA in Sculpture and Painting.
McDermott has exhibited work at Torpedo Factory Art Center, Alexandria, VA; University of St. Louis Art Museum, St. Louis, MO; and Crane Arts, Ice Box Project Space, Philadelphia, PA – among many others. She was most recently the Fiber Artist in Residence at Craft Alliance in St. Louis, MO. She lives in Alexandria, VA.
Visit her website at www.tamrynmcdermott.com.