Winning Works: "Fabricate" SDA 2013 Fashion Show
November 2, 2013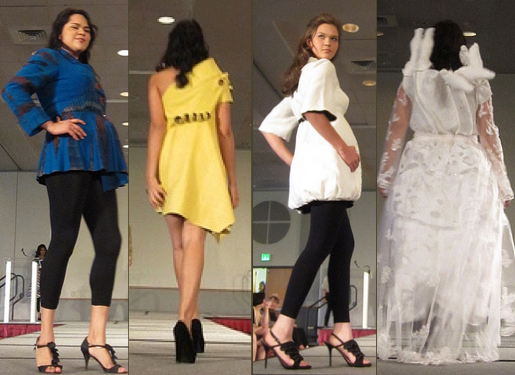 I was asked to be 1 of 2 jurors invited to select award-winning work at SDA 2013 Fabricate Fashion Show after also serving as 1 of 3 jurors who selected the pieces via online submissions process in CaFE.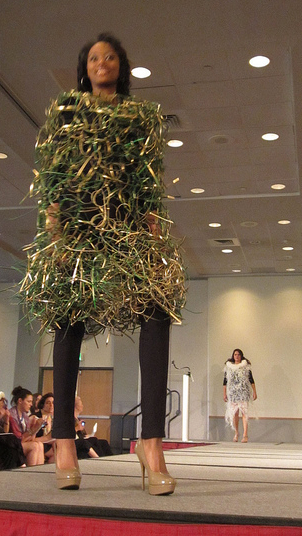 The other first-round jurors were Carolyn Benesh, co-editor of Ornament magazine and Leesa Hubbell, editor of SDA Digital Publications. Melinda Adams co-ordinated the process and fashion show production at Rosenberg Skyroom on University of the Incarnate Word campus in San Antonio, TX.
I also had the honor of seeing some of my designs for theatre included in the opening Featured Artist segment of the show (at right).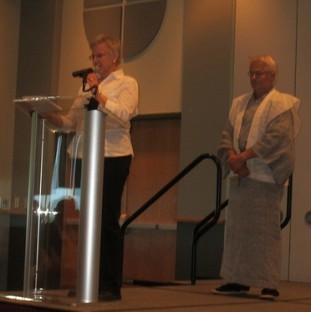 To serve as juror for an exhibition/event is exciting and challenging. Although the intent is to be fully objective, the process is nonetheless highly personal and dependent on the experiences and preferences of each juror.
When Carolyn Benesh had to cancel, John Marshall generously stepped in as awards co-juror.
We made a great team, due to our very different approaches to our own work. Each helped the other see aspects of each garment we might otherwise have missed.
In this show there were numerous additional garments that stood out and were deserving of recognition – but the task of the juror is to select a very few.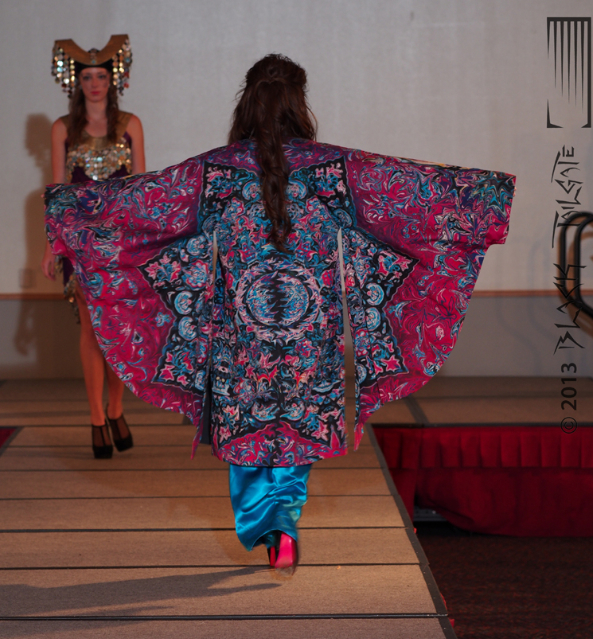 Marshall added (via email comments) that "it is always hard to judge a fashion show since there are so many factors involved."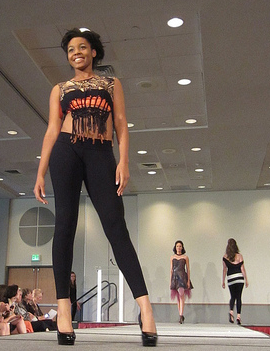 He went on to state that, "Judy Bales, the other judge, was far more familiar with each piece than I was, so I relied heavily upon her for guidance. I went through every piece when they were all on hangers and evaluated each using these criteria:
Initial impact
Quality of execution
Originality of concept
Next, we put our heads together to compare and discuss our selections and lobby for our favorites. Judy was a great help to me in pointing out details and and often techniques with which I was unfamiliar."
Marshall also offered these 4 points of advice to future fashion show applicants: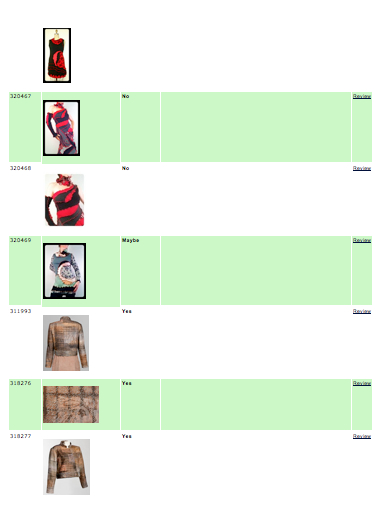 1) Submit clear and honest photos to help the judges in the first stage of selection. It doesn't matter how exquisite your piece, if you submit a poor quality image, it will be rejected. Read the guidelines and follow them.
2) Next, consider the environment in which it will be judged; as it comes out of the box, on a hanger in a back room or on a live model on the runway. Knowing who the judges are often isn't much help unless you know that he/she has a very strong bias against a particular type of work.
3) Will your months of effort and creativity even show on stage under the glaring lights and choreographed gyrations of the models? I must admit that most of my own work wouldn't make the grade under conditions described above.
4) Think of a fashion show as an evening's entertainment – not as an opportunity to introduce a group to the exquisite art form you have been refining for decades. Bold, high-contrast and dynamic pieces usually carry the day.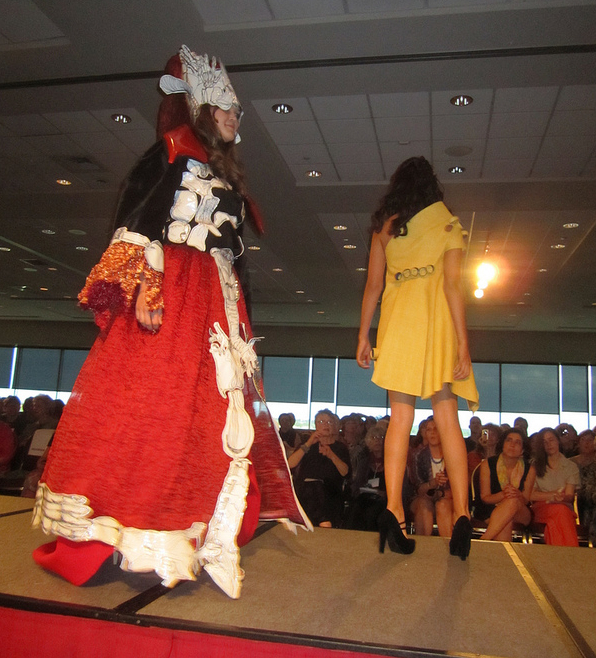 This introductory statement was read before the show began: Surface design encompasses the coloring, patterning and structuring of fiber and fabric. This involves the creative exploration of processes such as dyeing, painting, printing, stitching, embellishing, quilting, weaving, knitting, felting and paper-making.
Criteria for award winners included demonstrated creativity, originality, innovation and excellence in design and technique. – Judy Bales (JB, below)
1st Place ($700)
Mary Mortenson's Mesabi Jacket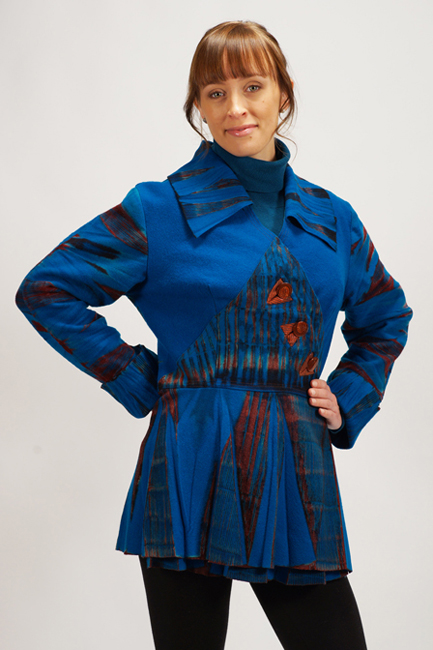 JB: This garment demonstrated a complete blend of precision of construction with beautiful integration of concept, surface design and structure. The excellent use of shibori complements the lines and angles of the garment.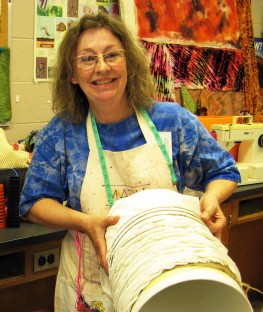 Mary Mortenson comments: Mesabi Jacket was inspired by the rich colors of Minnesota's Iron Range. The wool was fulled, discharged and over-dyed – then enhanced with surface design on Ultrasuede triangular bound buttonholes.
I hold a master's degree in design in which I concentrated on color theory; I've been dyeing for 10 years. I've been an SDA member since 2010.
In 2012, I was awarded a Jerome Foundation Fiber Arts Grant to work with Jean Williams Cacicedo. Winning this SDA Award inspires me to further explore wearable art – particularly using shibori techniques.
2nd Place ($400)
Li-Fen "Anny" Chang's Ring A Ding Ding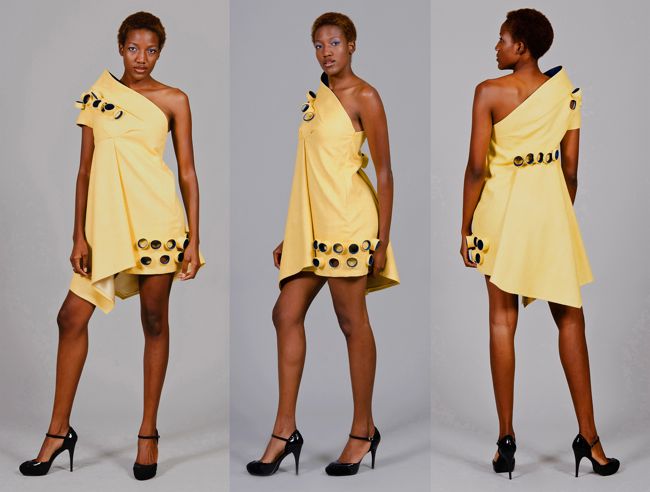 JB: This garment demonstrated precise technique and unusual, unique composition with an innovative, quirky surface treatment that is nonetheless elegant. The asymmetry of the neckline, hemline and surface treatment add to the drama.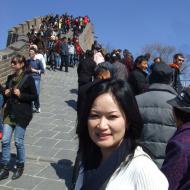 Anny Chang comments: Geometric shapes have been a major influence on my artwork; in this design, a cluster of paper towel rolls, cylindrical prisms, was the inspiration. To create a dress with the sculptural effect of paper towel rolls through draping technique was the purpose of the design. 
Silk Matka was chosen for its texture. The color – golden yellow – was chosen for its characteristics of optimism and vitality; the color turquoise blue was chosen as contrast.
The design was completely developed on the form in one-piece muslin, starting with the placement of a true bias drape at the right neck. The asymmetric silhouette of the dress was created to best compliment the structure of the rolls.
I became a member of SDA in 2009 and I have really come to enjoy participating in SDA events. 
3rd Place ($300)
Janie Stidham's Snow Day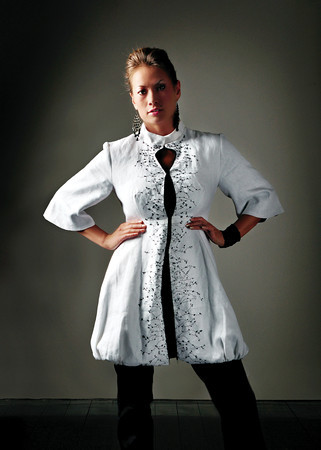 JB: This garment showed precise workmanship and concept. The simple but revealing title was evocative. Did Snow Day refer to a day off work that allowed the designer an unexpected block of time to express creativity? Or did it refer to the bright white fabric that billowed a bit as drifting snow does, with delicate black embroidery suggesting bird or small animal prints in the snow? I imagine both fed into the creation of the piece.
Janie Stidham comments: Snow Day was inspired by the beautiful work of photographer Yann Arthus-Bertrand; of dormant winter trees against a body of water in France. The purpose of this design was to express a related aesthetic through embroidery and fashion. 
The process began by developing several samples of free-motion and hand embroidery, eventually deciding on a hand-embroidery technique which also included some random bead work to represent the winter tree branches in a symmetrical presentation down the front of the jacket.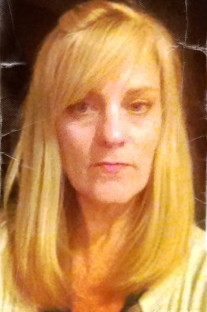 The original jacket pattern was developed with traditional draping methods and constructed utilizing couture sewing techniques. 
I am so honored to be selected as one of the award winners at the 2013 SDA fashion show exhibition. I invested so much thought and time into this particular design – which makes it even more meaningful to be recognized.
I have been a member of SDA since 2007 and have participated in several shows – but this is the first time I've won an award.
SDA Award of Excellence
Leisa Rich's Two Birds of a Feather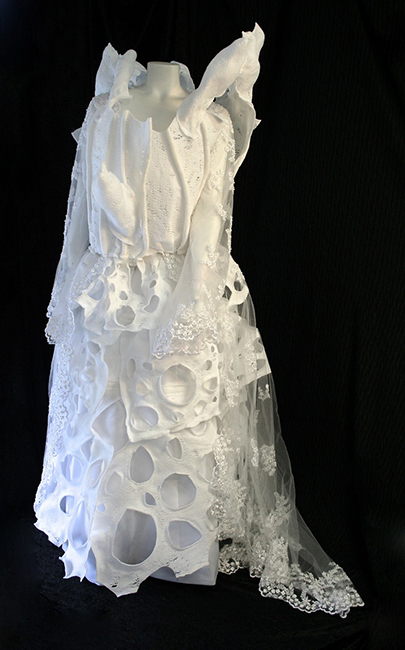 JB: This piece was especially innovative in how far it took an experimental technique.
The interesting juxtaposition of the technique of melting materials and free-motion stitching with recycled lace as well as the surprise of discerning the bird forms on the shoulders caused the viewer to continue looking.
Leisa Rich comments: Birds of a Feather is about my mother's struggle with dementia.
The use of all white represents the innocence that is the disease as it progresses, rendering the person incapable of functioning independently – like a child again. The birds are her fleeting thoughts: temporarily roosted, prone to sudden flight.
I steamed and melted Fosshape to create the birds and nest dress pieces and used a recycled wedding dress and lace overcoat on which I have also free-motion stitched a poem.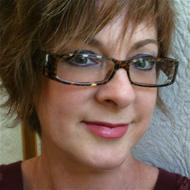 I have an MFA and BFA in Fibers and a B of Ed in Art; I've been a fiber artist for 38 years. I've been an SDA member for at least 10 years. 
Winning this award means greater exposure for my work. 
Final Comment from Awards Judge Judy Bales:
I would like to echo John Marshall's words about the absolute necessity for excellent photography.
To a juror, photos are like meeting a person for the first time; the adage goes that we never get a second chance at a first impression. Photos are the first impression the juror receives and the importance of having the highest quality cannot be overemphasized.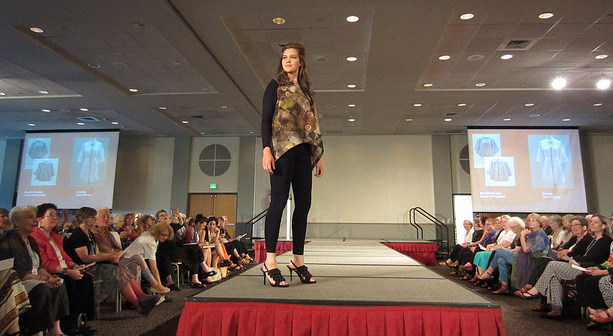 Congratulations to all SDA Members whose wearable work was featured in this show.
Read about the cluster of SDA 2013 members' exhibitions winners from Texas in University of North Texas news release here.
Editor's Note: LookBook for 2013 Fabricate Fashion Show will be available on SDA Website Conference Archive in early December 2013. Look for it!
_______________________________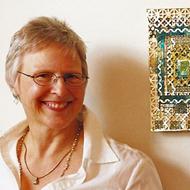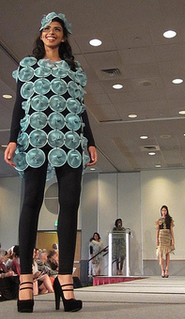 Judy Bales has worked in fiber and mixed media for over 25 years, exploring a range of scales and forms. In addition to the intimate, wildly individualistic work in the realm of fiber arts, she has also distinguished herself through multiple commissions garnered in the very different world of public art – specifically the sculptural and design elements she has contributed to trail and highway bridges in Iowa and Arizona.
Though a fiber artist (and costumer designer) in technique and materials, she approaches her art more like an abstract painter, relying on improvisation and painterly techniques rather than the more precise, controlled approach traditionally favored by fiber artists.
Visit her website at www.judybales.com