Burbank to Bursa: Woodbury Design Students Tour Turkish Textiles
August 2, 2010
(Captions in photos will pop up with mouse rollover. –Ed.)
Last semester (spring 2010), 12 students from Woodbury University in Burbank, California, participated in a new cross-disciplinary course entitled Cordoba to Istanbul and Beyond: Art, Architecture, and Apparel. Each student in the group (10 graduating seniors in architecture or fashion design program and 2 history/politics majors) brought a unique perspective to the class. Sponsored by the Institute for Transdisciplinary Studies, the course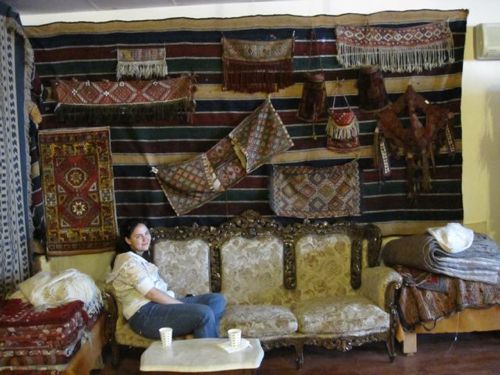 began with a 7 week series of art history lectures on the Woodbury campus followed by an amazing 17 day tour of Turkey. The study-abroad component was supported by the University and a generous grant from the Turkish Cultural Foundation (TCF). Additional minority scholarships were awarded by TCF's sister organization, the Turkish Coalition of America, to participating students on the trip who were of African, Hispanic, or Native American descent.
During the tour the students were able to observe, study, and experience first-hand the depth and diversity of Turkish artistic expression: ancient to contemporary, domestic to imperial, and rural to urban. The students visited a Roman aqueduct and cisterns, Byzantine churches, and Seljuk and Ottoman mosques, tombs and pal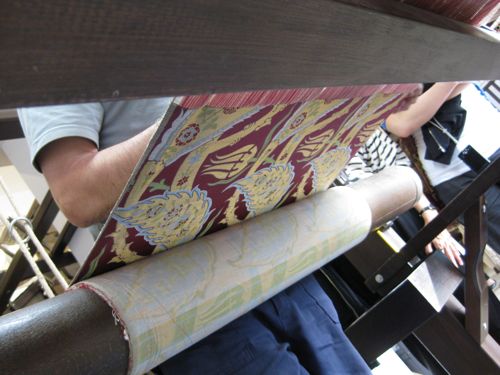 aces in addition to modern textile and ceramic tile factories and private design studios. They also were able to meet with faculty and students from Turkish universities. Although every day was packed with cultural and educational activities, plenty of time was left for roaming the shopping bazaars and drinking apple tea with welcoming store merchants.
In Istanbul and Bursa, students were able to view the actual works of Seljuk and Ottoman art and architecture they had studied in Burbank. Of particular interest was the excellent collection of historic carpets in Istanbul's Turkish and Islamic Art Museum. The students were fascinated by intact and color-rich 13-14th century carpets discovered in Konya's Alaeddin mosque. They marveled at the scale and beauty of the so-called "Bellini", "Lotto", and "Holbein" Anatolian carpets they had previously seen in 2-D via textbooks and Power Point presentations.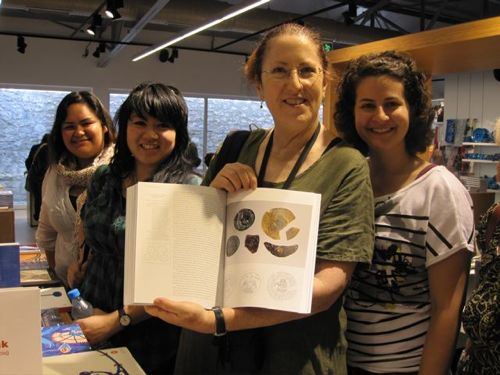 An entire day was reserved for an exploration of the Topkapi Sarayi Palace–a compendium for the study of imperial Ottoman architectural decoration, decorative arts, and textiles. On a subsequent day, after a cruise up the Bosphorus, students were able to compare and contrast the imperial kaftans and ornaments they had seen at the Topkapi with a beautifully mounted exhibition of late Ottoman era women's costume at the Sadberk Hanim Museum.
Visits to contemporary textile and costume designers enabled the students to see how the past can inform and inspire the present. At the Vakko textile factory we observed how imperial Ottoman patterns and motifs are adapted for the contemporary market using modern silkscreen technology. Meeting fashion designer (with a Ph.D. in chemistry!) Gönül Paksoy was a great inspiration for the students who enjoyed hearing about her process for naturally over-dyeing vintage fabric that she transforms into works of contemporary fashion.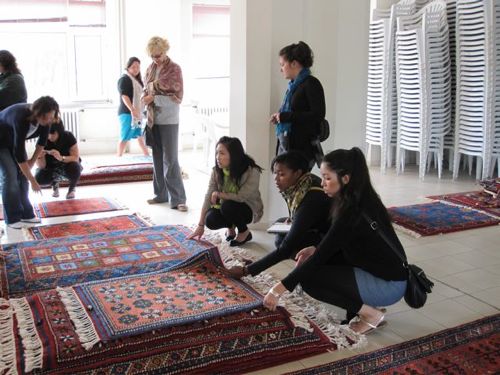 Leaving the environs of Istanbul, we traveled to Troy to walk amid the ruins of carved marble monuments and red poppies in full bloom to consider the ancient heritage of the Anatolian people. After an overnight stop nearby at Çanakkale, we continued on to Ayvacik village to visit the DOBAG (Natural Dye Research and Developing Project) cooperative center. From there we were taken to the village of Süleymanköy where our hostess, a weaver, demonstrated hand-spinning outside her home. Inside, she also showed us a brilliantly colored carpet still on her loom and cotton scarves (yazma) that she had meticulously embellished with hand embroidered edging (oya)-a typical element of Anatolian women's attire.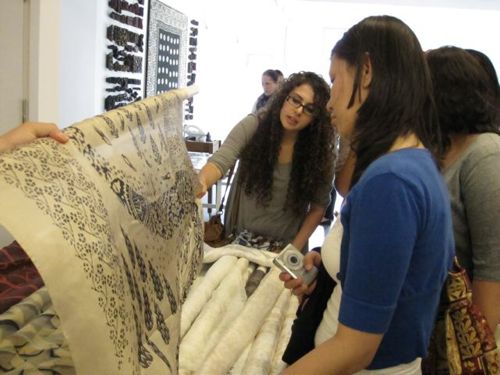 Bursa was the next stop. As the Anatolian terminus for the Silk Road, the first Ottoman capital, and burial site for six sultans, Bursa offers outstanding opportunities for the study of ancient trade, textile manufacture, and spectacular early Ottoman architectural tile decoration. The famous Koza (cocoon) Han, a caravanserai/commercial center built in 1490 at the command of Sultan Bayezid II, still bustles with activity and customers (including Woodbury students) eager to purchase silk fabrics.
An exploration of the small but wonderful Esat Uluumay Museum allowed them a unique glimpse into the breadth of Anatolian regional dress and accessories. At the Ipeker textile factory (a third-generation family-owned business), we were given a tour of thei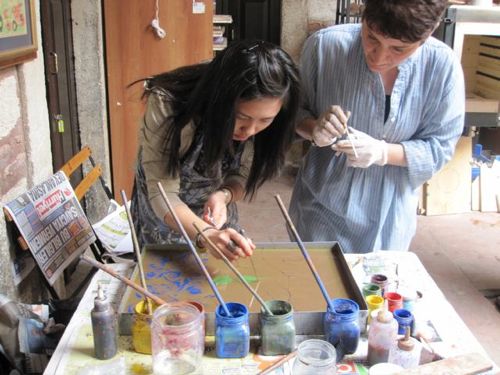 r weaving, printing and dyeing facilities. It was delightful to meet many members of the Ipeker family and learn how their business has developed over the years while still preserving cherished traditions.
Upon returning to the Asian side of Istanbul, recent Woodbury fashion design graduates Jasmine Brooks, Erica Gonzalez, Puanani Yong, Tabitha Wong, and Marylynn Crawford (the SDA Outstanding Student Award winner) gave Power Point presentations of their senior couture collections to faculty and students of the Department of Textiles and Design at Marmara University's Güzel Sanatlas Fakültesi (Faculty of Fine Arts). In the spirit of cultural exchange, a lively discussion ensued comparing program approaches, content, and post-graduation career opportunities.
Marmara University has long been an important center for textile research (including the DOBA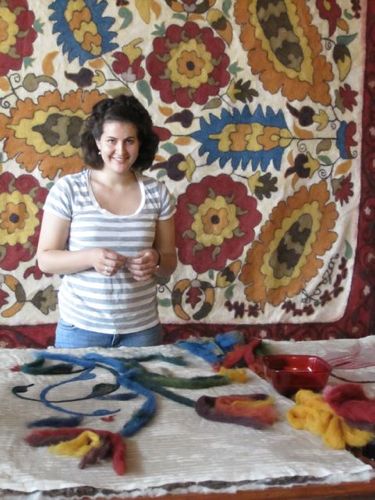 G project mentioned above) and we were delighted to also visit DATU (Natural Dyes Research Design and Practice Unit). Our hosts, Professors Ozanay Omur and Recep Karadag, introduced us to the collection of historic Anatolian village looms, state of the art facilities for the scientific research of traditional textiles and natural dye technology, and the textile and garment design and production atelier. Their exquisite fashion and home furnishing textiles are sold in the Armaggan boutique in the upscale Nisantasi suburb of Istanbul where elegant limited-edition objects, hand-crafted from natural materials, are featured.
Several hands-on workshops allowed the students to express their own creativity. At the Caferaga Medresesi (designed 450 years ago by Sinan, the famed Ottoman architect), the students practiced traditional Turkish calligraphy and marbling. At the Istanbul workshop of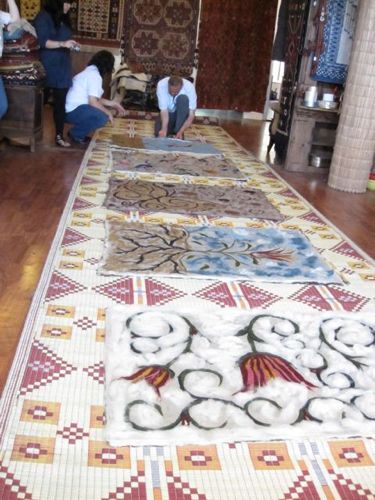 master craftsman/felt-maker Mehmet Girgiç (recently added to the Living Human Treasures list by UNESCO & the Turkish Ministry of Culture and Tourism) the students each produced a felted wool rug.
Our tour concluded with a special evening hosted by the Turkish Cultural Foundation. Resident Scholar and eminent art historian Dr. Nurhan Atasoy presented an illuminating special lecture on the Ottoman illustrated manuscript. Finally, each Woodbury student presented their course research project to the group.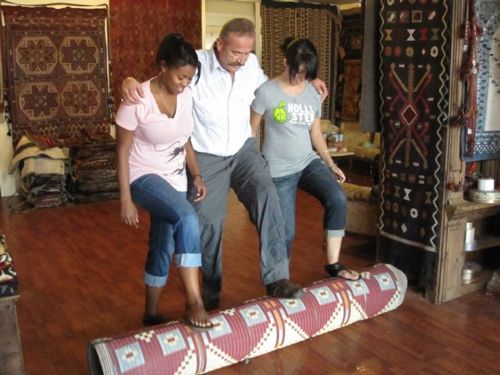 We are indebted to our sponsors, the Turkish Cultural Foundation, Turkish Coalition of America, and Woodbury University, for making possible this memorable trip to Turkey. A special thanks is due to Venus Tourism and Deniz Harput Avci, our tour guide extraordinaire, who was with us every day, patiently keeping us informed and well-organized.
______________________________________________________
Meredith Strauss (an SDA member/supporter) has been teaching textile science and design, world textiles and weaving as an adjun
ct instructor in the fashion design department at Woodbury's School of Media, Culture, and Design for the past 10 years. She first visited Turkey in 2005 when one of her works-in-fiber was chosen for the European Textile Network's 2005 juried exhibition Visions in Textiles held in Izmir.
Rochelle Kessler (pictured above at Topkapi Palace Museum Shop) has been a scholar and curator of Islamic/greater Asian art and culture for over twenty-five years–with over 20 exhibitions to her credit . She is an adjunct instructor at Woodbury U. and Assistant Professor at Embry-Riddle Aeronautical University, Prescott, AZ.