"Family Matters: EIP" Out Now!
December 27, 2018
Surface Design Association is excited to announce "Family Matters" our Winter 2018 International Exhibition in Print. Juried by The Jealous Curator (Danielle Krysa) and Elizabeth Kozlowski, this exciting edition features artists from 6 countries including Australia, Ireland, United Kingdom, the Netherlands, Spain, and 15 states in the US. As Elizabeth states in her Editorial, "Each piece responds discerningly to how family matters—in love, in support, in frustration, in totality. Congratulations to this year's winners and featured artists!"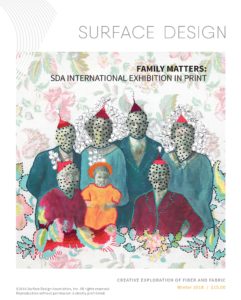 ---
Here's a preview of what you'll discover:
1) Figure & Fiber Award
Hale Ekinci's work is conceptually formed from pictorial histories, gender politics, and Turkish ritualistic traditions to create hybridized folklore in embroidered portraits.
2) Innovative Installation Award
Sarah Meyers Brent uses debris from her house to create mixed media installations that take the craziness of motherhood (and life in general) and to create something beautiful out of it.
3) Surface Design Award
Julie Gray's work engages with motifs of mortality, mourning culture and object memory. She uses humor and cultural signposts for audience accessibility, and opens up a dialog about mortality and spiritual inquiry.
4) Innovation in Technique Award
Michele Landel creates textured collages using burned, quilted, and embroidered photographs to explore the themes of exposure, absence, and memory. Layers of paper are sewn together to construct bandages and veils, in turn, transforming images into fragile maps of remembrance.
5) Material Exploration Award
Alexis Zachhuber challenges female sentiments of docility by using found and forgotten materials, needlework templates, and a disregard for the guidelines.
6) Modern Meets Tradition Award
Danielle Shelley's needlepointed Modern Chair Sampler uses geometry and color that relate back to both oil paintings and beaded embroideries.
7) Fiber Reinterpreted Award
Carolyn Mason marries 2 distinct types of fiber: hand-felted wool and industrial machine buffers. She creates sculptural forms with diverse elements that reference nature and biological generativity.
8) Danielle Krysa (aka The Jealous Curator) closes out the EIP with a Curatorial Statement touching on how she felt about the submitted artwork, why the award winners were chosen, and her thoughts on the contemporary field of fibers and textiles.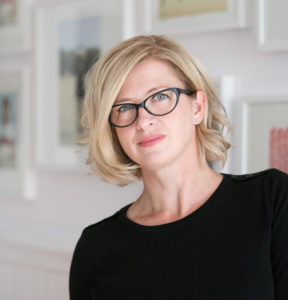 9) "Family Matters" also includes 22 Featured Artists, each with one page highlighting the amazing work our members create.
---
To buy a copy of "Family Matters: SDA International Exhibition in Print", go to the SDA Marketplace, or you can check out a free digital sample on our SDA Journal page.
Tags:
2018
,
Alexis Zachhuber
,
Awards
,
Carolyn Mason
,
Danielle krysa
,
Danielle Shelley
,
EIP
,
Exhibition in Print
,
Family Matters
,
Hale Ekinci
,
Julie Gray
,
Michele Landel
,
Sarah Meyers Brent
,
The Jealous Curator
,
Winter