"Pattern" SDJ – Out Now!
March 26, 2018
Surface Design Association is excited to announce "Color", our Spring 2018 edition of Surface Design Journal! This Journal features the significant role pattern plays in our physical world–from natural to synthetic, visual to linguistic, and everything in-between. Pattern is an integral part of the building blocks that form our lives.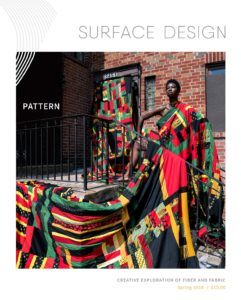 ---
Here's a preview of what you'll discover:
1) "Unlearning to Quilt" by Mallory Nezam spotlights the contemporary quilter Basil Kincaid and his evolution from the human form as subject matter to more abstract shapes, serving as wall hangings and sculptures.
2) "Why A Glossary?" by Aaron McIntosh considers the pressing issues for the next generation of fiber and textile artists by decentralizing the common dialogue. Using key context words pulled from a hat to generate conversation from past iterations, this article covers issues of diversity, equity, and inclusion within fibers and textiles.
3) "Pattern Making: The Digital And The Analogue" by Elisalex de Castro Peake takes us through the timeline of when sewing patterns for the home sewer first came about, their rise and gradual decline in popularity, and the sudden resurgence in home sewing and the inevitable new wave of sewing pattern companies that followed.
4) "Cosmology in Repeat" by Robert Mertens looks at pattern's loss ability to carry meaning due to pop culture and commodification, and his entry points into rediscovering that meaning.
5) Informed Source: "The Patterns of our Lives" by Judy Newland examines the patterns that surround us and what defines a pattern. The article features five veins of exploration into patter: science, history, culture, technique, and storytelling.
6) "Emerging Voices" features the work of Kath Forgan, who creates sewing patterns using an intuitive ignorance, to make topographical organic garments highlighting and distorting certain elements of the figure.
7) Janis Jefferies reviews "Anni Albers: On Weaving" in our "In Print" department. In it, Jefferies examines Albers' keen understanding of complex ideas, influences, and patterns of communication.
8) "In Review" Process and Practice: 40 Years of Experimentation reviewed by Joyce Beckenstein unpacks the exhibition looking back on eighty-nine of over four-hundred artists who were invited to create Artist Boxes: opened to display material, notes, drawings, and related documents that these artists used to create their projects, along with their resulting artworks
9) "In Review" Dali and Schiaparelli: In Daring Fashion reviewed by Maggie Duffy examines the long-time collaboration and professional relationship between Elsa Schiaparelli and Salvador Dalí and how their aesthetics combined into iconic works.
10) "Spotlight on Education" George Fox University by Breanne Sherwood looks back at when Brooks Harris Stevens visited campus to show pieces from her series, Mending Gold: With Reverence.
In a change to our usual "Spotlight on Education," we are looking to provide an opportunity for educational institutions (in all forms) to share information about textile-related programs. We are expanding this department to include personal accounts of collaboration, inspiration and creative learning environments. Please share your stories for consideration with journaleditor@surfacedesign.org
In this edition we also say hello to our new Editor, Elizabeth Kozlowski! Elizabeth joined us in December and we are so excited to see what Journals she has in store for us. To read more about Elizabeth, check out this SDA Blog spotlight on her from January: HERE
---
To buy a copy of "Pattern", go to the SDA Marketplace, or you can check out a free digital sample on our SDA Journal page.
Tags:
Aaron McIntosh
,
Anni Albers
,
Basil Kincaid
,
Breanne Sherwood
,
Brooks Harris Stevens
,
Elisalex de Castro Peake
,
Elsa Schiaparelli and Salvador Dalí
,
Janis Jefferies
,
Joyce Beckenstein
,
Judy Newland
,
Kath Forgan
,
Maggie Duffy
,
Mallory Nezam
,
Pattern
,
Robert Mertens
,
SDJ
,
surface design journal