Welcome, Elizabeth Kozlowski!
January 3, 2018
At the tail end of 2017, Surface Design Association announced that Elizabeth Kozlowski will be our new Surface Design Journal Editor! We are so excited for her to join the SDA family and cannot wait to see what wonderful and unique Journals she produces. Below is a brief, welcoming interview with Elizabeth so our members can get to know her a little better.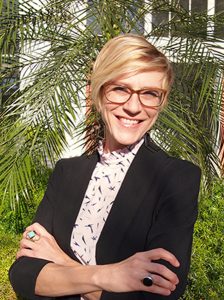 ---
– What's your background?
I've always considered myself to be an artist, a characteristic I inherited from my mom. She taught me how to crochet, hand sew, and do embroidery work from an early age. I can't remember I time I wasn't tucked up in my room drawing, painting, or sewing. I continued to nurture my creative side in undergrad, initially studying jewelry making then switching to over to clay when I entered FAU (Florida Atlantic University). I also minored in Museum Studies, working at FAU galleries in tandem with my BFA. Making and Curating have always gone hand in hand for me. I was able to combine these two passions in grad school at ASU (Arizona State University). I think I'm most fascinated with the processes and tools of each trade.
– Tell us a bit about your work.
I am most interested in the intersection between cultural anthropology and contemporary craft. I have a firm belief that it can provide us with a new language, a new way of thinking about objects…instead of always struggling to make the fine arts vocabulary suit our needs. For me, it's really about our relationships with the physical manifestations of our creativity, how they define us as a culture, as a global society.
– Where are you based and what brought you there?
I am currently living in New Orleans. I have always had an affection for the city and after some time exploring the US (between grad school and now I've moved 6 times), decided to take advantage of an opportunity to live here. It is an incredibly rich city in so many ways, culturally, artistically, musically and no doubt, food wise.
– Any projects outside of the art realm that you're working on?
Right now, I am just settling into life in the Big Easy… I did a 6 mos. service term with AmeriCorps when I first moved to NOLA…to get a better sense of the community and to break the habit of siloing myself. I worked with the city, contractors and a rebuild organization to help get folks back in their homes. After twelve years, there are still people suffering from the damage of Hurricane Katrina. It was incredibly eye-opening and humbling.
– What excites you about SDA?
The conversations happening amongst our members and those in our extended community. We are experiencing a sea change in so many aspects of our lives, as artists, as citizens…there is a real community consciousness for why we do what we do, and making every act count…
– Anything else you want readers to know about you?
I secretly wish I was a country music star… Who doesn't dream of a life of rock and roll?
---
Below is a gallery of images from Elizabeth's curated exhibition Home Mask Relations: A Social Art Project (in collaboration with Isabel Berglund) on display at the Florida Atlantic University, Boca Raton in 2017.