SDA 2017: A Year In Review
December 27, 2017
This year Surface Design Association celebrated our 40th Anniversary with a bang. We had 4 amazing journals published, multiple exhibitions throughout the country, as well as our biennial conference. Even though 2017 was rough to get through, SDA strived to meet our members' needs, being a beacon of hope and a creative outlet for many. Let's take a look back at all the wonderful artist opportunities that happened in 2017:
---
Shifting Landscapes Exhibition
SDA's 3rd International Juried Members' exhibition was held in partnership with form & concept gallery in Santa Fe, New Mexico from February 24–May 20, and was juried by Erika Lynne Hanson and Frank Rose. This exhibition explored both traditional and non-traditional contemporary interpretations of place by makers working with or inspired by fiber or textile materials and techniques.
"Shifting Landscapes" Spring 2017 edition of SDJ
Our first Journal of the year surveyed the concept of the landscape from several different vantage points. From map-inspired embroideries and childhood nostalgia, to environmental awareness and feminist advocacy, "Shifting Landscapes" offers appreciation for the present while giving a nod to the past.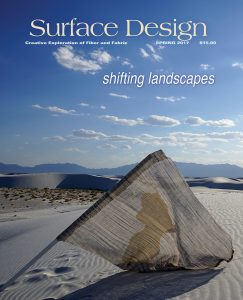 Crossing Generations Exhibition
Honoring SDA's 40th Anniversary and curated by Jane Sauer, Crossing Generations featured 3 tiers of makers–mentors, current, and emerging artists–highlighting the past, present, and future of fiber arts. The show was on display July 10–August 6 in the Hoffman Gallery at Oregon College of Art and Craft in Portland, Oregon.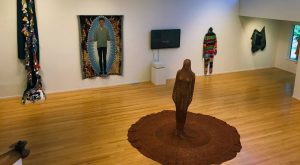 International Fiber Arts VIII Exhibition
The biennial exhibition at Sebastopol Center for the Arts, held in collaboration with Surface Design Association, invited national and international artists to submit innovative and traditional fiber art, contemporary concepts using either traditional or unusual materials. Juried by Eszter Bornemisza, Wendy Lugg, and Jason Pollen the show was on display at the Sebastopol Center for the Arts, California from July 28–September 3.
"Making our Mark: SDA at 40" Summer 2017 edition of SDJ
Guest edited by Wendy Weiss, "Making our Mark: SDA at 40" reflected on the amazing people that helped SDA grow into what it is today, as well as looked forward to the emerging artists and ideas that will lead SDA into the future.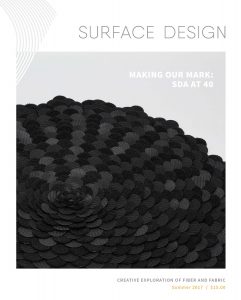 SDA at 40: Making our Mark conference in Portland, OR
This year we hosted out biennial conference to bring members together for 3 days of workshops, conferences, and exhibitions. Keynote speakers included Sheila Pepe, Josh Faught, Jane Lackey, and Aram Han Sifuentes.
"Color" Fall 2017 edition of SDJ
Surface Design Association is excited to announce "Color", our Fall edition of Surface Design Journal! This Journal considers the theme of color from multiple angles and viewpoints–from aesthetic decisions and color theory to color's weight as cultural significance.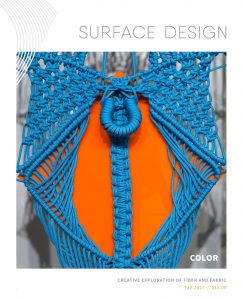 Goodbye to Marci
After "Color" we had say goodbye to our beloved Editor since 2012, Marci Rae McDade. Marci created such wonderful Journals that fueled the conceptual and member growth of SDA. We wish her the best of luck in her new endeavours into recharging her studio practice and whatever other exciting adventures await her!
"Future Fabrication: SDA International Exhibition in Print" Winter 2017 edition of SDJ
Our final Journal of 2017, "Future Fabrication" marked the second exhibition in print for SDA. Jurors Kathryn Hall and Richard Elliot (also Guest Editor) curated a selection of 34 artists from 17 states, as well as Norway, Hungary and British Columbia, Canada, 7 of which are award winners. The artists featured in "Future Fabrication" created works that are strong, distinctive, thoughtful, and carefully constructed.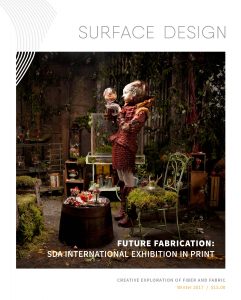 Hello to Elizabeth!
To top off this amazing year at SDA, we are the most excited to say hello and wish a warm welcome to our new Journal Editor: Elizabeth Kozlowski! We cannot wait to get to know you better and see what awesome Journals you create in 2018. Stay tuned for a blog article spotlighting Elizabeth in early 2018!