SDA Members In Print: Jiyoung Chung's "Joomchi & Beyond"
September 13, 2012
JOOMCHI & BEYOND
Joomchi is a 500-year-old Korean paper-making technique that uses water to seal several layers of thin, handmade mulberry papers together to form a single, strong sheet. Jiyoung Chung has brought her unique artistic sensibility to this established medium. Her colorful, richly-textured paper collages have an appealing cloth-like texture and read as poetic statements or narratives.
Chung likes to think of the joomchi paper-bonding process as "air-stitching" or "capturing the whispers of women's stories" in the layering of the papers.  She finds making joomchi both an expressive and a meditative process that has significance for her.
"It's like life," she says. "Through hardships we become stronger – as the paper does. In the process of breaking down and forming new bonds, the paper becomes stronger."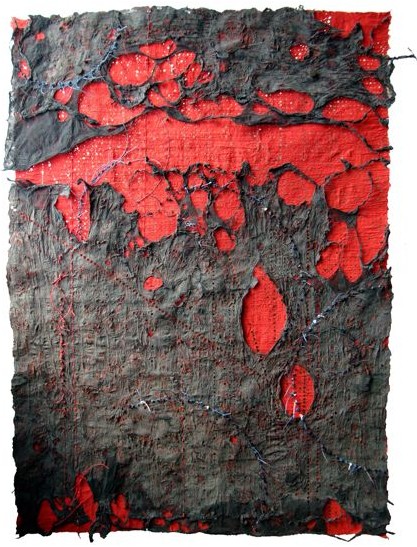 In her recently published book, Joomchi & Beyond, she introduces traditional joomchi-making methods and her own adaptations. Photo galleries of her own work and that of her students provide inspiration.
Joomchi-making is not a widely known craft, even in Korea, but it is undergoing a renaissance due to the interest of contemporary artists. Chung serves as a bridge from this folk art to the world of contemporary western paper art. Since receiving her BFA from Rhode Island School of Design and her MFA from Cranbrook Academy of Art, Chung has exhibited her work widely and is the first Korean artist to  introduce joomchi-making in courses and workshops throughout the USA and Europe.
As she became more involved with joomchi internationally, she felt a calling to do more in-depth research on its history and usage. This also lead her to make new discoveries that further transformed this "tradition" into a contemporary art form.
See more of her work at jiyoungchung.com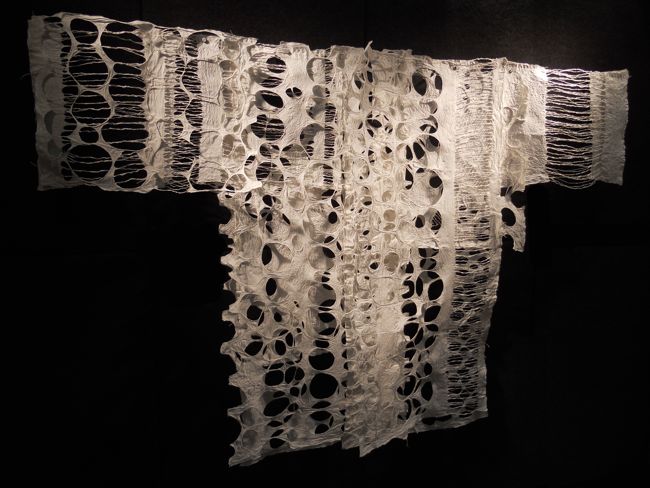 Chung states, "I wrote the book to keep the tradition alive and to share its endless possibilities in contemporary art."
TABLE OF CONTENTS:
• Foreword by Karen Searle; Essays by Peter Gentenaar and Elizabeth Wasserman
• A Brief History of Joomchi
• 4 types of Traditional Joomchi
•10 Joomchi Variations (Jiyoungs methods illustrated with examples by students)
• Additional Techniques and Surface Treatments
• 2-D and 3-D Projects
• Resources
• 50-page photo gallery of Joomchi by Jiyoung Chung
TO ORDER:
Beyond & Above Publications, 2011
470 Color Photos
4 Color Drawings
15 B/W Line Drawings
Paper; 144 pages
9.5″ x  9.5″
ISBN  978-0-9830029-1-8
$38.00
US Order Inquiries: www.beyondabove.com
Beyond & Above
PO Box 1033
Providence, RI 02901
beyond.abovepub@gmail.com
Order SDA 2011 Conference DVD series TEACH & LEARN 2
that includes a joomchi demo by Jiyoung Chung at
www.surfacedesign.org/
marketplace/marketplace
__________________________
Karen Searle (MFA Minneapolis College of Art & Design 1999) is a sculptor in fiber and mixed media. Her works have been exhibited in the US, Canada, Australia, New Zealand, and Korea.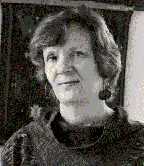 She presents classes, lectures, and seminars internationally and has served as a juror of numerous exhibitions – including the International Textile Design Competition, Daegu, Korea, in 1997 and 2000. She has served as a mentor to emerging artists through the Mentor/Protégée Program of the Women's Art Registry of Minnesota (WARM) since 1991. A former editor and publisher in the arts field, she continues to write for arts-related publications.