Shop Talk: Adapting Traditional Printmaking Processes For Textiles
May 21, 2011
As a printmaker and textile designer, I am constantly exploring the "confluence" of traditional printmaking methods and their application to fabrics.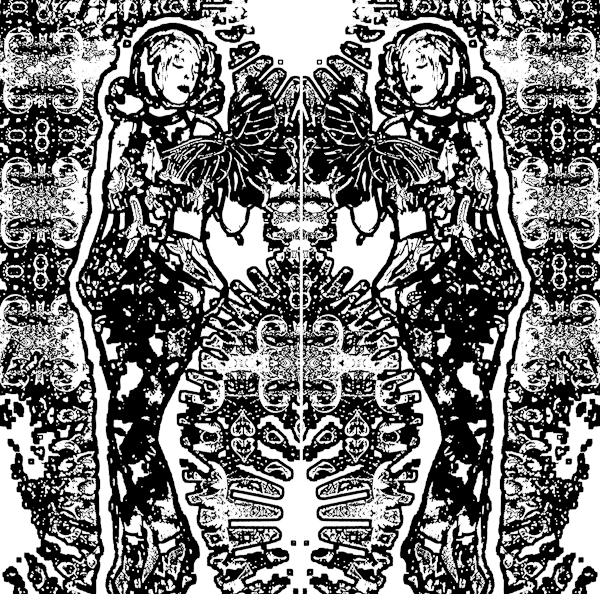 This has been a life-long process that began when I learned to sew as a child. I would look at commercially purchased fabrics and imagine so many ways that I wanted to change the appearance. Know that feeling? Once I became a printmaker, my natural instinct was to go from paper to fabric and back again. Getting there required a great deal of experimentation because other resources for adapting printmaking processes to textiles were not readily available to me.
It is possible to create a nearly seamless transition between the two work environments so that I can expand my creative possibilities organically. Certain methods of printmaking can be applied directly to textiles and/or certain print making tools can also be used to print on fabric with slight modification – thus making double-duty of time-consuming, hand-fabricated items.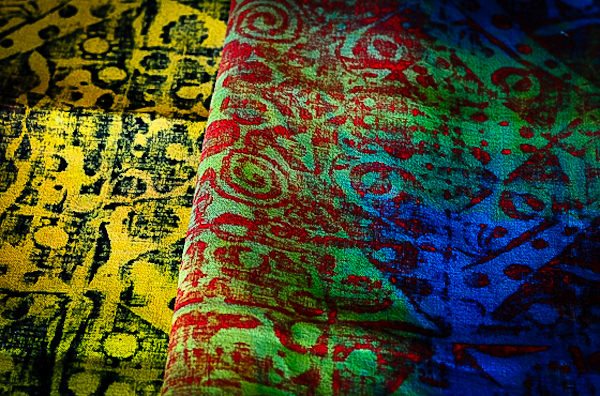 The media used for printing to fabric can include common printmaking media such as oil-based and water-soluble printmaking inks, fabric dyes, textile inks and textile paints.  Oil-based printing inks are best on non-wearable works on canvas, linen or other heavy material. Akua Intaglio Inks are soy-based, water-soluble printmaking inks that can be applied to fabrics. Both should be post-processed by sufficient air curing for at least a week or longer until the ink is completely dry. The important thing to know is that heat will not make the printmaking inks water fast; only air curing will do that because the ink contains oils that need to be exposed to air in order to harden.  I know that many textile artists become impatient because they are used to simply heat-setting textile inks and fabric paints in five minutes and end up with an unhappy result when oil-based media are used.  Again, let the inks air dry for as long as it takes to make a permanent bond.
Like printing inks and acrylic paints, fabric dyes need a carrier medium for printmaking. For the MX class of fiber-reactive dyes, there is only one chemically-compatible medium: a blend of sodium alginate and urea.  This is commonly called the "print paste." Like transparent extenders for paints and printing inks, the print paste can be used to control transparency, viscosity, and acts as a resist – either colored resist or clear. (Note: Potato dextrin, corn dextrin, rice paste and wheat paste can also be used as a print resist but are not used as a carrier medium for dye paint.  The commercially available product Presist can be used as both a clear and colored resist and is thick enough to be applied with most traditional printmaking methods.) The resist can be applied in patterns or in layers over the entire surface of the fabric for wash and etched effects. (see below: Johnson, p. 56 for an example of layering).
There are 3 fundamental environmental factors that affect the outcome of printmaking on fabric:
1.  THICK TO THIN: By controlling viscosity, various effects can be obtained.  Variables include printing thick to wet, thick to dry, thin to wet, thin to dry, or a combination thereof.
2.  DRY TO WET: Printing to dry fabric allows for the creation of crisp, well-defined images.  Printing to wet fabric allows for more painterly effects.
3.  DEGREE OF MOISTURE DURING CURING: The degree of moisture during batch processing also affects the image quality.  By allowing the fabric to evaporate before rolling up for batch curing and limiting processing time to 4 hours with Procion MX dyes, clear, crisper lines are maintained. Wetter fabric will allow the dye to migrate during batch processing and thus crisp lines will disappear into wash effect.
RECOMMENDED FABRICS
A relatively smooth fabric with a tight weave provides the clearest results.  Recommended fabrics include cotton poplin or sateen, viscose satin and fine linen.  If printing with rubber stamps, try silk habotai for best results (although I have obtained good results on linen and muslin).
PREPARATION OF FABRIC FOR PRINTING
Fine Art Print Method: For hand printing or printing on a press, the fabric must be scrubbed, ironed, and backed onto heavy paper such as freezer paper. The fabric can then be printed plate up. Care must be taken to carefully and evenly adhere the backing paper to the fabric before rolling through the press. The heavier the paper, the better the result. Try fusing two pieces of freezer paper and then applying the fabric to the top layer. When hand-printing, cover the plate with newsprint so that the baren slides smoothly. On the press, use a polycarbonate press bed and experiment with the pressure.
Textile Dye Method: For textile methods, the fabric is scrubbed and then soaked in Soda Ash Solution for 5 – 10 minutes. The fabric is then dried to slightly damp and stretched tightly over a padded printing board. The plate is inked face up with a foam brush or foam roller rather than a traditional printmaking brayer. The foam holds the media to the plate better. Take care to keep the negative spaces free of medium. The fabric is printed plate down with the print media thick enough so that it does not run off the plate. The dye is batch cured for a minimum of 4 hours at room temperature. (Note: Silks should NOT be steamed with these methods because the soda ash alkali will weaken the fibers. It is NOT necessary to steam set silks when using the methods described herein.) Alternatively, the time-saving method is to cure the dye in an oven pre-heated to 285 degrees for 10  minutes with a pan of water in the bottom of the oven to provide steam.
PRINTMAKING TOOLS
Generally speaking, both blocks and plates are more effective if made from clear polycarbonate or acrylic blocks so that the print image is visible down through to the fabric layer. For this reason, when making photo-polymer plates for textile printing, ImagOn is preferred to Solar Plate because ImageOn can be applied to any surface whereas Solar Plate is only available on an opaque copper plate. ImageOn is also more cost effective (compare $45 for a 12×16 Solar Plate to $38 for a roll 12″ by 15 feet of ImageOn). One difference between prints on paper and prints on fabric is that, generally speaking, a deeper bite will yield better results on fabric. Solar Plate has a thick photo sensitive emulsion which is easily adapted to fabric printing. The same advantage can be achieved with ImageOn by adhering multiple layers of the emulsion.

COMPATIBLE MEDIA
The following table summarizes the materials and techniques applicable to printing to fabric: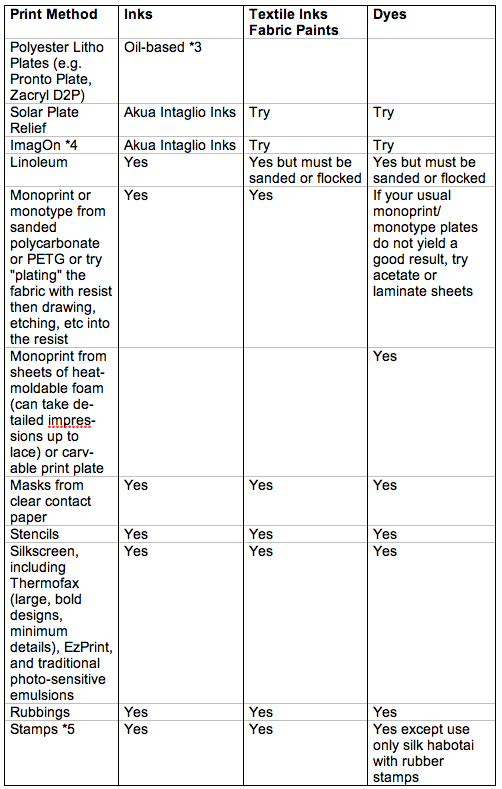 *3 Applicable to non-wearable items only. Try canvas or linen. Apply after using dyes and water-based inks and paints. Oil-based inks take several days or even weeks to "cure."
*4 Use multiple layers of Imagon applied to clear polycarbonate plates, linoleum or wood. Built up layers until the ImagOn is deep enough for fabric printing. Use the Relief/Intaglio type method of exposure.
*5 Use foam stamps specifically designed for fabric or apply adhesive weather stripping to acrylic blocks, making handles by screwing suction cups to door pulls. A Velcro stamping system is available or can be made from sheets of Velcro. Use heat-moldable forms, sponges, and foam stamping materials. Print blocks can be made from Speedball Speedy Cut, adhesive flexible print plate, or white eraser material all of which are classified as "rubber stamps" for purposes of this paper.  Special carvable printing blocks designed for use on printing presses allow the textile artist to cross-platform more easily.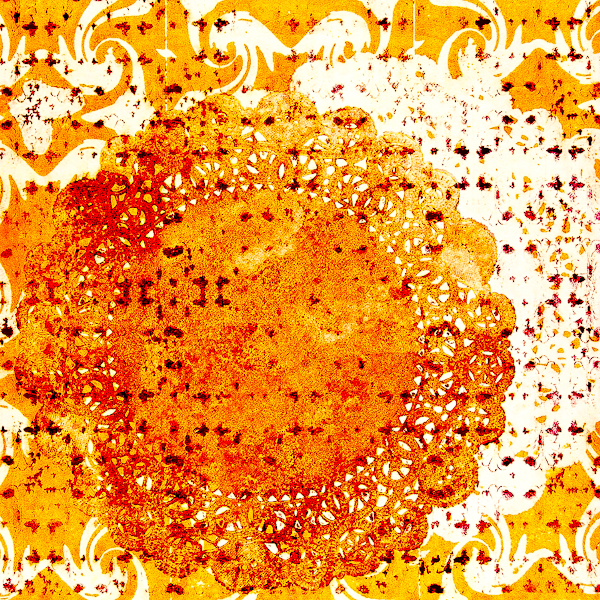 Many other possibilities exist beyond the scope of this article.  One good example is toile de jouy which is produced like an etching. I hope to explore these and other related topics in future Shop Talk posts.
RESOURCES:
Brackman, Holly: The Surface Designer's Handbook (2006)
Grabowski, Beth and Bill Fick: Printmaking: A Complete Guide to Materials and Processes
Howard, Keith: Non-toxic Intaglio Printmaking
Johnson, Ann: Color By Design (2001)
Isset, Ruth: Colour on Cloth (2004)
LaCour, Beth: ImagOn Relief Intaglio-Type (1999)
nontoxicprintmaking.com (Polyester Plate Lithography)
Roberts, John F.: Polyester Plate Lithography for Fine Artists (2001)
Welden, Dan and Pauline Muir:  Printmaking in the Sun (1997)
Zacryl, Technical Notes for D2P
___________________

Cherie Porter Blackwell is a textile artist and printmaker in Northern California currently working as an artist-in-residence at the KALA Printmaking Institute in Berkeley, California, where she is exploring the confluence of textile design with traditional printmaking. Her textile company, Muse10 Ecovision, specializes in exploiting the creative possibilities of re-purposed and recycled textiles for custom couture.