"EIP: Future Fabrication" — Out Now!
December 20, 2017
Surface Design Association is proud to present our winter 2017 edition of the Journal: "Future Fabrication: SDA International Exhibition In Print!" After receiving over 250 entries, jurors Kathryn Hall and Richard Elliot (also Guest Editor) curated a selection of 34 artists from 17 states, as well as Norway, Hungary and British Columbia, Canada, 7 of which are award winners. The artists featured in "Future Fabrication" created works that are strong, distinctive, thoughtful, and carefully constructed.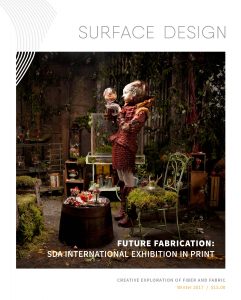 ---
Here's a preview of what you'll discover:
1) Textiles and Technology Award:
Rachel Merrill and Devon Merrill are a mother-and-son design team, whose work combines an array of textile techniques with embedded electronics to create technology-inspired fashion.
2) Innovation in Technique Award:
Aaron Fein's politically-charged work deploys digital and machine embroidery to comment on the polarizing views on technology, religion, and symbolism within American society.
3) Tradition in Technique Award:
Yekaterina Mokeyeva has a deep love for nettles and is interested in how they can be processed, combined, and pushed to their limits to see what is possible when it comes to materiality and tradition.
4) Material Exploration Award:
Mary Babcock utilizes immense amounts of fishing nets to create works that map natural locations humans have altered far beyond repair, acting as a witness to the complexity of both internal and external worlds.
5) Craftivism Award:
Nicole Dextras creates elaborate garments and spaces from natural materials (fruits, mushrooms, thorns, tree bark, fish mah, and more) that center around the storyline of a young woman named Persephone who lives in a dystopian future where fast fashion is dead and organic materials reign supreme.
6) Textiles in Performance Award:
Jayoung Yoon's work draws upon the mind-matter phenomenon, exploring our thought systems, perception, and body sensations to create performances, videos, and sculptures made from human hair, resin, and the body.
7) Emerging Artist Award:
Mali Winfield Mrozinski focuses on the body as a place for conceptual investigation. Her humorous, yet serious work reflects her own habits and neuroses–drawing from personal quirks–to create a new utility for designed objects.
8) "Future Fabrication" also features 27 extraordinary artists working in a variety of media and themes. Here is a little taste of what else to expect:
9) In Review: "Making Our Mark: SDA at 40" by Alison Gates looks back at SDA's 40th Anniversary Conference in Portland, Oregon. The article reflects on the keynotes, breakout sessions, and exhibitions that the conference had to offer.
---
To buy a copy of "Future Fabrication: SDA International Exhibition In Print", go to the SDA Marketplace, or you can check out a free digital sample on our SDA Journal page.
To read more about Kathryn Hall and Richard Elliott, check out the SDA blog spotlight we did on them a few months back: https://test.surfacedesign.org/future-fabrication-exhibition-print-2017/
Tags:
Art Wear
,
Beadwork
,
Creative Process
,
Crochet
,
DIY Craft
,
Dyes
,
EIP
,
Embroidery
,
Exhibition in Print
,
Exhibitions
,
Fashion
,
Felt
,
Fiber
,
fiberart
,
Green Design
,
Member Buzz
,
Member Profiles
,
Members In Print
,
Mixed Media
,
Natural Dyes
,
Networking
,
Quilts
,
Re/Up-cycling
,
Resources
,
Sculpture
,
SDA Awards
,
SDA Community
,
SDA Journal
,
Self-Promotion
,
Sustainability
,
textiles
,
Winter 2017