"Interwoven: Collaboration in Fiber" Spring SDJ, Out Now!
April 6, 2020
Surface Design Association is excited to announce our Spring 2020 edition of Surface Design Journal: Interwoven: Collaboration in Fiber. "Collaboration can take on many forms. Artistically speaking, it can have the wondrous effect of strengthening community, at home or across the globe. The 2020 Spring edition of Surface Design Journal explores what happens when creative minds come together—whether through intimate exchanges between life-long collaborators or personal journeys that reveal the fruits of working together in unexpected ways—it is often remarked that we reach our fullest potential when we join forces." – Elizabeth Kozlowski, SDJ Editor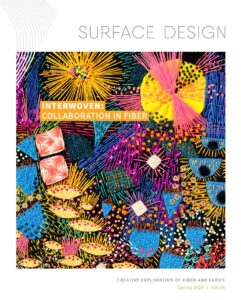 ---
Here's a preview of what to expect:
"Unconventional Mentoring" by Mandy Pedigo explores how her research and dedication to learning more about Maija Kolsi-Mäkelä unintentionally mentored her throughout her schooling. 
"Circle of Life Studios: Indigo Seed to Dye Project" by Debra Ketchum Jircik looks at the processing of indigo from multiple workshops (Japan to Wisconsin) to paint a larger picture of how people work together to create the lovely dye. 
"Active Collecting: Acquiring Experience as well as Art" by Rhonda Brown features the amazing collection at browngrotta arts, and the philosophy as to why the Grottas have dedicated their home to preserving and presenting iconic craft pieces.
"Sudo Reiko: Making NUNO Textiles" by Janis Jefferies spotlights the collaborative exhibition at the Centre for Heritage, Arts and Textile (CHAT) in Hong Kong, as well as more immersive installations by Reiko Sudo, an internationally acclaimed textile designer.
10 Questions is a brand new department! Each Journal will feature an interview of an individual based on the following sets of questions facilitated by a member or guest. To start this department off, we're getting to know Elizabeth Kozlowski and Lauren Sinner a little bit better! 
In Dialogue by Lauren Sinner features an interview with The Wondermakers (Mindy Sue Wittock and Jenna Freimuth) and how they collaborate via mail to create wondrous, colorful embroideries, while living in separate states. 
Betsy Greer reviews the book Darning: Repair, Make, Mend by Hikaru Noguchi for In Print. 
In The Studio features the work of Pixeladies (Deb Cashatt and Kris Sazak)—a duo based in California who have been collaborating since 2003. 
First Person by Cherie Acosta explores her collaborative project, Beautiful Affliction and Hidden Beauty, which expresses illness as portrayed through movement, textiles, and film. The project was created with choreographer Travis Prokop and Professor of Pathology and Art as Applied to Medicine, Norman Barker of Johns Hopkins University. 
In Review features three exhibitions: Weaving Beyond the Bauhaus reviewed by Jessica Hemmings, Hand & I: Mending the World One Stitch at a Time reviewed by Erin Thurlow, and Linda Gass: and then this happened… reviewed by Leora Lutz.
---
To buy a copy of Interwoven: Collaboration in Fiber, go to the SDA Marketplace, or you can check out a free digital sample on our SDA Journal page.
Tags:
Betsy Greer
,
Book review
,
browngrotta arts
,
Cherie Acosta
,
collaboration
,
collecting
,
Darning
,
Deb Cashatt
,
Debra Ketchum Jircik
,
Erin Thurlow
,
Hikaru Noguchi
,
Indigo
,
Interwoven
,
Janis Jefferies
,
Jenna Freimuth
,
Jessica Hemmings
,
Journal
,
Kris Sazak
,
Leora Lutz
,
Maija Kolsi-Mäkelä
,
Mandy Pedigo
,
Mending
,
Mindy Sue Wittock
,
Norman Barker
,
performance
,
Pixeladies
,
Reiko Sudo
,
Rhonda Brown
,
Spring 2020
,
Studio
,
The Wondermakers
,
Travis Prokop