SDA 2021: A Year In Review
December 29, 2021
Thank you to everyone who made this year at SDA possible! Without the work from our dedicated staff, board, volunteers, committees, and members, none of our events and exhibitions would have happened. While we continue through an international pandemic, many artists continue to make and find inspiration in all sorts of places, and in-person exhibitions are starting again. Here's a look back at some of the highlights from Surface Design Association for 2021.
---
New Zealand: Online Gallery
In these times of huge upheaval socially, financially and politically, we are all facing a future of a different shape from the past we are walking from. While there is much reason for fear and tension there is also an indomitable human spirit and a powerful force of Mother Nature. Both these "influencers" can be "vaccines"; for strengthening our humanity as we move forward into this uncharted territory. Curated by Viv Davy, SDA New Zealand Rep.
---
Spring 2021

Surface Design Journal
This issue, developed in collaboration with the National Basketry Organization and Guest Editor Carol Eckert, explores all the different ways artists express enthusiasm for basketry – a tradition that spans the globe and takes many forms.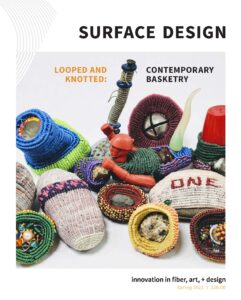 ---
European SDA Member Exhibition
A three-person jury selected works of 30 artists from ten countries, reflecting the variety of disciplines of each artist. The artwork is spread over both galleries and includes weaving, art quilting, mixed media, stitching, and shibori on fabric and leather. Juried by Anne Mie Boonen, Helda Klouth, and Karina van Vught.
---
New Hampshire Regional Exhibition
Tension: Process in the Making features fiber art and textiles by New Hampshire artists. The artists explore tension – the act of expanding or widening. In a world that has become overstimulated and intense, the artists show that the process of making slows us down to find balance and create broad narratives within the visual aesthetics of fiber art. Juried by Jenine Shereos.
---
Student Exhibition
FUTURE TENSE 2021 celebrates the creative work of student artists, designers, and makers working with or inspired by fiber or textile materials or techniques. This exhibition offers a glimpse into the future of contemporary fibers by presenting the very best work being made by students in the field today. Juried by Miyuki Akai Cook and Ann Coddington.
---
Summer 2021

Surface Design Journal
Fiber and textile work can often require large amounts of forethought, planning, and precision. This edition of Surface Design Journal celebrates the improvised, playful, and spontaneous way many artists have chosen to pursue when making their work. From installations to wearables, and so much in between, we hope this Journal gives you some respite from the world, and inspirations for your own practice.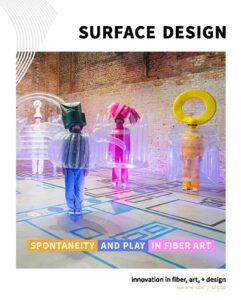 ---
Vermont Regional Exhibition
Hidden Messages showcases art by Vermont artists of SDA. The exhibit displays artwork that breaks boundaries of traditional textiles. The works employ familiar techniques of embroidery, knitting, assemblage, and quilting, but they are more than pretty designs. Some hold hidden images; others, hidden stories and identities. The messages behind them relate to family, pandemic isolation, disease, nature, refugees, landscapes, and more. The show is being held in conjunction with an exhibit of traditional quilts at the nearby White River Craft Center. Curated by Marina Aronson, Cherie Landi, Jessica Wilkerson, and Rosalind Daniels. 
---
Online Exhibition
The artworks in this exhibition reveal their skeletal structures and the story of their making. Structural "bones" are evident—we see how parts are organized and connected. The physical manipulations of building the surface and form, joining, fastening and intertangling materials, persist as vital images in the artwork. They provide not only the architecture of the work, but are essential to its expression. Curated by Mo Kelman. 
---
SDA Exhibition
"Through Earth Matters, artists have found a voice to trouble the field by inviting viewers to think with them about the planet. Drawing inspiration from a range of sources, the artists in Earth Matters sound the alarm about earthly conditions through diverse material experimentation and novel techniques. This is evidenced in the multidimensional works submitted to Earth Matters, which overall, were exceptional, meaningfully disruptive, and thought-provoking. The works collectively speak to the need to be attuned to our world viscerally, emotively, and ecologically. And more importantly, they contribute meaningfully to the discourse on material practice with waste, fiber, and other biomaterials" – Nnenna Okore (Juror). 
---
Fall 2021

Surface Design Journal
Our sixth annual EIP has both a subtlety and a boldness in its award winners and featured artists, who address the theme of "Confrontation through Catharsis." This year we had the privilege of welcoming Keidra Daniels Navaroli, a frequent SDJ contributor and former assistant director and curator of the Ruth Funk Center for Textile Arts at Florida Institute of Technology (Florida Tech), as guest juror. Navaroli asks an important question of us when considering this year's theme, "how can fiber art help to mend our connection to one another and the world at large?"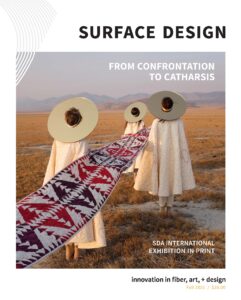 ---
Each spring, SDA's Outstanding Student Award is presented to students enrolled in accredited undergraduate or graduate programs at a college or university with a fiber focus. In 2020, this award was also opened to those enrolled in high school programs with a fiber focus. Instructors nominate students who have demonstrated inventive and innovative use of technique, materials, or concepts. 
Congrats to all 32 awardees! Eleanor Anderson, Paulina Bereza, Cynthia Evans, Eliza Finck, Kate Fromm, Carolina Gaillard, Sally Garner, Madeline Gotshall, Camille Guellec, Allison Hellman, Hannah Hill, Britnee Holley, Li-Chia Hsiao, Ruth Kaneko, Kate Kosek, Nicole Kuzma, Jude Mertens, Jacquelyn Moore, Molly Morningglory, Danielle O'Malley, Sarah Palmer, Nhan Phan, Nadeeshani Ratnayaka, Jack Rose, Lauryn Tipper, Kevin Tracy, Emmie Troyer, Caleb Wells, Eli West, Katherine Wiedemann, Gigi Woolery, and Emily Yurkevicz. 
---
Washington Regional Online Exhibition
​​Surfacing features art by Washington SDA artists. While this past year of social isolation has been challenging, many of us have continued making art, often creating pieces that reflect a period that forced all of us to confront personal feelings and global issues in an unprecedented way. Now, we are finally beginning to surface. Yet the pandemic represents only one interpretation of Surfacing. The word has a range of meanings, from calls for social change to personal reflection to looking at ourselves and the world in an entirely different way. And nowhere are we better able to express what Surfacing means to each of us than in our artwork. Juried by Gail Harker and Francesca Piñol. 
---
Winter 2021

Surface Design Journal
"This Solidarity issue invited artists and writers of the African Diaspora to share their personal stories and material expressions of Solidarity. Clearly, one issue cannot correct the vastness of these long-standing omissions. This edition will highlight talented, highly skilled African descended creatives around the world, who reference and work with fibers and surface design in ways that directly or indirectly express the depth and breadth of the African Diaspora. Everyone featured in this issue agreed to do so with enthusiasm. Artists and writers from the United States, Southern Africa, the Caribbean, France, the UK and Brazil have come together to share their work in Solidarity. I want to express my sincere gratitude to each of the talented artists, designers and writers who took time out of their busy schedules to contribute to this issue. Without you, this would not have been possible!" – Precious D. Lovell, Guest Editor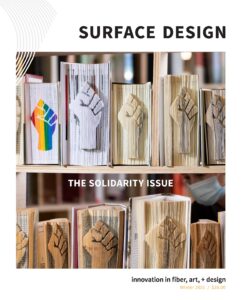 ---
Have something that you're thankful for and want to celebrate and share with SDA's community? Post in the comments below to let people know!
Cheers to 2021, I hope everyone has a safe and lovely holidays.
– Lauren Sinner, SDA Managing Editor