Shifting Landscapes: Spotlight on form & concept
November 21, 2016
Surface Design Association is pleased to announce the opening of submissions for our 3rd International Juried Members' exhibition, Shifting Landscapes. Juried by Erika Lynne Hanson and Frank Rose, this exhibition will explore both traditional and non-traditional contemporary interpretations of place by makers working with or inspired by fiber or textile materials and techniques. Shifting Landscapes will be held in partnership with form & concept gallery at their location in Santa Fe, NM, February 24 2017–May 20, 2017. Having a longstanding relationship with contemporary textile art, form & concept is the perfect space to hold our Annual Juried Members' exhibition.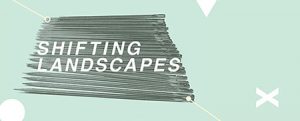 About form & concept:
form & concept is an art gallery founded to expand and explore the boundaries of perceived distinctions between art, craft, and design. Their programming acts as a conversation between these three, supporting contemporary creative practice through exhibitions of regional and international artists.
Here are three recent exhibitions that highlight the breadth of concepts, styles, and materiality that form & concept showcases.
(May 27, 2016 – August 22, 2016)
This group show featuring craft artists hailing from New Mexico and Arizona showcase an array of materials, from ceramic and fibers to puppetry and neon. Since the Southwest has such a rich and varied tradition of craft and art-making that a survey-type exhibition features works that use both old and new techniques, but all of the work on display are within a contemporary milieu.
(June 10, 2016 – August 11, 2016)
Priscilla Dobler's La Cocina (a multimedia installation), utilizes traditional methods of weaving and embroidery to construct a poignant installation that comments on the construction of identity. Dobler reconstructs objects that symbolic representations of the cultures she identifies with by using her surrounding environment like home, childhood memories, and collaborations with family members.
(August 19, 2016 – October 30, 2016)
This exhibition plays with people's expectations of what fashion and wearability are. The contemporary artists on display in ReFashion take the garment to a whole new level—not only through works that are functionally wearable, but also by using fashion, clothing, and wearables as a starting point for conceptual pieces.
Needless to say, we are so excited to be working with form & concept, and cannot wait to see what amazing work our members submit!
---
More about Shifting Landscapes:
Deadline to submit: January 4, 2017
All submissions done through Cafe
Maximum of 3 images
Entry Fee: $40.00
For more information about Shifting Landscapes or to apply go to our Call for Entry. 
Tags:
Art Wear
,
Beadwork
,
Creative Process
,
Crochet
,
DIY Craft
,
Dyes
,
Embroidery
,
Encaustic
,
Exhibitions
,
Fashion
,
Felt
,
Fiber
,
fiberart
,
Mixed Media
,
Museum Issues
,
Natural Dyes
,
Networking
,
Quilts
,
Re/Up-cycling
,
Resources
,
Sculpture
,
SDA Community
,
SDA Journal
,
Textile Design
,
Weaving