Confluence of Styles: SDA Conference Fashion HotSpots
May 26, 2011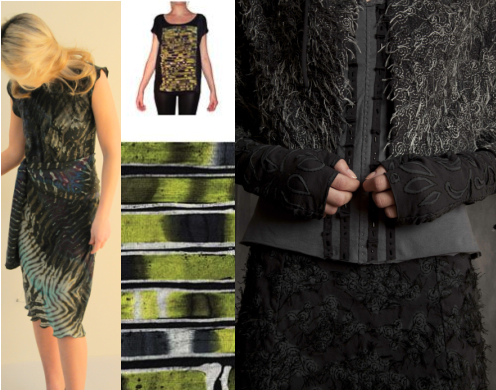 There will be a Confluence of styles the moment SDA's textile tribe begins to assemble in Minneapolis for the 2011 International conference the week of June 5th!
From the artisanal apparel and accessories at the vendor fair & trunk show to the fashion spectacular on Saturday night, the sartorial energy will be flowing. The distinctive dress of mode-mad conference participants is a 24/7 catwalk all by itself, but working it is only part of the story. Featured speakers, panels and workshops will also incite attendees interested in starting or burnishing their own wearable work to heat up their skill set.

Sample these visual appetizers as you get ready to roll into Minnesota. If you're not coming, get a taste of what you're missing. (Some podcasts will be available). Events below are listed in order of occurrence, with a tip of the toque to Conference Manager Dot Moye for her role as head chef of this delicious fashion feast.

VENDOR FAIR: (OPENS THURSDAY, JUNE 9 @6:00 PM)

Refresh your look fr0m head-to-heels with wearables and accessories including:

KALABANDAR: a collection of shawls & scarves from Southeast Asia. Hand-woven natural fibers including wild silks rarely seen in North America like eri silk, with the warmth of
wool and the drape of linen and muga silk, with the natural shimmer of spun gold.
Elsewhere, shawls and scarves are accessories. At Kalabandar, they are the main event.
For some background on Kalabandar, go to  in Toronto Life.
AIZADA IMPORTS: FELTED WOOL HANDICRAFTS FROM KYRGYZSTAN "offers a selection of quality hand felted accessories made in Kyrgyzstan in Central Asia. Bought directly via artisans in rural villages and existing workshops in the capitol city of Bishkek, the market for these felt crafts is providing employment in a country where there is a shortage of jobs for women."
For more information, visit www.aizadaimports.com
For a list of Confluence vendors, go to www.surfacedesign.org/subpage/events
THE TEXTILE-DRIVEN LIFE: CREATING PRODUCTS AND CAREERS
(SESSION PANEL OF DESIGNERS/FRIDAY, JUNE 10 @3:30)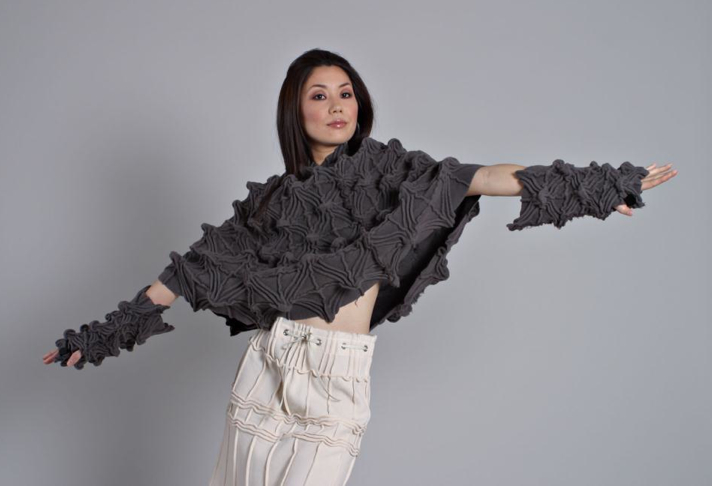 Get inspired and informed by this panel of 4 successful designers, convening to share their stories and advice on how they create a work/life in textile & fashion design. Panel includes freelance designer Dawn Zero Erickson of Red Wing, MN; fashion entrepreneur Mary Jaeger of New York City; weaver/design entrepreneur Laura Foster Nicholson of New Harmony, IN; and Janelle Torrence, Sr. textile designer for Target Stores in Minneapolis.

SDA MEMBERS' TRUNK SHOW (FRIDAY, JUNE 10 @6:00 PM)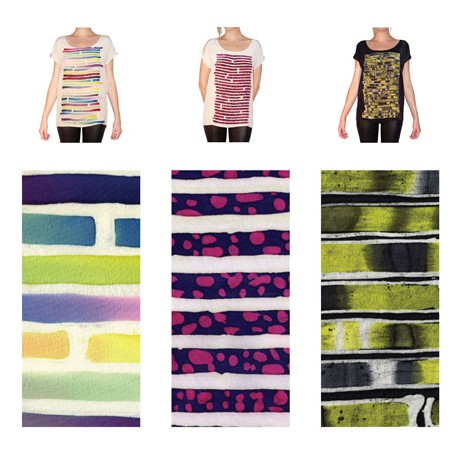 Collect and strut the stuff of 20 member/designers including:
RACHEL ROSE: A Brooklyn-based designer with a fashion design degree (Florida State), Rose took a silk-painting class at the Fashion Institute of Technology and fell in love with the process. Her small, hand-painted collections embody her values of quality, environmental impact awareness and community-building. She strives to "Join forces with other designers, artisans, and scientists to innovate new and improved methods of creating color on textiles."
Visit her website at www.byrachelrose.com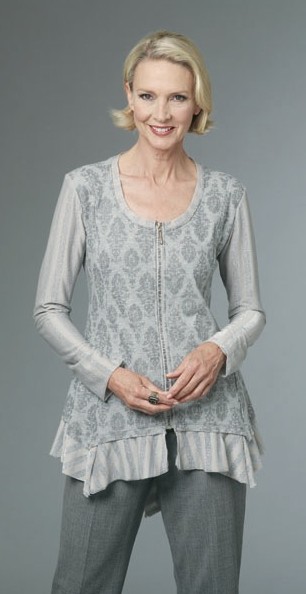 KATHERINE TILTON: Minneapolis-based Katherine Tilton designs patterns for Vogue as well as clothing, accessories and designs for silkscreening under her Nandini label. See her work at the Trunk show and also at Textile Center shop.
Visit her website at www.katherinetilton.com
Other SDA & Textile Center Trunk Show presenters include:
Dorolyn Alper                         Heidi Henderson
Claudia Birdsall                     Wendy Huhn
Susan Bowman                      Carolyn Kallenborn
Jeanne Brady                         Laura Foster Nicholson
Vicki Danser                           Faythe Levine
Katie Frisch                            Jean Ross
Lisa Grey                                 Liv Samset
Chad Hagen                            Elea Uhl
Caryl Rae Hancock                Beverly Westra
UNRAVELED DIY FESTIVAL (FRIDAY, JUNE 10 @6:00 PM)
Over 40 local makers get crafty with items that range fr0m quirky to plushy to alt cool, including 3 previewed below.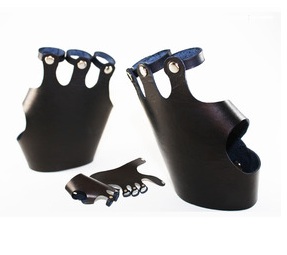 ARTIST BUILT: Rock an edgy look with leather Knuckle Gloves (left) or work it super-kawaii with a Butterfly Cuff that evokes henna patterns "that don't wear off". Check out the complete collection of wrist, head and neck decor at artistbuilt.net
MIA SORELLA APRONS: Get domestic (right) with vintage-inspired one-of-a-kind aprons for all sexes & ages. www.miasorellaaprons.com
FROM OUT OF THE CRACKS: Gift a guy with a man bracelet of beads or buy one with matching earrings for a gal pal. Visit Cheri Meyers etsy store at www.etsy.com
For an overview of all participating makers, check out www.unraveleddiyfestival.com/2011-artists
BODIES OF WATER: SDA FASHION SHOW SPECTACULAR
(SATURDAY, JUNE 11 @7:00PM)

Fashion show producer Anna Lee promises a parade of creativity-to-wear with entries by SDA member/designers that "interpret the theme in a compelling way and inspire through diversity of vision and mastery of technique."
CARTER SMITH – already well-known to the SDA community – has been invited to show his latest work as "Featured Artist".
Smith will show mosaic dresses and coats with black solid silk highlighting the intense jewel tones of his distinctive shibori patterns. Bias pants, wraps tops and embroidered coats, along with the latest interpretation of his iconic "K" dress and kimonos, will deliver the latest iteration of the Carter experience. For Carter-to-the-Max, visit his website, shibori.com and savor his tagline: Wearable art created to enhance the beauty of women.

BOUNXOU CHANTHRAPHONE will show her work as the show's "Invited Artist".  Her dedication to traditional Lao weaving has earned her the Bush Foundation's prestigious Enduring Vision Award, the National Endowment for the Arts National Heritage Fellowship, and most recently,  the State Council on Asian-Pacific Minnesotans Lifetime Achievement Award. Read more about her at thaoworra.blogspot.com
Lee has brought in the MNfashion event production team, Emily Blanche and Sarah Colvin, who are the force behind The Shows, a high-level runway series now headlining Minnesota Fashion Week. They are working with composer Alex Berglund on a soundtrack for the show.
A Minneapolis-based milliner and designer, Lee describes herself as having "a heart for community and a mind for developing independent fashion design in the Twin Cities." She is also the founder of MNfashion, an
emerging non-profit that works to provide resources and opportunities for designers and is producer of Voltage: Fashion Amplified, the annual rock-n-roll fashion show promoting the hottest local, independent designers and musicians.
The SDA Conference runway show marks a transition for Anna Lee! She will be bowing out of fashion show production for now in order to focus on her creative work – Ruby3 – as well as her day job as Technical Designer for Jewelry at Target Corporation.
NATALIE CHANIN: FR0M THE PERSONAL TO THE MARKETPLACE

(FEATURED SPEAKER/SUNDAY, JUNE 12 @9:00 AM)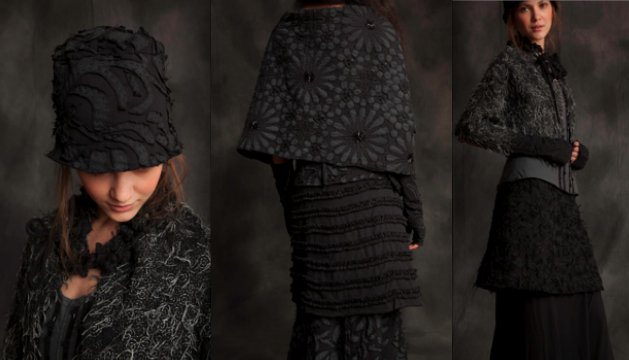 Hear how Natalie Chanin grew her brand, Alabama Chanin, fr0m ready-to-wear and bridal to couture, using key principles like zero waste, low environmental impact, seasonless/slow fashion, lean method and design/build. Her degree in Environmental Design fr0m North Carolina State University was based on Bauhaus teaching methods that offered courses in Design Theory alongside courses in manufacturing methods in what she describes as "the Anni Albers program".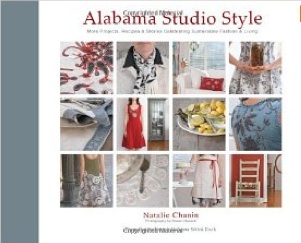 In her own words: The old story of me cutting apart a t-shirt and sewing it back together again for a party is really the basis of the company I own and run today.  I sewed that t-shirt because I wanted something special to wear. What I found out was that it had been a very long time since I had made something with my own two hands.  That process of making rather than buying excited me.  I got up the next morning and started making another shirt, then the next day another, and the next day another.  Those "upcycled" shirts became a t-shirt line, then a collection and today what I would consider to be a lifestyle.
Visit Alabama Chanin website at alabamachanin.com
Look for her 3rd book Alabama Studio Design – due out Spring 2012

ALABAMA CHANIN DIY

:
POST-CONFERENCE ONE-DAY WORKSHOP (MONDAY, JUNE 13)
Pre-registered participants in this workshop will have the opportunity to work with Natalie Chanin and a choice of Alabama Chanin Packages to create a custom project. Participants will each select a DIY package fr0m several choices for a day of sewing that includes everything needed to complete their choice. Tips, techniques, and lots of stories are included.
ANNA CARLSON: BEYOND ONE-OF-A-KIND: CREATING COLLECTIONS, SERIES & SIGNATURE STYLE
POST-CONFERENCE TWO-DAY WORKSHOP (MON-TUES, JUNE 13-14)
Pre-registered participants will work with Carlson to explore "working in series and building collections around a single theme [in a way that] encourages deeper interaction with concepts and materials. Using art, fashion and design as examples – and practicing with their own work and objects provided – this workshop will show participants how to build on an idea to create a series as well as what to include in a fashion collection and how to develop an individual visual identity."
Visit her website at www.mnartists.org
Check out this stop-motion parody Carlson made about creating an identity:

For more information on CONFLUENCE: 2011 International Surface Design Association Conference in Minneapolis June 4-17, go to www.surfacedesign.org
Tags:
Art Wear
,
Beadwork
,
Confluence Conference
,
DIY Craft
,
Fashion
,
Felt
,
Re/Up-cycling
,
Resources
,
Shibori
,
Stitching
,
Sustainability
,
Valued Vendor
,
Workshops